Billed as the MAC's and the area's best game this weekend, Coldwater and Minster drew people from as far away as 200 miles.  And when it was all done and settled, the locals were disappointed, but the out-of-towners went home with an eyeful.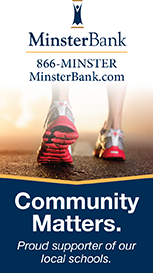 Minster – Tim Tipton drove two hundred miles Friday – from southern Ohio – to see the Minster-Coldwater football game.
"I figured this was a good time to come and I wanted to see what MAC football was all about.  I'd heard a lot about it,"  said Tipton, a retired steel worker from near Ironton.  One of a handful of southern Ohio football devotees who travel weekly to see the best high school games possible, Tipton did not go home disappointed.
"I had never seen a MAC game, or teams like Coldwater, Minster, or Marion Local, and I was very impressed,"  he said before leaving after the third quarter.  "It was a great football game."
What he saw by the time he left for home was Coldwater amass a 25-14 lead, on their way to an eventual 38-20 win.  He saw Coldwater quarterback Jake Hemmelgarn run for 63 of his game-high 151 rushing yards…and throw for most of his game-high 253 passing yards.  He saw Coldwater's Zach McKibben break Minster's back, and momentum, with a late first half 90 yard kickoff return for a touchdown.  And, he saw vintage Coldwater offense with an assortment of weapons running around catching 18 passes from Hemmelgarn for those 253 yards.
But he should have checked with Minster coach Geron Stokes before he pulled up stakes, because Stokes, post-game, had a whole 'nuther perspective on the outcome, and how it felt to him.

"We were a debacle,"  said the Wildcat coach, bluntly.  "There's something we have to change to get ready for teams like this – Coldwater.
"It's crazy, how bad we were.  We have a night like this every year.  We just gotta' get better.  I've got to do a better job of gettin' us ready.  We were deer-in-the-headlights tonight, again, and they didn't do one thing that we didn't expect.  We just played poor, and when you play like that you get beat."
What really got under Stokes' skin was the way the first half played out…after Coldwater opened the first quarter with back-to-back touchdowns by Jake Hemmelgarn and Myles Blasingame on a pair of two yard runs.
Then, Minster answered on a 17-play, 92-yard drive that saw Alex Schmitmeyer score on an 8-yard run with 6:13 left in the second quarter.
But with momentum in hand, and trailing 12-7 (Coldwater missed on both PATs), the Cavaliers' Zack McKibben gathered in the ensuing kickoff at the ten yard line and weaved his way upfield, cutting to the sideline, then back to the middle of the field, and with one man to beat he stepped inside Minster's Bryan Falk and outran him to the end zone for a 90-yard touchdown.  You could feel the air hiss out of the Wildcats' balloon.
"That was a big play,"  said McKibben afterwards.  "Last week I had the same kind of play, and we practice that because it can be a big part of what we do.  Special teams is important, and I saw the opening right away.  Then there was one guy in front of me and I had to cut back to the center of the field.  When I did that I knew I had it."
More bad news for Minster…on Coldwater's kickoff, they pooched the ball down to the 25 yard line, where it fell in between a host of Wildcat players;  and they all just looked at it like it was a bratwurst, apparently not knowing it was a live ball.  But Coldwater knew, jumped on it with 1:17 left before halftime, and a couple of plays later Hemmelgarn hooked up with Will Broering for a touchdown pass that pushed the lead out to 25-7.
Minster would regroup at halftime, and came out in the third to score on a four-yard run by quarterback Jacob Niemeyer at 7:45 in the quarter.  But Coldwater trumped that score with one of their own to open the fourth quarter – a short pass from Hemmelgarn to Broering (his second touchdown), to push the lead back to 31-14.  Three minutes later, after a change of possession, Hemmelgarn ran a keeper up the right sideline, no one offered to tackle him, and he kept going for 56 yards and the Cavaliers' final score of the game.  Kicker Blake Dippold added the extra point and some irony to the sum total of Coldwater's scoring, because Dippold, unquestionably the best kicker in the conference, had missed two previous PAT attempts.
Minster would add one concluding score – an Alex Schmitmeyer run with 2:55 remaining the game – and that's how it ended, 38-20.
Zack McKibben had a great game, and probably made a wonderful impression on Tim Tipton.  The Cavalier junior had that 90-yard kickoff return for a score, caught six passes for 73 yards, and was in on his fair share of tackles on defense.
And Jake Hemmelgarn again proved that win or lose, whatever happens with Coldwater on a given night is going to go through him.  The Cavalier senior accounted for two touchdowns running, those 151 yards rushing, the 253 yards through the air, two passings TDs – and 404 total yards!  The only negative you could pin on him were two harmless interceptions.
"Yeah, it was just a great game for us to win,"  he would say afterwards.  "Because, we knew we had to come in and play our best ball to win.  If you don't you're not going to come out on top.  But everyone played great, Zack make a big play, and it was a great night for us.  The two interceptions…I just made a bad read.  We'll be alright!"
Statistically, it was lopsided.  Coldwater outgained Minster 449 to 263.  They outrushed the Wildcats 212 to 149.  And through the air…253 to 114.
Jacob Niemeyer threw for 114 yards, rushed for 59 more, and Alex Schmitmeyer led the 'Cats in rushing with 90 yards and a pair of touchdowns.
"It was a good game, and a great win for us,"  Coldwater coach Chip Otten added.  "We're in the same division now, in the same region, and because they're a good team with three good wins we're going to get some points from this tonight.  You need games like this to get into the playoffs.
"We played well,"  he continued.  "Offensively, we showed that we have a lot of weapons.  We can spread the wealth – Will, Nolan, Ross, and Kibby had really good nights tonight.  And I don't know that Jake's numbers were, but they were pretty doggone good, even with the two picks.  And the touchdown return…they had gotten some momentum and that was a huge play.  When Kibby gets his hands on it you never know.  And the defense made 'em work.  They got some yards, but if you can make 'em work long enough, and not give up any long touchdown, you'll be OK.  All year long we've been efficient on offense and we make teams work on defense."
So yes, Tim Tipton saw a good MAC game – a game between two unbeaten titans of the league.  A game between two teams that obviously are good enough to again project into the post-season.  He saw a game between two teams that the rest of the league will have to address to enhance their own post-season hopes.  He even saw a better-than-average 50-50 drawing – in excess of $1,000.
Great game?  Good game?  Poor game?  It depends on one's perspective, of course.
And that said…all he really missed was some time with Geron Stokes.