It looked like 'upset' stuff after one set, but #4-ranked New Bremen shook itself to come back and win Thursday's route 66 rivalry in four sets, over Minster.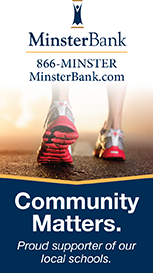 New Bremen, OH – I think if New Bremen coach Diana Kramer could explain it she would have done it before now.  That is, why good volleyball teams come out flat some nights, start slowly, and dig themselves a hole against teams they're expected to win against?
Which was exactly the scenario Thursday night as the #4-ranked Cardinals came out flat, started slowly, and quickly lost momentum to a gritty Minster team in the first set before shaking themselves to win the next three (and the match), 17-25, 25-14, 25-23, and 25-19.
"If I could I would,"  said Kramer.  "But the fact is that sometimes good volleyball teams play bad.  And sometimes bad volleyball teams play over their heads.  That's volleyball.  We didn't have the best warmup, we didn't play very well at the start, and whenever you play that way you have to rebound.  The name of the game is being good enough to win the last point of the game, and luckily, tonight we were good enough to win the last point of the match."
Minster came out like a house afire, jumping out to an 8-1 advantage in the first set, forcing Kramer to call a timeout.  It had little or no effect, because Minster put its foot down after that timeout and extended its lead to 15-8, forcing Kramer to call a second time out.  A team that plays by the mantra of high risk, high reward, New Bremen served poorly and hit too many errant shots, eventually dropping the set to the revved-up 'Cats, 25-17.
But that's volleyball, as Kramer likes to say, and just as quickly as they received last rites for the first sets, Bremen jumped out to a 14-4 lead in the second set.
"I don't know,"  shrugged Kramer, trying to explain.  "It's volleyball, and the longer we played the better we played."  Bremen evened the match with a 25-14 win.
Game three was tightly contested, and tied at 14-14 and 17-17 before some big hits by Taylor Paul (14 kills) and Macy Puthoff (10 kills) eventually wore down Minster, whose inconsistencies chose to emerge at the most inopportune times.  The 'Cats seized the momentum three times in the set, led once at 19-18, but could not put New Bremen away.
It was Paul and Puthoff time in the final set, as Bremen easily amassed a 10-point lead at one point, survived a brief show of life by Minster, and then put the match away with a thunderous hit by Paul for match point, her 14th kill of the night.
Kramer swears by the philosophy of play that rewards high risk with high reward.  That being, come out hitting with everything you've got…because sometimes those shots are going to be in, and sometimes they won't.  Take the bad with the good, and count on there being more good than bad.

"Absolutely,"  says Kramer.  "I've been fortunate in my coaching career to have players that were athletes.  And when you have athletes you can take risks – you can play aggressively.  And I know some people disagree, but I watched Stanford and Nebraska play last night, the nation's top two teams, and those coaches say the same thing – high risk, high reward.  Stanford missed eight serves in a set and still found a way to win.  In my experience I've found that the first contact dictates the level of your play, so we're going at people on our first contact, whether we're serving the ball or passing the ball, we're going to come at you.   And when you play that way there's going to be mistakes.
"Now my team this year, and in year's past, have been strong enough mentally to respond and come back from those mistakes.  Volleyball's the only sport where a mistake directly leads to a point.  You can walk a batter in baseball but that walk doesn't necessarily score.  You can throw an interception in football, but the other team may not score off that interception.  Volleyball is unlike any other sport.  It's a double-edged sword.  If you serve a lollypop and they're in system, the teams we play are going to score.  So we have to be high risk every single night we play.  And kudos to my teams over the years because they've been mentally tough enough to respond to mistakes, come back and win."
She's opinionated, confident, and patient for the process.  Now at the mid-point of her season, Kramer's Cardinals stand 11-1, but in her view..have yet to play their best volleyball.
"If I were to give my team a grade…I'd say we've had moments where we've played 'A' volleyball, and we've had moments where we've played some 'F' volleyball, too,"  she said with a laugh.  "So honestly, I'd give us a C to C- average right now, because my girls know that we have areas in our game where we need improve.  We know we can't be satisfied, we have to stay hungry, and we're going to battle.  It's a long season and you can't expect volleyball teams to be perfect."
High risk, high reward, and plenty of room for improvement.