Three weeks into workouts and intra-squad scrimmages, Greg Beals and the Buckeyes welcome another crop of talented freshmen, committed to building on last year's record and NCAA appearance.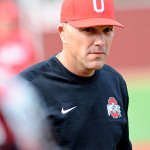 Columbus – Greg Beals was not 100% Wednesday afternoon, the Springfield native fighting a heavy cold and leaning on Hall's cough drops to even speak.  But temporary setbacks could not dampen his enthusiasm for the 2020 Ohio State baseball Buckeyes.
"Well, I like this ballclub a lot,"  he said.  "There's a ton of potential here, and right now we're fightin' to sort things out and maximize on that potential.  The expectations at Ohio State are always high, but I know this ballclub has a greater sense of what that really means.  That's what we're pushing for, we need to be elite on a daily basis, and while we're not there yet…there's an awful lot internally with this group that I like."
They finished 36-27 last spring, won the Big Ten tournament, and earned a berth in the NCAA tournament for the second year in a row.  And for their record, and Beals' diligence as a recruiter, they've brought in another top group of freshmen and transfers to complement the likes of last year's class – Zach Dezenzo (freshman All-American), Seth Lonsway (freshman All-American), Garrett Burhenn, Nick Erwin, Bayden Root, Will Pfennig, T.J. Brock, Marcus Ernst and Nolan Clegg.  All nine got significant playing time, and Lonsway (Celina, OH) and Burhenn (Indianapolis, IN) were the Friday and Saturday starters throughout the season, compiling a record of 14 wins and 8 losses between them.  Junior Griffan Smith was the third in the weekend starting trio, tossing a 7-5 record.  All three exceeded the 90-inning plateau by season's end.
And fifteen more new faces grace the backdrop of Bill Davis Stadium this fall, from as far as Pacific Palisades, California (Wyatt Loncar) – from as close by as Upper Arlington (Jack Hendrix).
But what excites Beals the most is the return of a solid core of proven junior and senior veterans, experienced in Big Ten competition, and committed to making the most of their time left in a Buckeye uniform – Dillon Dingler, Matt Carpenter, Conner Pohl, Brent Todys, Scottie Seymour, and Noah West, back after missing two-thirds of 2019 with ACL surgery.
"I'm excited,"  said junior catcher and co-captain Dillon Dingler.  "It's fun to get to know the new guys…the older guys interacting with them…we're just getting to know each other right now.  We're going to be pretty young, but we were young last year and a lot of those guys really stepped up.  So I like what I see in this year's guys while they're getting used to things.  In another three weeks they're going to be much more at home."
Dingler is the straw amongst the returners that will stir the drink for the Buckeyes.  From the day he stepped foot on campus Beals has called him the most athletically gifted player in the program, a former all-state football player at Massillon Jackson and a dual state champion his senior year in both basketball and baseball.
"He's heavy on the 'dude' factor,"  smiles Beals.  Dingler was one of the Buckeyes' three captains last spring…as a sophomore!  And after missing the first month of the season he returned to hit .291…and did it with a partially-healed broken hand.  Now his personal expectations have matured along with his obvious physical skills.
"Biggest thing with me right now is getting to know everybody,"  he said Wednesday.  "I need to know how to communicate with guys, how to pressure some guys when they need it, building relationships with the new pitchers."
His words, his tone, oozes leadership, and just what Greg Beals wants to hear.
"What Dillon's talking about I like a lot – how to communicate, how to motivate and get to guys,"  adds Beals.  "He understands what it means to lead, and I'm glad to hear him talking about its importance.
"But we've also got a Matt Carpenter back as a senior, and he's been around the block. The experience he got playing last year has really fueled his fire, too.  And all those guys on the pitching staff are back, and while they're not as vocal, you know by the way they go about their work on a daily basis – Lonsway, Burhenn, and Griffan Smith.  That's leadership, too, and I'm encouraged by what I've seen so far."
The pitching staff now falls under the direction of former Buckeye pitcher, and new pitching coach, Dan DeLucia, who takes the responsibility of bringing the afore-mentioned, plus all the new arms, to higher heights in 2020.
"Our philosophy is that we let all the new guys get acclimated to campus for a couple of weeks, living on their own, finding classes, and just fitting in around here,"  says DeLucia.  "Then we talk with them about fundamentals that we stress and implement in our program.  They're all talented or they wouldn't be here…the new guys really complement the older guys who are now a year older, more experienced, and more confident.  Obviously we lost a big piece in Andrew Magno, but our hope is that there's competition among this group for someone to step up and assume that role.  And you never know…it happened suddenly with Magno last year.  He had the pitched previously, but he just lacked the confidence.  Last year that all came together for him.
And DeLucia is not lacking for confidence in the statistical makeup of his 2020 group.
"Last year we came in having lost about 83% of our innings from 2018.  This year we return about 70% of our innings from last year, so there's a lot to be said for that.  And obviously, we want to continue to develop on what we saw last year, while we intertwine the new people with the holes that need to be filled."
One of those young pitchers showed very well on Wednesday.  Wyatt Loncar, a tall, lanky righthander from Los Angeles (Pacific Palisades) threw two strong intra-squad innings against the best of the returning lineup from last year.
While it goes unnoticed because of a new football season, and the culmination of the major league season – the playoffs and the World Series – the next four weeks of fall baseball might just be the most important four weeks of the entire baseball year, at least for college baseball, and the Buckeyes in particular.
"Well, I don't know if I'd say it's more important than the last four weeks of last season," smiled Beals.  "But yeah…different from the last four weeks these next four weeks are about 'controlables' – we control our preparation for next spring.  And it's going to set the foundation for our off-season training, our pre-season training for the spring, and getting ourselves ready.
"There's no satisfaction with what we did last year.  We're good, but there's a lot that we can do better, and we've got to keep getting better on a daily basis."
So it was Wednesday with our first look at Buckeyes baseball for 2020.  The NCAA now allows for a pair of fall games against outside competition, starting with the Dayton Flyers at Bill Davis Stadium on September 29.  Check 'em out.
If you bleed scarlet and gray…seriously, the next four weeks really might be the most interesting four weeks of baseball you'll see this fall.