While two of the Shelby County League's best volleyball programs are retooling, their respective coaches have their foot to the floor, making the most of on-the-job learning opportunities.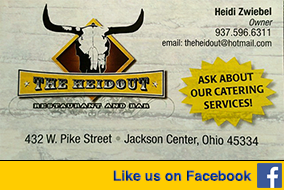 Russia – These are not easy days, or nights, for Aaron Watkins and Kim Metz.
Watkins and his Russia Raiders, district tourney vets from 2018, were 5-7 entering Tuesday night's match with former state champion Jackson Center.
And Metz, who guided the Tigers to state titles in 2015 and '16, had limped along through their first nine matches with a 3-6 mark.
Their teams are now young, both are missing valuable senior leadership from the past two seasons, and in Jackson's case, Metz and the Tigers started the year with a couple of nicks and dings – injuries.  So combine the variables listed and what you have is a recipe for mental mistakes, inconsistencies, hesitancy, poor decision making, and just plain ol' rough spots that come from learning to play the game at the varsity level.  Translation:  On-the-job training!
But Watkins' Raiders were a few mistakes, inconsistencies, decisions, and rough spots better than Jackson Center Tuesday night, taking down the Tigers in straight sets, 25-22, 25-22, and 25-15.  Watkins would later call it his team's best all-around performance of the year.
Metz would call it…"A hurdle, like Mount Everest.  Something we need to get over and beyond."
It was a match that either team could have won, had they taken the opportunity to do it – had they eliminated some of the mistakes, played with more consistency, and made better decisions.  Both teams had leads in the first set, fizzled them away, and Russia finally captured the momentum on a 14-play volley concluded by freshman Miah Monnin who found a crease in the Jackson Center defense finally and dumped a shot near the sideline for the point.  It ignited her team to a 9-6 rally and ultimately the game, 25-22.
In the second set it was Russia that sprung out to a 12-6 lead, lost it, regained the momentum, and made enough plays down the stretch to duplicate their first set win, 25-22.
And in the third Jackson simply ran out of steam after playing Russia close, 6-6, through the first twelve points.  But momentum swung the Raiders' way on some errant Jackson serves, some poor serve receiving, some shots beyond the end line, and on three occasions hesitancy on balls that fell in between defenders or just inside the end line – paralysis by analysis.
"It's tough," said Metz afterwards.  "And it's a matter of experience in trying to play the faster paced game that you have at the varsity level.  We've had good practices, we're healthy, but we're making choices instead of experienced plays.  So, our defense was out of position tonight, broke down at times on the service line, our net play early was good, but we just can't mentally hold it together throughout the match, not just yet."
They played hard, but they played young.  Just three years removed from their back-to-back state titles, the Tigers listed just two seniors (Elizabeth Hickey and Megan Argabright) on their roster Tuesday.
Similarly, Watkins started three freshman and played four frequently, force-feeding varsity experience as fast as he can as Tuesday's win raised the Raiders' record to 6-7…but behind unbeaten Fort Loramie (in league) in the Shelby County League standings.
"We're extremely young,"  said Watkins, echoing Metz's statements about inexperience and on-the-job training.  "We have fourteen girls on the varsity roster and ten of them are freshman and sophomores.  Every day is a learning process, but today was our best all-around game.  We tinkered with the lineup a bit, and the energy was there, the tempo was where we wanted it, and I really couldn't have asked for more.
"We lost leads throughout the match (first and second sets), but that's the inexperience, and we've had those kinds of up and downs all year.  Slowly, but surely, we're kinda' cuttin' those out."
Key point in the match?  Miah Monnin's point back in the first set after the fourteen play volley, that seemed to settle Russia down and into a more confident play-making state.
"That was a great rally, and a great play by Miah, and I get on her about doing that a little more, but it's just the learning curve for a freshman.  Sometimes you just take them aside and tell them that was a good time for a play like that, and think about it when you have the opportunity again.  It's all about helping them to see the game, adjust to the speed of the game, and for four freshmen that's a tough adjustment.  They're coming from eighth grade and that's a slow game compared to what they're playing now."
Russia improves to 6-7, and 6-1 in league play, but still a game behind Loramie.
While Jackson falls to 3-7 overall, and 2-4 in league play, and lost previously to Russia (3-1) on August 22.
"Our goal at this point is to just play through this, grow and get better,"  added Metz.  "It's very much a mental thing, more than people realize, and we have to keep working and master the mental aspect of what we're doing.  I believe in the girls, and I tell them that.  I've seen the good things that they do, but the hurdle to get over seems like Mount Everest right now."
"Our goal is to get back to the regional tournament,"  said Watkins with a bold nod.  "That would be three consecutive years that Russia has done it, and it's never been done here.  That's our goal, even with our youth."
And that's the story behind 3-7, and 6-7 – past, present, and future – for Jackson Center and Russia.