Anna laughs at superstition and show no effects from bad luck at all with a 'black cat' effort from Bart Bixler and Riley Huelskamp in win over New Bremen.

By Paige Thobe for Press Pros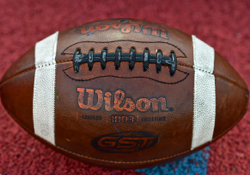 Anna, OH – There's something a little eerie about going to your first high school football game since graduating high school and going to college. The remnants of old memories slowly float to the surface, old smells of popcorn and sounds of childrens' screams chasing each other around. And something a little more eerie…when it's a full moon and Friday the 13th.
But there was nothing eerie, or superstitious about what the New Bremen Cardinals found on Friday night in Anna – just a good old-fashioned 45-0 whuppin' from a good football team with a pair of marquee talents on offense…Bart Bixler and Riley Huelskamp.
And right away, Huelskamp proved he wasn't spooked by anything, scoring the game's first two touchdowns to propel the Rockets out to a 14-0 lead.  He was just gettin' warm.
Riley Huelskamp is one of Division VI's most impactful football players, with a thirst for carries and a knack of putting the ball in the end zone.  He scored his third touchdown and the third touchdown for the Rockets with 3:31 left on the clock in the second quarter, the extra point was good, and just like that Anna led 21-0 at halftime.
At that point of the game the skies darkened and most of those sitting in the stands prepared themselves for what looked like an inevitable storm.  However, the storm turned out to be more of the Anna Rockets' offense.  Bart Bixler ran for the Rockets' fourth score at 10:27 of the third quarter to make it 28-0;  and then the storm – the lightning and rain – did come.
The delay lasted about an hour, but not nearly long enough for the New Bremen defense.  Bixler scored a second touchdown on a fourth down run just prior to the end of the quarter…then the Rockets wrapped things up with a pair of scores in the fourth to conclude the scoring at 45-0.

Anna coach Nick Marino was pleased with the win, and the effort of his kids.  But, he was also gracious with his comments for a New Bremen team that played as though a black cat had crossed the road in front of team bus.
"That's a good football team,"  said Marino.  "They've got some young talent and they're going to be even better down the road."
Downplaying the shutout and lack of Cardinal offense, Marino continued.
"They're going to win some ballgames this year, and I think they have a good chance to make the playoffs, too.  Bremen is up and coming.  They've been building…doing a good job the past few years."
But in regard to his own team, Marino made no bones about the impact Riley Huelskamp had on his teammates, and the game.
"Riley really played a great game tonight,"  Marino continued.  "He's a hard working kid, and a tough kid, obviously.  He made plays with our running game, he made plays with the special teams, and when he had the ball we ran better in the second half, which was good to see."
The Rockets improved to 3-0, while New Bremen suffered its first loss of the season (2-1).
But on a night when bad things seemed to happen to other football teams (Parkway losing 49-0, Bradford losing 55-0, Miami East losing 34-0, and Troy losing 62-13), Anna paid no attention to full moons, or unlucky dates, or even black cats.  They just played, played well, and won.
The Rockets are back in action next Friday against the St. Henry Redskins.  Beware a different moon.