Dobbins surpasses 200 total yards against Indiana … Defense is stingy again in 51-10 victory … Fields doesn't have big game, but the new QB keeps progressing
Bloomington, IN – Justin Fields looked as nervous as a squirrel in traffic at the start of Ohio State's game at Indiana, which is understandable. He's a sophomore transfer still learning a new system and was making his first college start on the road.
He had a 76-percent completion rate in the first two games at home, but he began 5 of 9 and missed a few easy throws, including one on a third-down play that would've kept a drive ticking.
His stress level probably wasn't helped when kicker Blake Haubeil missed a 32-yard field goal after the opening possession stalled in the red zone.
But Fields had more than enough time to get that inner churning to subside, thanks to a miserly defense and a robust running game.
The Hoosiers had no positive yards on their first six snaps. They didn't march forward until their THIRD series, and only because they abandoned their running attack and turned the game into a pass-fest.
After scoring 86 points while starting 2-0 (albeit against a couple of marshmallows), the Hoosiers looked as if they were playing in steel-toed boots while getting pillaged and plundered, 51-10.
Chase Young had two more sacks, giving him a Bosa-like five in three games, and the Buckeyes had 12 tackles for loss.
The first-stringers did give up their first TD this season, but it was 30-3 by then, and the score came on a flea-flicker (a backwards pass and then a completion down the field).
Here's a snippet of why you can begin to trust this defense after last year's horror show: On third-and-1 early in the second quarter, the Hoosiers tried a bootleg with QB Peyton Ramsey. That call would have worked in 2018. E-V-E-R-Y-T-I-M-E. But linebacker Pete Werner stayed home and made the tackle in the backfield.
The pass defense, left in tatters a year ago, has been fundamentally sound. The DBs are far less handsy, are avoiding penalties and are making opposing QBs have to throw into miniscule windows.
Cornerback Damon Arnette returned an interception 96 yards for a TD. Though he still celebrates pass break-ups way too much for my tastes, he looks like a completely different player.
The Buckeyes finished with a 528-257 edge in total yards, and J.K. Dobbins was responsible for 207 of them — 193 on 22 carries and 14 on two receptions in just over two quarters of work. He had two total TDs and should've had another, but he dropped an easy toss in the end zone.
Anyone who visited this space last week knows I openly questioned the compact junior, wondering whether he really was lead-back material and opining that burly redshirt freshman Master Teague might be a better option.
After all, Dobbins averaged 7.2 yards per rush as a freshman but plummetted to 4.6 last year and then dropped to 4.3 against FAU in the opener.
But he's up to 425 yards with a twinkling 7.1 average after gashing IU, and he actually broke a slew of tackles while falling just short of notching Ohio State's first 200-yard rushing day since Ezekiel Elliott in 2015.
Not that I was wrong about Teague, who again looked like a future star while racking up 106 yards and a TD on 10 attempts.
But consider this my mea culpa. While it looks as if the Buckeyes have their best offensive line in years, which certainly doesn't hurt, Dobbins is running hard enough to have earned most of the meaningful snaps.
He wasn't exactly going against a bunch of chumps, either. Though they haven't beaten the Buckeyes since 1988 and finished 5-7 the last two years, the Hoosiers have been a handful of late.
The Buckeyes led only 28-20 at halftime last year before winning, 49-26.
They actually trailed at halftime in their 2017 visit to Bloomington, but turned a 14-13 deficit into a 49-21 triumph.
The outcome was never in doubt Saturday. And Fields helped to make sure thousands of Ohio State fans who converged on Memorial Stadium could crow all the way to the post-game alma mater.
He was 14 of 24 for 199 yards and three TDs. He had 11 yards and another score on four rushes.
He compares favorably with his predecessor through three games.
Haskins: 913 total yards and 12 TDs with one interception.
Fields: 779 total yards and 13 TDs with no interceptions.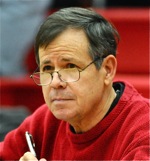 I love how Fields treats the ball like a Fabergé Egg, seldom putting it up for grabs and throwing it away when necessary. The coaches also are being smart in limiting his exposure to big hits. That's important. He might be needed more in the ground game at some point, but the only thing that could derail the season would be an injury that sends him to the sidelines.
We'll never know, of course, how good the Buckeyes could have been if Haskins had been given this defense and running game. A playoff team? Perhaps a worthy challenger to Clemson and Alabama? Seems likely.
We're only a quarter through 2019 and have a small sample size on the new QB. But if Fields continues on his current trajectory, it's not hard to imagine them reaching those heights.