To continue on a theme pertaining to the fall sports season, week 2 revealed once again…that there may be more good volleyball teams in the area than football!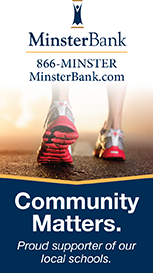 When we wrote a year ago, at about this same time…that there were more good volleyball teams in west central Ohio (especially in Divisions III and IV) than there were good football teams it brought some emails of protest from traditional Friday night 'lighters'.
Some wrote to say that by saying it we were just exhibiting what we didn't understand about football.
Some wrote to say that we had caved to the cultural argument that football wasn't safe, that numbers were down, so we were jumping on the volleyball bandwagon.
Some, in fact, wrote to say that we were just kissing up to political correctness regarding women's sports. That, "Wherever there's a story you'll go." An actual quote from a reader who later admitted, "I wish I hadn't said that."
But a year has passed now, and with its passing some facts to point to the inarguable…that still, in 2019, there are more volleyball teams poised to make a run at title weekend at the Nutter Center than there are football teams that will make it to the regional round of the tournament. And what we saw this past week was such strong testimony that it would make the Friday night purists helpless to prove otherwise.
There's no question that Fort Loramie has both…an outstanding football team with Spencer Wells as coach, and, an outstanding volleyball team under John Rodgers, the state champions of Division IV in 2014. And when you look ahead at the next six weeks both are going to establish themselves as post-season favorites.
But the volleyball team is going to have a much harder road in Division IV, with area teams like New Bremen, St. Henry, Marion Local, Fort Recovery, and Lehman, than Wells' football team, playing in Region 28, Division VII. The one lone asterisk in that region is Marion Local, which PPM analyst Tim Boeckman saw this past weekend.
After watching the Flyers lose to Bishop Watterson, Boeckman said, "Give them a few more weeks and you're going to have a typical Marion Local team. And I wouldn't doubt that they'll make it back to state. They've got talent and you know they're going to be well-coached. All they need is time and experience."
John Rodgers' volleyball team is going to have a much more challenging field in Division IV, especially from a regional perspective, with the names listed above, not counting the prospect of another team that might come out of nowhere.
In division III, more of the same. Given the struggles of defending champ Versailles in the first month of the season, New Bremen coach Diana Kramer pooh-poohed the Tigers' 4-5 record after her team's three-set win over Versailles last week.
"I'm predicting that they'll go back to state," said Kramer of the Tigers. "They're making some adjustments right now, they've got size and talent…and Lindsey Winner (going to University of Dayton next year) is one of the state's best players."
And in Coldwater, where the Cavaliers have caught fire in the past two weeks, including a win over previously unbeaten St. Henry, Nikki Etzler's team has now reeled off eight consecutive wins since losing to Fort Loramie on August 17th.
Miami East lost three of its first four matches, but has since won four straight.
Troy's only loss (8-1) came last week to Tippecanoe, and the Red Devils are unbeaten in ten outings, any may not be challenged again until they meet Troy on October 2.
Count 'em up and that's ten schools in Miami, Shelby, Mercer, Auglaize, and Darke counties that are a legitimate threat to contend for a 2019 title in volleyball.
Do the math in football and the number is less than half that many, with Coldwater, Minster, Anna included, all expected to make their case in the coming weeks.
And lest you're moved to write, remember, this column is based purely on what we saw last week…in week 2 of football season. We've had a month to see volleyball, and obviously it's made the stronger impression.
And to our statement from last year, Versailles did go on to win the state in volleyball, and New Bremen finished second.  For the first time in recent memory…no area team won in football!