On the road this weekend with the Dayton Flyers, and a stark comparison to college football as you know it.  But if you knew how the other half plays I think you'd like it…maybe even better.
Terre Haute, IN – If Hal McCoy was here (and I wish he was instead of playing Blackjack in Europe) he'd start this by writing, "Unsolicited observations from the man cave."  But there is no man cave, just a seat four rows back on the Dayton Flyers' team bus to Terre Haute, Indiana, and their football opener tomorrow with the Indiana State Sycamores.
When he gets back, of course, Hal will assume the weekly beat responsibilities of writing UD football (and basketball), but for this one weekend I get the seat in row four.  And it's not a bad gig at all, especially when you compare the typical travel day and game day at UD compared to Division I football at Ohio State.  I've done that, too, and there's a world of difference.
"Just show up at about 9:30 am,"  said sports information director Dough Hauschild.  "The bus leaves for Terre Haute at 10, and don't be late.  And…give me an emergency contact number to contact someone in case something happens."
At Ohio State it's a much more complex issue, due to the pecking order for media credentials.  Granted, I did go through a background check with UD a few year ago when I was traveling with the Flyers baseball team, but to show up at 10, get on the bus, and go to Terre Haute with the team?  It's just not done that way in the Big Ten.
And, covering an Ohio State game amounts to a twelve hour day.  Television makes the games a four-hour affair, then you wait on Ryan Day for an hour to answer questions.  By the time you get back to your computer, write, and file your story, you have to drink black coffee to avoid falling asleep on the drive home.
Here, when the game's over Rick Chamberlin meets you outside the locker room within fifteen minutes of the final gun, Doug Hauschild produces any player you want for interview time, you get your quotes, write your story, and file – in this case from the bus on the ride tomorrow back to Dayton.
The Flyers play Division I, FCS football (Football Championship Sub-division), a rung or two down from Ohio State and the FBS designation, and the lights aren't nearly so bright or the profile so high.  It's serious football, make no mistake, but there is no live local media coverage of the Flyers outside of Press Pros this weekend, and Rick Chamberlin is delighted to have us along.
"Actually,"  says Chamberlin, "this is a great brand of college football.  The kids we have here are great athletes, they want to come to a great school, get a great education, and a lot of them are getting financial assistance because they're great students, not because of football.  To me, this is the best of both worlds and these kids compete hard on and off the field.  Saturdays here mean just as much to us as they do in Columbus."
If you're a football fan and you've never seen Dayton play…you should. They take it seriously, having won twelve Pioneer League Titles (FCS – Football Championship Sub-division) in the 27-year history of the league. No other league member even comes close.  It's different from Ohio State, for sure.  The players aren't as big and the thought struck me as they boarded the bus Friday that the Buckeyes' offensive line might not fit in those charter bus seats.

The Flyers won six and lost five in 2018, and after a stumbling start finished by winning three of their last four games. Freshman quarterback Jack Cook threw for 2,421 yards and twenty touchdowns, averaging 220 yards per game. Senior running back Tucker Yinger ran for 1,300 yards. And the Flyers feature five receivers with twenty or more catches last year, led by tight end Adam Trautman with 41 balls for 604 yards and nine touchdowns.
In the Mike Kelly days their roster had more of a local flavor. Now, Rick Chamberlin and the Flyers benefit from a more regional recruiting mix and UD's reputation for academics and its highly-touted curriculums in business and engineering. UD nominated twelve players for Academic All-American in 2018 and in the past eighteen years the school has had 18 AAA (Academic All-Americans) in football, more than any other NCAA Division I school.
They'll open Saturday against Indiana State, a member of the Missouri Valley Conference and a team they've played twice previously, in 1975 and '76, splitting the brief series. Without question, the Sycamores will be a tall order for UD, with sixty players on scholarship, a noticeable advantage in size, and the home team is rebounding from a 7-4 record in 2018 under then first-year coach Curt Mallory, who played his college football at Michigan for Bo Schembechler.
Indiana State already has a game under its belt, having lost to Division I (FBS) Kansas in last weekend's season opener, 24-17. The Sycamores led in that game, 17-16, with five minutes to play. They're ranked 15th in the 2019 FCS pre-season poll and finished the 2018 season averaging 365 yards of offense, while giving up 344 yards on defense.
But regardless of Saturday's outcome, it's the ease of doing all this that makes the greatest impression. The bus ride across Indiana was easy, and the lack of demand for video and sound bites was almost welcomed.  The colloquial environment of Indiana State's Memorial Stadium (12,000) represents hard-hitting college football without distraction.  There wasn't a guard or security person in sight when the Flyers pulled in for their one-hour Friday – no hoops to jump through.  One of traveling party estimated it amounted to a half hour in saved efficiency.   Game time is 1 pm (ET) Saturday with a bus trip back to Dayton immediately afterwards.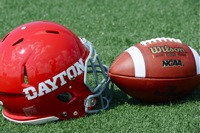 It's kind of like football used to be, someone said on the bus – back when it didn't take all day, when a ticket cost $12, and no post-game feeding frenzy.
"This is college football with the proper priorities," Rick Chamberlin told me last year on a First Person interview. "Not that they don't have the right priorities at Ohio State and other places, but with our academic reputation our players leave Dayton for a better post-football record than they had on the field. There's not too many places where that's the case – not too many cases where players come to play without a scholarship…because it's the University of Dayton."