New Bremen stayed unbeaten, but suffered a much more significant loss…while Versailles again struggled to find their way.  Close, but no cigar, as the Tigers fall in three to the Cardinals.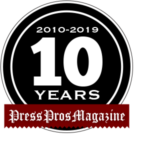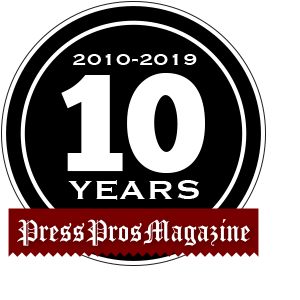 Versailles – By rights, New Bremen's Diana Kramer could have found some form of objection to Wednesday's Press Pros column which questioned…is Fort Loramie the class of Division IV volleyball in the area?
After all, her Cardinals stayed unbeaten Thursday night with a three-set win over Versailles – 25-21, 25-23, and 26-24 – the defending champions who suddenly appear snakebit, having dropped three straight.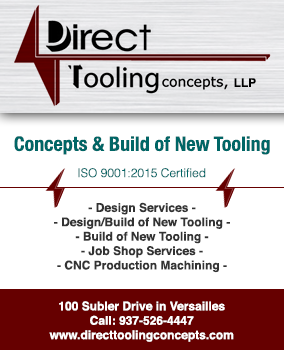 And, it marked the second consecutive time in six days that the Tigers have lost in 'sweep' fashion, to Fort Loramie and New Bremen, but Thursday's loss, while hard to swallow, did show signs of life – of improvement.
Hard to swallow for the fact of the Tigers having an 18-11 lead at a point in the first set of Thursday's match, only to see New Bremen score seven unanswered points, then tie, and eventually overtake Versailles for a 25-21 win.
Hard to swallow in the second set when at one point they held a 14-10 advantage, only to see Bremen come back again, tie, take the lead, and hold that lead to win 25-23.
And in the third set the Tigers actually tied the scored twice late, went ahead by a point, then saw that slim margin go by the boards as Bremen scored the final two points to gain the sweep.
"Tonight was fun – it was different,"  said Versailles' Kenzie Bruggeman.  "Tonight we were competing.  We were right there and we had drive that I hadn't seen recently.
"This was definitely not the team that I saw two weeks ago, and even last week.  Last week I think we would have lost 25-5.  It still goes as an 'L' on our record, but I'll take this tonight.  We got better, and that's what these games are for."
New Bremen's Diana Kramer was pleased with her own team and its competitiveness, but her enthusiasm was tempered by the fact of having lost junior Ellie Roetgerman with a severe ankle injury as she scored the final point in set one.  She was immediately helped from the floor by teammates and left the building for X-rays.

"It was a great win for us,"  said Kramer with a note of concern.  "But my prediction is that Versailles goes back to the state tournament in D-III.
"It was a good sign for us that we battled through some obvious mistakes and did it with a six-rotation player going down.  Ellie is a huge blocker and an offensive threat for us, and our lineup is built around her and Macy (Puthoff).  So that's not a good sign for us, but the positive is that we had people step up in her absence and competed.  We obviously need to work on a new lineup, and figure some things out, but these girls are tough mentally and physically and we're confident that we will figure it out."
As always, New Bremen spread the responsibility around – Taylor Paul with 13 kills, Macy Puthoff with 7 kills and 8 digs, and a complementing cast that like Fort Loramie, executes like interchangeable parts.
"When we were down 18-11 we just kept telling ourselves to put everything we have into the game,"  said Puthoff.  "We believed that if we played Cardinal volleyball we were going to pull through.  We weren't worried about losing, we were just playing our game.
"We are worried about losing Ellie, though, because she's a big part of our team and when she was out it put a damper on things, but Katie (Howell) and Kaylee (Freund) did a great job."
There was no information, of course, as to how long Roetgerman might be down, but damper or no damper, teammate Macy Puthoff assured that it won't get in the way of their season's goal.
"We're going back to state,"  she smiled.  "We're definitely going back, we're going to win, and Ellie will get healthy and be back.  But in the meantime…the players that fill in for her are going to help us get there, too."
So the beat goes on for two programs at the present going in opposite directions.

Versailles has now dropped three straight (4-5) and are off now until they play on the road at Celina on Monday.
New Bremen improves to 7-0 (2-0 in the MAC), and likewise is off until Monday when they meet Lincolnview, in Van Wert.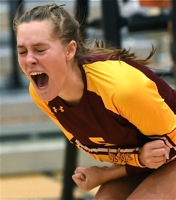 "We're unbeaten, and we'll take it,"  added Kramer.  "A win is a win and even better when it comes against a quality team like Versailles.  They made some adjustments tonight and they were better than they were when I scouted them last week.  I predict they'll go back to the state tournament because they're going to get better…and Lindsey Winner is one of the best players in the state."
Broken, but not beaten – the term applies to both Versailles and New Bremen after Thursday's match, just with different perspectives.  And neither expects to be broken for long…or for good.
In fact, they're used to it.