Ohio State scores four touchdowns in first quarter as Fields leads way … Offense struggles against Florida Atlantic after fast start … Defense looks dynamic for three quarters.
COLUMBUS — When Ohio State stormed to a 28-0 lead barely eight minutes into its season-opener, the sentiment likely permeating through Ohio Stadium was that Justin Fields was a more athletic version of Dwayne Haskins, the revamped offensive line was an upgrade over last year's unit that specialized in playing patty-cake, and Ryan Day was such a wizard of a coach that the team would avoid the normal first-game snafus that plague nearly every program.
Uh, let's pump the brakes on that rosy assessment.
Yep, for slightly more than half a quarter, the Buckeyes looked as if they were ready for Clemson or Alabama in the playoffs. After that sublime stretch, though, they left you wondering if they were ready for Cincinnati next week.
Their final five first-half possessions produced zilch: three punts, a J.K. Dobbins fumble and another fumble on a backward pass.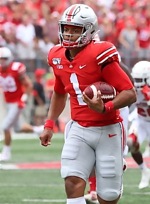 A promising series to open the second half was sabotaged by a holding penalty and ended with another call to punter Drue Chrisman.
The offense finally regained its mojo with a late third-period TD, ending a scoring drought that lasted 34 minutes and 13 seconds, on the way to a comfortable 45-21 victory over Florida Atlantic. But the reason the outcome never entered the danger zone is that the defense, a source of much angst in Buckeye Land last year, looked fast, focused and ferocious.
The Owls officially finished the first half with minus-14 yards on 32 plays. Their two touchdowns came in the fourth quarter against mostly back-ups.
Chase Young and his mates had four sacks and 12 tackles for losses. Linebacker Baron Browning, underutilized since his arrival, was a constant menace and finished with six stops overall.
Yes, Lane Kiffin's ragtag bunch may be the worst team on the schedule. But quarterback Chris Robison was a top-100 recruit who originally signed with Oklahoma, and several other players transferred from big-time schools, including 'Bama.
The Buckeyes, who were 86th nationally in yards allowed last season, gave up just 228. That means they probably won't find themselves in regular shootouts like last year, but it's probably reasonable to expect some low-scoring affairs.
An underrated part of Haskins' game was his ability to read a defense and dissect secondaries. Fields was making his first college start, so he has plenty of time to grow, but he didn't exhibit that same vision in his debut.
Open receivers sometimes weren't spotted, and he seemed tentative while holding the ball far too long. Only when he began to scramble again did the Buckeyes look as confident as they did on the first four drives.
They had 200 yards (100 rushing and 100 passing) on those possessions but just 269 after that.
We didn't know if — or how much — Fields would be put in harm's way. There were no called runs from the sideline for the QB, and maybe that was part of the issue.
You can't treat him like a porcelain doll. I know the players behind him might not be even ready to lead an intramural team, but the Buckeyes won't get where they want to go without taking full advantage of his skill set.
On the fourth play of the game, Fields called an audible, faking a handoff to Dobbins and racing 51 yards up the middle through a gargantuan hole for a TD.
He did run a few times on the read-option, but the coaches tried their best to keep him in bubble wrap.
I'm sure the staff would have loved to just roll out last year's offense again, keep Fields in the pocket and hope that straight handoffs to Dobbins would be enough to make the defense overly run-conscious. Yet even with plenty of experience on the line — and raves throughout the preseason — the ground game looked as if it were mostly operating in sand.
Dobbins gained 91 yards on 21 carries, while Fields had 66 on 12 (including sacks).
The line fared better in pass protection, although Fields took a couple of hard shots. He finished 18 of 25 for 234 yards and four TDs with no interceptions.
But after that scintillating start where Ohio State's drives were more like lightning strikes — the time of possession on their four TDs were 1:53, 0:36, 0:37 and 1:02 — the game turned into a snoozefest, which is why most of the 103,228 fans were long gone when it ended.
The official Ryan Day Era may have gotten off to a winning start, but Ohio State has much work to do. Turns out the golden arm of Haskins, along with Urban Meyer's stamp on the program, may be harder to replace than many surmised.
I was often asked this summer how I thought the Buckeyes would fare. My answer was always the same: I could see them go 9-3, and I could also envision them finishing 12-0, and the latter was the more likely scenario.
The team we saw in the first 8:10 is perfect-record material.
The squad that flailed around for the final 51:50 might have trouble even reaching 9-3.
Which one can we expect to see? Hard to say. But we won't have to wait long for an answer.