While Piqua's inexperienced offense continues to be a work in progress, Chaminade Julienne's veteran group has the potential to be a work of art.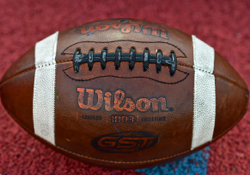 Piqua, OH – Even with the Piqua Indians playing under the Friday night lights bright eyed and inexperienced at the skill positions, the Chaminade Julienne Eagles knew the Indians would provide a challenge.
The Eagles' second challenge, though, came from an unexpected source: CJ coach Marcus Colvin.
In a game more than a few critics thought would be in hand by halftime, Colvin asked his Eagles to step up and add to its 7-0 lead. This, after all, was a CJ team that returned key contributors from last season's 42-22 victory over Piqua, including a 21-0 lead at halftime.
This one ended 28-7 in favor of CJ, the first of what Colvin hopes are many this season.
"It's kind of been the story of our preseason. We have a lot of expectations for ourselves," Colvin said. "It's frustrating when I don't think we played the way I think we can consistently. You see pockets of it. I'm not disappointed at all. It's hard to beat a Piqua team who's physical."
Piqua's defense bottled up a CJ offense in the first half … the same one that rolled up 461 yards on the Indians last season. The second half? Chaminade Julienne responded to Colvin's challenge with a heavy dose of power back Marquis Henry up the middle, quarterback Ryan Minor's quick outs to receiver Kenyon Owens and defense.
Henry rushed for 173 yards and a touchdown on 20 carries and caught a 35-yard touchdown pass. Minor completed 19-of-23 passes for 238 yards and two touchdowns. Thirteen of those passes went to Owens for 13 yards and a TD.
"The first half we played okay and were able to stay in it," Nees said of the 7-0 halftime deficit. "We let them come out in the second half and get a (scoring) drive. That quarterback is very good. He's able to mix in some short passes."
CJ's opening drive of the third quarter covered 60 yards in eight plays. Five of them were passes, capped by Minor's 35-yarder to Owens for the 14-0 lead.
The Eagles tacked on two more TDs on Henry's 8-yard run with 13 seconds left in the third quarter and Quincy Johnson Jr.'s 3-yard run with 4:43 left in the game.
Piqua's offense put together a five-play, 34-yard drive set up by Aidan Meyer's 64-yard interception return. Meyer stepped in front of Minor's pass near the goal line and was pushed out of bounds by Henry. Tanner Kemp capped the scoring drive with his 2-yard run.
The defense had two interceptions … the first one in circus fashion. Minor found tight end Josiah Bowman in the end zone midway through the third quarter. Defensive pressure caused a loose ball,
But Bowman – falling to his knees – pinned the ball to his back momentarily. His momentum caused him to fall forward and the ball popped into the air and right into Maxwell King's lap as he sat in the end zone.
"They've got some potential. They're a physical, strong team. They made it really tough for us," Colvin said.
"I have a lot of respect for (Bill Nees) and I understand what this field means. I look at those (state championship signs hanging above the locker room). Nothing is easy when you come to Piqua."
CJ put up 473 yards in total offense, 27 first downs and held the ball for 30:42. Piqua finished with 144 yards of offense and had six first downs.
First-year quarterback Blane Ouhl completed 5-of-12 passes for 71 yards. Kemp led the ground game with 25 yards on two carries, while Jasiah Medley showed flashes with 20 yards on five carries. Seven different Indians combined for 73 yards rushing on 27 carries.
"We still are (searching for our offensive identity)," said Nees, who is 195-101 in his 28th season at Piqua. "We have to keep getting better. The competition doesn't get any easier. We just have to keep working to get better."
Caron Coleman led Piqua's defense with 10 tackles, Lance Reaves-Hicks had seven and Dylon Sever and Kuhn had six each. Coleman and Reaves-Hicks both had sacks.
The defense stepped up in spots, but there are items to address. Piqua had CJ pinned on their 40-yard line facing fourth-and-33. A roughing the kicker penalty gave CJ an automatic first down. The Indians also committed seven penalties for 55 yards.
It's little consolation for Piqua to know half of the high school football teams in Ohio are in the same situation as the Indians, sitting at 0-1. It adds a little more urgency to get that first win next Friday at Lima Senior.
"For all the work you put in from January, it kind of validates some things," Colvin said of joining the other half in Ohio at 1-0. "You're not working your kids in vain. There's a point to our hard work. It's humongous to get a week one victory. Piqua is going to rebound. They're going to be okay."