It wasn't pretty or tidy.  But Minster showed enough to win on opening night over Fort Loramie, and enough potential for improvement to gain the eye of their next nine opponents.  But the best thing they showed…was they're concerned with getting better.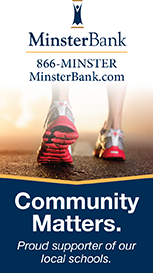 Minster, OH – It was hard to tell from Geron Stokes' expression and post-game comments. Was the glass half full, or half empty?
Translation: Just how happy was he with Friday's 20-14 opening win over Fort Loramie.  Because…he's been known to downplay the prospect of winning in the past, in favor of the prospect for improvement.
Whatever, it goes down as another Minster win in this season-opener series, and on the other side of the field Friday night Fort Loramie's Spencer Wells would simply have been happy with a win of any kind. It marked the second time in as many tries that Wells has come up short against Stokes and the Wildcats – the second time in as many tries where mistakes (turnovers, four of them) left too many unanswered questions on the field as to the outcome.
"But I couldn't be prouder of our effort," said Wells, minutes after the final horn.  "Our kids played their butts off and they fought so hard.  They put the effort in, but as a football family we have to clean up a lot of things.  I'm excited about that because the sky really is the limit for these guys.  It's just tough when you have to learn a lesson [like we learned] on week one.  But we're going to learn that lesson, and we're going to get better and better each week."

In a capsule, Wells was right.  His team did play hard;  and quarterback Collin Moore threw for 300 of his team's total of 364 yards – and a pair of touchdowns.
But turnovers – four of them – negated a lot of the shine on Loramie's effort, short-circuiting would-be scoring opportunities with what Stokes would call in his post-game remarks – the difference conditioning made in the outcome of the game.  Translation:  Minster, in his estimation, was better prepared to play in Friday's humid conditions, and that fact caught up with Loramie in the second half.
But to begin, Minster came out to play with efficiency on offense, scoring on their second possession of the game – 25 yards through the air from quarterback Jake Neimeyer to wide receiver Trent Roetgerman, a play made possible by a clutch third down and eight pass reception by the 'Cats' Brendan Bornhorst that gained 24 yards and extended the drive.  They missed the point after attempt, but at 4:21 of the first quarter led 6-0.
A pair of fumbles by Loramie turned the ball back to Minster, and with 2:40 left before the half Minster started its second scoring drive of the game.  A little dink, a little dunk from Niemeyer, some rush yards from Alex Schmitmeyer, and the Wildcats moved the ball to the Loramie three yard line where the Redskins stiffened, forcing fourth down with six seconds to play.  Stokes called a timeout, and low and behold came out with the Nick Foles 'special'.  You remember…the play the Eagles scored on  against New England in the Super Bowl?
Niemeyer took the snap, threw a backwards pass to Roetgerman, who then turned and threw the ball back to Niemeyer who had drifted uncovered out into the flat of the end zone.  Touchdown!
"It's a play we've been working on,"  said Niemeyer.  "I wanted to call it and get into the end zone."
And like Foles and the Eagles, they worked it to perfection to take a 13-0 halftime lead as the clock ran out.
Loramie came back out ready to play, and on their first possession of the third quarter Collin Moore dunked a beauty of a touch pass over the line and between linebackers to Damon Mescher, who turned and raced 64 yards, untouched, into the end zone for the 'Skins first score….13-7!
But on the ensuing possession Minster mounted a 65-yard, five minute drive that culminated in a four-yard touchdown run by Schmitmeyer that extended the lead to 20-7.
Loramie had some second half opportunities, but a pair of interceptions, one by Kody Richard, and one by Adam Ketner, gave Minster the ball back…and gave Loramie a case of the cramps – exhaustion!
However, on the strength of Moore's passing, they moved down the field late in the fourth to score on a pass to Drew Benanzer with 2:00 left in the game to cut the margin to 20-14.
True to Spencer Wells' words…they gave it all they had.  Loramie attempted the onside kick to get the ball back and for one more chance to score, but Minster fell on it, Niemeyer took a knee on four successive snaps, and with no timeouts left Loramie could only watch as the clock ran down, and out, on opening night.
Some winning numbers:  Minster won it with 289 totals yards, highlighted by Niemeyer throwing for 147 yards…he threw a touchdown and he caught a touchdown (from Roetgerman).  Alex Schmitmeyer ran for 65 yards and a touchdown.
"It wasn't very pretty,"  admitted Niemeyer.  "But we pride ourselves on work ethic, and being in shape to come out and win.  They cramped up, we didn't, and that makes this a work win.  We really didn't execute very well tonight."
In his post-game remarks, Geron Stokes echoed Niemeyer.
"We were in shape to win.  A helluva' job by our guys because they put in the work.  I'm so proud of our guys because they cramped and we didn't.  They turned the ball over and we didn't.  We finished drives. They had the penalties, and we didn't.  And all of that, to me, is a credit to the amount of work that they've put in."
And the flea flicker at the end of the first half?
"A great call, and a great play,"  Spencer Wells said.  "Credit to them because they obviously saw something they thought they could execute."
"It was great execution by our guys,"  added Stokes.  "We've repped that play a lot, and I don't know if we took it from the Eagles…it may have been something our kids came up with."
In his post-game talk with his kids, Stokes cautioned about complacency and reminded them of the work that had to be done this week to prepare for Covington…saying the greatest percentage of improvement comes between weeks one and two.
"We're going to get after it in films tomorrow,"  said Stokes.  "And we're going to demand that the standard is raised.  Hopefully we're going to have four practices next week that are on complete fire, and we're going to try to get better.
"I give us a Week 1 'A' for tonight, because I felt we outworked them tonight.  And I'll say this…they're loaded with talent.  I'm not even sure we should be beatin' them.  But I really believe we did win tonight because of our conditioning and our work ethic."
Next week Stokes and the 'Cats travel to Covington, about whom he warned before breaking the post-game huddle.  The conditioning was already in place.  Take nothing for granted.  Raise the standard. And give four practices between now and then that are 'on complete fire'.  A Week 1 'A' is fine for the weekend….
But the greatest improvement comes between weeks one and two.  And history bears it out…that Geron Stokes will be more concerned with that, than winning!