Playing as well as you could possibly play after seven matches, Fort Loramie served notice of the best being yet to come Saturday with a three-set sweep of D-III champ Versailles.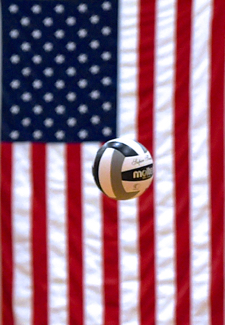 Versailles – It's been five years since John Rodgers and the Fort Loramie Redskins won the state title in Division IV volleyball – a team that seemed to get into 'system' early in that 2014 season…and stayed there right through the state final game.  They defeated McComb for the title, a team that lost just once in 29 matches, and that lone loss was to Loramie – in four sets.
Fast forward to Saturday afternoon in Versailles, against the defending D-III champion Tigers (4-4), and those who remember might have envisioned that same kind of 2014 destiny…as Loramie cruised to its seventh win of the year (7-1) with a dominating effort over three sets, winning 25-19, 25-17, and 25-19.  It might not have been that close!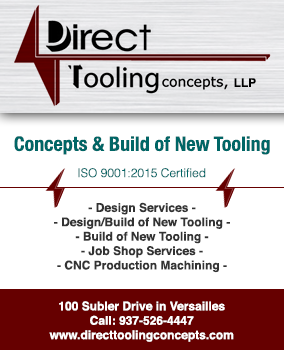 They played with a cerebral purpose, surgeon-like in the ability to hit the ball where they wanted, and when they wanted.  They placed shots on the boundaries of the court, forcing the Versailles defense to chase, lunge, and struggle to keep the ball in play – to play totally out of 'system'.  It was as close to Phi Beta Kappa as you could get – an honors course in high school volleyball.
They attacked the champions' confidence, a good volleyball team that's suddenly playing with a lot of doubts.  They benefited from 'unforced' errors by the Tigers, a team with height and leverage, but against Loramie one that could not harness its powerful outside hitting.  Shot after shot flew beyond the end line for easy points.
Loramie, on the other hand, feasted on its own opportunities, setting up sophomore Ava Sholtis (9 kills) and junior Kenzie Hoelscher (10 kills) for one laser after another down through the heart of the Versailles defense.  They were, in the words of one local observer…the two best players on the court!
"We just had no offense,"  said a frustrated Versailles coach, Kenzie Bruggeman, afterwards.  "And when you have no offense you're just sending the ball over to let Loramie do whatever they wanted.  And they have all the athletic people to make sure it happened.  That makes it hard on our defense, we can't get back into system, and we're just tipping the ball back over every single time."
That's about what it amounted to, against a team playing so well after eight contests that even its coach struggles to maintain caution with his optimism.
"I'm really pleased over what we were doing away from the ball,"  said Rodgers.  "You see the stats with the ball, but the people without the ball are doing their jobs extremely well – the coverage, the discipline to run out your plays – everything you need to do without the ball in your hands they're doing really well right now.
"These girls work really hard, and the old saying is that players win games.  We've been telling them where to hit all along, and now they've decided that it's going to happen.  And that's what you saw today.  They went out and executed and did what they had to do to beat great team, by the way."
They seem to be at their best when both Sholtis and Hoelscher are on the court together.  Quick, and athletic, they negate opponents' efforts to play away from just that one singular standout talent.  When there's two of those talents, they're hard to avoid.
"We just tried to play with a lot of energy,"  said the soft-spoken Sholtis.  "We tried to limit our mistakes and tried to hit the ball to the boundaries where we could keep them out of system.  They're a really good team and their middle players are really good, so you want to keep them out of their game."
Both Sholtis and Hoelscher have played a lot of varsity action at young age, and some of that early experience seems to be showing its dividends now, everything coming together.
"Last year we didn't have a lot of experience, especially me,"  adds Sholtis.  "And now, with more time together, it's really helped us connect and play all together."
All together, and all the things you need to do to be a superior team.  They served well Saturday, and they changed the pace of play.  And because of their precision and confidence, they were able to keep the champions, a good team in their own right, totally out of whack.
"We need some consistency,"  said Bruggeman outsider her locker room.  "When you play the way we're playing now you have to expect to get pounded.  We're not serving aggressively, we're not playing with any consistency, so it's hard to get a team like Loramie out of system.
"I don't want to think that the girls feel pressure to play like they're the state champions, because that's not something we push in practice.  And we're a completely different team from last year.  What's happening now is we're trying to find some leadership…someone to rely on when things get tough."
And not to panic but there was a point last year when Bruggeman's team lost five of six matches, struggled with some of the same issues, and then righted themselves to win out over the last month and take the Division III title.
"We have to find consistency,"  she reiterates.  "You can't have ten-plus errors every game when you're losing by five or six points.  We have to buckle down and control the mistakes that we're making."
Which is something with which John Rodgers has seen, has lived, and survived since that team in 2014.  The difference between Fort Loramie and Versailles on Saturday were the age-old issues.  His team played with purpose, with confidence, and without errors.  They made Versailles react to THEIR game.
As for the Tigers…it ain't working so well.  The champions, for now, are a totally different team.