It was a slugfest…a clash between MAC powers to determine early season pecking order in volleyball, and in the end Coldwater outlasted unbeaten St. Henry to claim temporary bragging rights.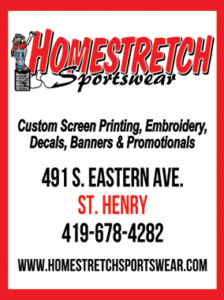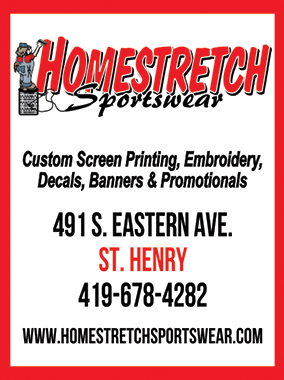 Coldwater, OH –  They called it volleyball, but for the last forty minutes of Thursday night's five-set match between MAC powers St. Henry and Coldwater it more resembled a heavyweight fight – Ali vs. Frazier, II – The 'Thrilla' from Manila, if you will.
It was one of those scenes that got louder with each passing point – no one sitting, and no one with any voice left when it was over.  Coldwater caught St. Henry flatfooted out of the gate, surprising the talented and athletic Redskins with 25-19 wins in the first two sets.
Then, like a duck that had been whacked on the head, St. Henry shook itself, served better, and got more into system to take the third set, 25-20;  then held on as Coldwater made a furious charge late in the fourth set to take that one, too, 25-20.  That's how close it was;  that's how contested it was.  Identical winning scores for both teams in each of the first four sets!
Then, in a back-and-forth heart-stopping fifth set, both teams traded points, miraculous plays on defense, extended rallies…everything you could ask for from a state final match, let alone the sixth match of the season.  It was tied at 4-4, then 7-7, at 10, 11, 13, 14, 15, 18, 19 and 20…before Coldwater somehow squeezed the final two points through St. Henry's defense to take the set, 22-20, and the match, three games to two.
Frustrating to lose after coming back from two sets down, St. Henry nearly pulled the ultimate rabbit out of a hat.  Nothing, it seemed, went right for them in those first two sets;  but they kept playing – kept plugging away at it – and restored their energy and confidence to push the match to a full five sets.
Exhilarating to win, Coldwater persevered during those third and fourth sets of St. Henry's resurgence and  found enough energy and confidence of their own in the fifth to pull victory from what surely seemed like the jaws of defeat.  Both teams faced match point twice in the final five points.  That's how close, and how contested it was.
"What a great win for us,"  said Coldwater coach Nikki Etzler.  "Tremendous energy from both team.  It was awesome. Both teams know each other so well because some of them play together away from the high school season.  I thought that brought a lot of energy because they wanted to compete well against each other."
For her part St. Henry coach Tricia Rosenbeck made short work of getting to the locker room and out the door to the bus for the ride home.  This one stung, a defining opportunity early in the year against a bonafide challenger for the MAC title…and to have come so far, and get that close, only to see it slip away in the extended fifth set.  This was for early pecking order, for confidence in tough matches to come down the road…and Rosenbeck and the Redskins' luck simply ran out at 20.
"We've come so far since the 'spike-off' (the opening weekend of the season),"  added Etzler.  "We worked so hard on our mental toughness.  We've been trying not to make errors at inopportune points of a match.  We did miss some serves at critical times tonight, but I thought we were able to take advantage of some matchups, and they made a matchup change in set three that changed the momentum of the match for them.  But it was so much fun two watch these two teams battle like that – the defense on both sides was tremendous – so yeah, we're excited to get the win."
It was not a game of individual stats, rather a game of contribution from starters and bench, alike.  Everyone, it seemed, chipped in, highlighted by one elbow-scraping save after another…both teams selling out on defense to extend the tension of the match.  Senior Lauren Gilliland literally lost her voice from shouting, but somehow found enough to talk about what winning in such a fashion meant to her team.
"It definitely a confidence boost,"  she croaked. "You know this was going to be a battle, and everyone stepped up tonight, even our freshmen.  We won this game as a team."
But what, after playing so well in the first two sets, happened in the third and fourth that let the air out of their balloon – that allowed St. Henry back into the match?
"We had some bad serves, and we had some errors that hurt us,"  Gilliland added.  "We always say 'ligmo' (let it go, move on), but I think the mistakes kinda' got in our head and the confidence went down.  Then we just put our foot down and said we're not losing, so this was a huge boost and now we'll have the target on our backs.  The MAC is always so competitive and now everyone's going to be coming for us.  We have to use this and keep getting better every day."
Coldwater improves to 5-2 overall, and 1-0 in MAC play.  St. Henry dropped their first game and now stand 5-1 for the season, and 0-1 in the MAC.  St. Henry will face Russia on Saturday in the Redskin Invitational, while Coldwater is off until next week, meeting Parkway on September 5.
In the meantime…if they wonder who Ali and Frazier were, and about the "Thrilla' from Manila", Google greatest heavyweight fights of all time.  It's right there at the top of the list.