It's never over 'til it's over, Yogi Berra used to say.  And Marion Local used that adage to its fullest to stage two unexpected comebacks Tuesday to send Lehman to its first loss of the season.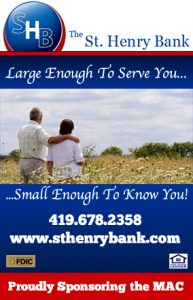 Maria Stein, OH –  I'm not sure Yogi Berra was the first to say, "It's never over 'til it's over," but he's probably the most famous to have said it.  Meaning, don't ever take winning, or losing, for granted.  You never know what might happen.
And that's the exact scenario that bit the previously undefeated Lehman Cavaliers Tuesday night, losing the final two sets in surprise fashion, 25-22, and 26-24, to a determined Marion Local team that simply refused to accept defeat – winning in four sets, 3-1.
"That was a gritty win,"  said Marion coach Anthony Chappel, afterwards.  "We preach that in practice every day, and we even practice that scenario of being down and playing our way back into a position to win.  We're used to it, and we're not going to go down without a fight.  And that's what we did tonight.  We kept throwing our best at them until the end and the final point."
Marion had Lehman on their heels in the first game, using pin-point serving to jump out to a commanding lead and eventually win that set, 25-11.
But Lehman righted itself, began to serve with its own efficiency, and took the second set without problem, 25-16.  Then, it got interesting.
Lehman continued to serve well in the third set, defended well, and got into a good offensive rhythm while jumping out to a commanding 17-8 lead at one point.  It began to look easy for the Cavaliers, and perhaps too easy.  Marion began to play better, serve well, and got some kills at the net that handcuffed the Lehman defense.  They chipped away at that nine-point lead – to 17-11, 17-13, then 19-16, 20-18, and suddenly the game was tied at 20-20.  They traded points back and forth to 22-22, but Marion maintained its poise and scored the last three points to win, 25-22.
"They have a high-powered offense and we believed if we could get them out of system – be aggressive with the serve and get them out of their rhythm – we knew we'd get our chances, because we've got some offense, too,"  said Chappel.  "Once they could get in system they were dictating the game to us, so we had to do what we could do to try to keep them out of it."
Lehman seemed to have figured it out, as the Cavs immediately took command of the fourth set, jumping out to a five-point lead, and extending that margin to as much as six points, 15-9.  But again, Marion, on the strength of its serving, and a sparkling defensive save by senior Kelsey Koenig that seemed to inspire her teammates, scrapped its way back into contention.
Lehman maintained its margin, and at 23-19 scored on a kill by Lauren McFarland to reclaim that five-point margin with game-point at hand.  And in fact senior Abby Schutt may have thought that the 24th point was game point, as she celebrated a bit much in front of the Marion student section.  They let her know about it as Marion junior libero Lydia Griesdorn went back to the baseline to serve, trailing 24-19.
Griesdorn began hitting one seering serve after another, laser shots that barely cleared the net – shots that stymied Lehman's back line.  She cut the margin to 24-20, then 24-21, 24-22, 24-23, and by now the Marion students were really into it.  Lehman coach Carolyn Dammeyer called back-to-back timeouts, as if to reinforce the point that all they needed was one point to claim the set and send the match to a deciding fifth.
"But that's volleyball,"  said Dammeyer later.  "It's a game of momentum and we gave up the momentum.  We lost our aggressiveness.  We began tipping balls instead of hitting."
In the meantime Griesdorn stayed as cool as the other side of the pillow.
"We just stayed together,"  said the diminutive Griesdorn, probably the smallest player on the court at 5'3″.
"When it came down to me serving I said to myself, 'I have to get it over.'  I knew if I could get it over and they sent it back we could play it out and get some kills.  Some of those serves were pretty close, but I got 'em over.  It seemed like they weren't so aggressive, we kept playing, and that's how we did it."
The gym exploded with Marion's 24th point, to tie, and with no timeouts remaining Dammeyer and the Cavaliers had to rely on regrouping on the court – playing through Marion's desperate run to finish.
Once more Griesdorn served, and after a short volley the ball fell to the court on Lehman's side of the net…25-24, Marion.  And the final serve, and point, seemed almost anti-climactic as a Marion played simply tipped a ball that fell in between three helpless Lehman defenders for match point.
"There were times (in the second set) when it seemed like we were falling apart, when our serve-receive was bad, or we weren't communicating,"  added Griesdorn.  "But we always believed that we could come back."
"That was painful,"  said Dammeyer, later, forcing a smile as she walked to her car.  "But that's the game of volleyball.  We had great serving for a while, and then they would get back into those sets with great serving…and it just went back and forth.  We would have big leads and then they'd start serving tough and it came around to beat us.  We kind of shut down at the end.  Nobody was hitting the ball and we got tip happy."
Lehman suffered its first loss, falling to 3-1 for the season.   While Marion improved to 2-1, having beaten Celina last week while losing to Jackson Center.
"It was a good learning experience,"  added Dammeyer, but not with a lot of conviction.
"We were not going to go down without a fight," reiterated Anthony Chappel.  With all the conviction in the world!