Running is a way in life in Minster … and so is going to the state meet. The Wildcats started their journey toward another potential trip to Hebron at the Bob Schul Invitational on Saturday.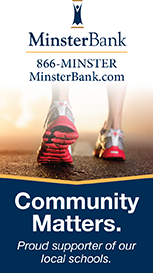 West Milton – There was a noticeable absence from the Bob Schul Invitational, the first cross country meet of the season for many high school teams.
Minster sophomore Alex Albers wants to make sure there isn't something missing from the last meet. His Wildcats.
The Minster girls have made a habit of qualifying for the Division III state championships, including winning the last three titles. The Minster boys know the route to National Trail Raceway in Hebron, too. And Saturday they took their first steps at the Schul Invitational at Milton-Union High School.
The meet honors Schul, the lone American in Olympic history to win gold in the 5,000-meter run. And it all started in Miami County.
As for Albers … he didn't win gold at the Schul on Saturday (he did take silver). But he hopes his own memorable journey – and that of the Wildcats – took its first steps in Miami County, too.
Minster's boys finished fifth at the Schul Invitational, called the second largest cross country meet in Ohio, pounding the 3.1-mile course as part of the 1,788 runners in action. Albers led the Wildcats with second-place overall in 16 minutes, 38.8 seconds. Cedarville junior Ethan Wallis won in 16:29.8.
Senior Luke Barga (17:31.3), senior Austin Felice (18:34.2), junior Joel Berelsman (18:34.7), sophomore Joseph Slonkosky (18:51.3), freshman Noah Walter (18:55.1), sophomore Tyler Prenger (19:16.6) and senior Devon Schultz (19:41.2) rounded out the Wildcats' top seven runners.
"We do a lot of things together," Albers said of Barga. "We push each other, which is really awesome. We have a lot of high-level seniors this year and they're all great leaders. … I've always told coach (Larry) Topp, 'Hey, you might have your best class right here (with the sophomores).' We're just trying to prove it. I think we have a really bright future. We just thank God. This wouldn't be possible without him."
As for the Minster girls, they finished second overall to West Liberty-Salem by 10 points. Those two teams – along with D-III state runner-up Fort Loramie – are expected to go back and forth and back again all season.
Minster junior Ella Boate (19:59.8) led the Wildcats, finishing sixth overall. She was followed by freshman Taylor Roth (20:15.3), senior Mackenzie Bohman (20:16.9), senor Gwendolyn Meiring (20:28.3), freshman Cameo Cedarleaf (20:45.8), junior Mason Pohl (21:02.5) and senior Rachel Kitzmiller (21:41.4).
As Albers said Saturday the first meet can go one of two ways.
"The first meet can be tough because you either don't do great and try to pick up next meet. Or you do great and run with it," Albers said.
The Wildcats are off and running.
"I'm excited for the rest of the year," Albers said.
Minster's boys have qualified for state eight times, the last in 2017. Minster's girls have qualified 31 times, including the last 20. Going to state – no matter the sport – is almost a rite of passage for Wildcats athletes. Minster has won a Midwest Athletic Conference-high 36 state championships in six different sports: girls track and field (13), girls cross country (12), girls basketball (4), baseball (3), football (3) and boys golf (1).
"They get the fact that in Minster – you don't have to drive far to the outskirts of town to see how many state titles there are," Topp said. "It's kind of something you're supposed to do. It doesn't matter if you're football, girls basketball, baseball. I have people that come up to me and say I hope you get yours soon. It doesn't just happen like that but, yeah, I do to!"
To the coaches credit, including girls cross country Jessie Magoto, they don't preach state championships. They produce them as a byproduct with hard work.
"Katie Horstman started the tradition at Minster with girls being extremely disciplined and willing to work above and beyond," Magoto said prior to the 2017 season, and it still stands today. "It's so much more than running. It's setting that foundation for the rest of their life: If I want something I'm going to make sacrifices, be disciplined and I'm going to have the courage to go after what I want. As a coach that's what she taught me. As a coach I hope that's what the girls take away from it as they move into their adult life.

"Nothing to the extreme, just real food. It's taking care of their bodies with water, sleep and food. It's trying to keep a healthy lifestyle, which unfortunately is not as common in today's lifestyle."
As for the girls' success, Albers said, there's no rivalry. Only revelry.
"The community takes so much pride in its sports," Albers said. "Last year the guys had a good track season and sent a lot of guys to state. Seeing the community so excited to see girls and guys going … pulling on those Minster uniforms is a blessing, really.
"The boys are trying to rally around getting better. It's not difficult (seeing their success) because you're so proud of the girls team. But the guys team wants to make itself known, too. The girls are a great example to have for us."
So is Schul, even in absence. Schul, a Milton-Union graduate, has attended the invitational to greet runners and spectators for years. Schul has been unable to attend the past two meets. When he is there Schul, who turns 82 on Sept. 28, stands for hours to sign autographs on everything from t-shirts to hats to invitational medals.
It's a way to give back to the community that showered him with support in 1964. Schul was in Tokyo for the Olympics when he received a message from his hometown.
"I received a telegram from the people of West Milton who signed it and it was 30 pages long," Schul recounted a few years ago. "Thousands of people signed that. That was meaningful to me. Miami University did the same thing. When you get that prior to the race, you know it's not just for you. It's for everybody. It's just a wonderful feeling."
Albers didn't get the chance Saturday, but Albers did meet Schul in 2017 when he won the junior high race.
"I think I got my medal signed. I didn't really talk to him that much," Albers said, smiling. "I was in the eighth grade. I didn't really know how to hold a conversation.  It's crazy he's from this area. He's sort of a local legend. To run well at a meet named after him is awesome. He's kind of like the guy you dream of being with his career."
Schul – along with 2016 Olympic Games 800-meter bronze medalist Clayton Murphy of Tri-Village – gives area athletes something to believe in. If they can do it, why not us?
"They realize to have an Olympic athlete there … when I was a kid that held a lot of clout and it still does," Topp said. "It's good to see the kids realize it's pretty phenomenal there is someone that close to where they live. I remember those days when Bob was running. They let the kids know it's possible. That's fun stuff."
And so is running for Minster … state championship appearances or not.
"It's a really competitive environment, but at the same time it's a really friendly environment," Albers said. "The community has always rallied around its sports teams and taken pride in it. When you see one sport doing well you're like, I want to get my sport to do well. Everybody keeps pushing up the ladder and just making all go toward God."