It wasn't good enough to win you a title, but what Fort Loramie showed in Tuesday's volleyball win over MAC rival Minster WAS good enough to put the Redskins in the conversation of teams THAT WILL be good enough by season's end.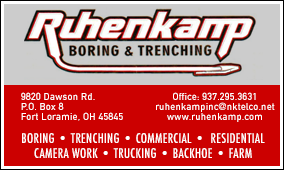 Fort Loramie – Loramie coach John Rodgers took some time in answering the question as to just how his 2-1 Redskins beat Minster in straight sets on Tuesday night…their second consecutive win coming out of Saturday's opening weekend win over Coldwater.
"You know, every team you play is going to give you something different,"  he shrugged.  "That's what Minster did to us tonight.  They're full of athletes, they're going to give you everything they've got…they're going to come after you.  You have to prepared to play for that and we had to make adjustments tonight for things they exposed…things we have to get better at."
That said, Loramie knocked off Minster in straight sets, easy enough, 25-23, 25-17, and 25-18, and Minster's only lead in the match came in the first set, 15-11, which prompted Rodgers to take a timeout to make some of those adjustments.
"They were hitting into our block and our hands weren't where they needed to be,"  he added.  "And blocking starts with your feet.  So we had to get our feet right before our hands could do the job.  Things like that."
And things like the individual efforts of sophomore Ava Sholtis (12 kills) and junior Kenzie Hoelscher (14 kills).  Ragged as they looked at times, when they needed a point – a spurt – to put down a Minster rally, Sholtis and Hoelscher were as good as you could ask for.
"We knew this was going to be a tough game,"  said Minster coach Cami Garman.  "They come out with so energy and we didn't match that energy tonight.  We were too much like a roller-coaster with our emotions.  Too many untimely errors, and when you make mistakes against a team like Loramie they're going to come after you with players like Sholtis and Hoelscher."
Sholtis, in particular, took over late in set one with a winning kill just inside the net upright that seered its way down the sideline and landed fair just inside the end line.  Minster would have needed nine on the court to have stopped it.
And Hoelscher, in the second and third sets, had ten of her fourteen kills to extend leads and keep the 'Cats at arm's length.  As Garman put it…when the roller-coaster looked like it was ready for a downhill charge,  Hoelscher's hitting at the net seemed to stop their momentum.
That, and the consistent play of Loramie's junior setter, Maya Mauer, whose 40 assists proved as valuable as Fort Knox.
"It was a matter of confidence on the floor, and you need to have that,"  said Hoelscher afterwards.  "You need to know that you can put a ball away at certain times in the match because that can help you go on a scoring run."
And their experience showed, notwithstanding the fact that a lot of that experience is contained within a roster that has just four seniors…but thirteen sophomores and juniors that have played extensive minutes since their freshman year.
"A lot of us got the opportunity to play when we were very young,"  adds Hoelscher.  "Especially last year, and now to have a little bit of experience under your belt really helps.  It's helped everyone to learn to play so young."
"We use that,"  says Rodgers.  "It helps with attitudes during tough times.  These kids know what regional loss locker rooms feel like, so they know to step up because they don't want to feel that anymore.  They've had it in volleyball, in basketball, and that really drives them."
They lost their season opener in the Coldwater Tourney on Saturday, to St. Henry, a hardened team with talent and experience…then came back in the day's second game to knock off host school, Coldwater.  Tuesday's game made the third tough MAC opponent in a matter of four days, and that's just the way Rodgers likes it.
"Absolutely,"  he says.   "St. Henry is a very tough opponent, but what really pleased me was the way our kids came back to play and win against Coldwater.  Then to come out tonight and play this way against Minster…these are no slouch teams.  This is typical volleyball out here in southwest Ohio.  You're going to have to battle, regardless of who you play."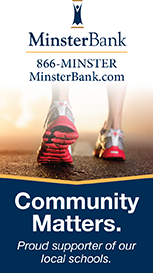 Cami Garman, whose Wildcats fell to 1-1, agreed.
"We have the athletes to get significantly better, absolutely,"  she concluded.  "Every night in our league plays tough, and tonight Fort Loramie played like a lot of teams in the MAC, because they're accustomed to playing that kind of competition.  So, tonight was good for us and it showed us where we need to improve.  The girls are already in the locker room talking about what our mistakes were and what we have to do before the next game."
Which sounded a lot like John Rodgers at the outset of this story.  Two perspectives on a win from two coaches of very talented teams – and what you have to do…to get better!