Newton coach Jeff Armentrout isn't messing around. Returning twelve seniors with athleticism and with experience opponents have to respect, he's expecting big things just beyond the glare of Friday night lights.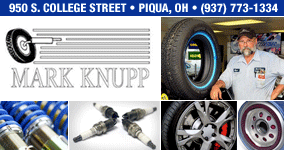 Pleasant Hill, OH – Newton boys soccer coach Jeff Armentrout is serious when he says  his expectations for this year's Indians are a bit beyond that of a winning record, or even a league title in the Cross County Conference.
"We'd have to be ranked in the state's top 10 in Division III, or should be," he said this week, prior to the Indians' opening scrimmage against Emmanuel Christian. "Who knows? If we beat Dayton Christian (last year's state runner-up in Division III) in our second game, people would really have to take us seriously."
And ironically, Newton High School, in the small village of Pleasant Hill, has taken soccer seriously for years. They don't play traditional football – not enough boys and the issues of budget – so they've poured their efforts into making soccer part of the community culture, and their resources into a eye-popping soccer facility, perhaps the finest in southwest Ohio.
They hardly play competition that rivals the English Premier League. Members of the Cross County Conference, about half the schools in the league even field a varsity soccer team.  But undaunted, Armentrout and his Indians took the field for a Thursday evening scrimmage with an edge, hammering an overmatched Emmanuel Christian team, scoring five unanswered goals in the first half – three by senior forward Dillon Koble.
"Soccer is an important sport at Newton," says Koble. "We've had some years when we're good, and we've had some years when we weren't. But we have tons of fans that come out to support us and we do our best for them."
Asked if he's ever missed the opportunity to play 'regular' football, he doesn't think twice before answering.
"I've never missed the opportunity to play football on Friday nights. I've played soccer all my life."
Without question it's part of the culture of Pleasant Hill, as evidenced by the twenty acres dedicated to youth soccer just east of the varsity field at Newton. Apparently they believe that if you bring 'em up kicking a different shape ball, they won't depart from the practice.
"Soccer's probably not as big here as football is at Covington (just five miles up the road on route 48)," says fellow senior Ethan Cook.  "But a lot of people don't understand it.  They think it's a wimpy sport.  But because we don't have football we make soccer count for everything else."
They've had some good players – not great, maybe – but athletes over the years that have excelled in other sports, like basketball, only to be overlooked in soccer for the lack of attention and interest outside Pleasant Hill.
Some, in fact, have lamented the lack of opportunity to play traditional football over the years. But when in Rome, act Roman.  And slow but sure, Jeff Armentrout has put together a group of athletes that know soccer…a group that impresses with their ability to run, attack, and wear down the opposition.
"Tell you the truth, our kids are more suited for soccer than football," he says with a smile. "They're just not big enough to play football.
"We have a lot of guys back, healthy, and coming off a couple of years where they got pummeled as sophomores (1-16), and last year we had the injury bug, but still finished above .500 (9-7-2) and got knocked out in the second round of the sectional tournament. We open this year with Division II Northwestern, then play Division III Dayton Christian, and if we win those games coaches in the area will have to take us seriously."
What Koble did in forty five minutes Thursday was eye-opening.
"We've got some athletes – we've got some players,"  insists Armentrout. " Koble (Dillon) was our second-leading scorer last year and he missed seven games with an injury."
Still, the cynics will cite the fact that a school like Newton exists outside the sphere of serious soccer in Division III (there are only three divisions in OHSAA soccer), compared to perennial favorites like Cincinnati Summit Country Day, who's won three of the last four titles in Division III soccer.
Ethan Cook smiles at the prospect of just playing and proving the doubters wrong.
"I agree that we're in the top ten of Division III in our region," says Cook. "If we work together, play our hardest, and stay together – all of our seniors, we've played together since we were kids. We know each other, we know what we want together, and the relationship between us is very strong."
And Armentrout, who owns and operates a pizza shop in Newton (Indians Pizza) is willing to sit at the table and play his cards, confident in the hand he's holding.
"We've played some very good programs the last couple of years," he concludes. "And the popularity [of soccer] is growing. I don't know if we have tons of people coming out, but the community does a nice job supporting us. At one point we didn't even have all the moms and dads coming out.
"Soccer here is a big deal. The student body pretty much fills the stands, and when we beat Bethel last year, everyone got excited. I lost my voice for about three days. There weren't any riots in the streets, but it was definitely exciting.
Grantland Rice once wrote that one cannot appreciate how the other half lives, or even plays, if you don't bother to look.
At Newton, the Indians believe that if they win early…they'll be hard to overlook!