Before a match has been played, 2019 Ohio volleyball in Divisions III and IV is already casting a wary eye at local teams like Versailles, New Bremen, Loramie, and St. Henry – what one coach last year called the 'standard' of the state.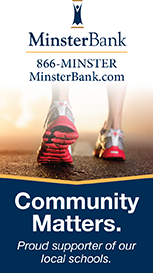 In the aftermath of last year's Division III volleyball final between Versailles and Independence High School (out of Cuyahoga County), Independence coach Tony Messina, a veteran of many years' tournament experience at Padua, conceded the obvious after losing to an aggressive and committed effort by Versailles.
"We caught them on a good day when they were about as good as anyone could play.  They (Versailles) were big at the net and that kind of height is hard to overcome.  But they're good defensively, too, and that #24 (Lindsey Winner) is just something else.  And they say she's only a junior!  I've seen some good volleyball, but what they can do pretty much makes them the standard ."
Messina was talking about Division III, of course, but if you ask coaches from around the state in Division IV they're echoing those same words as they prepare for the 2019 opener in two weeks…and the prospects of facing area teams like New Bremen, Fort Loramie, St. Henry, and Marion Local in this year's tournament.  It's what one coach recently mentioned as, "a monster task just to get out of their district."
Yes, and when they do, consider.  In the past ten seasons, since 2008, teams from Miami, Shelby, Auglaize, Darke, and Mercer counties have won sixteen (16) state titles in Division III and IV:  Marion Local (4), Miami East (3), Versailles (3), Jackson Center (2), Fort Loramie (1), Lehman (1), New Bremen (1), and St. Henry (1).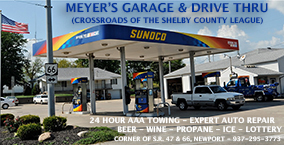 Saturday, those who wanted to see for themselves assembled at Fort Loramie for a six-team scrimmage that included locals Loramie, New Bremen, Versailles, Miami East, and Western Buckeye League power Ottawa-Glandorf.  Loramie's John Rodgers was buying none of that "standard of the state" talk.
"I don't know how you can say that,"  said Rodgers, one of the state's best and a former Division IV winner with the 'Skins in 2014.  His team has been mentioned as the favorite to win the SCL in 2019.
"It's nice to hear but I don't give it much thought.  Winning the Shelby County League has been an elusive banner for us.  We won the Division IV championship in 2014 and didn't even with the league.  There's a lot of good coaches in this league, so I'm sure it'll come down to the last week, like it always does."
But just up the road in New Bremen, the reigning state runner-up in Division IV, the Cardinals' Diana Kramer, WAS willing to say that winning the state title may not be as tough as actually getting there.
"There are so many teams in our district that are as strong as ever.  It's really not a rebuilding year for anyone,"  said Kramer.  "Reload, maybe, but the level of play among those teams this year will be just as high as it was last year, and maybe higher.
"What we have going for us is that experience of getting to the finals last year, without Paige (Jones), of being in every situation you can possibly mention.  They were down 17-3 in a state-semi final, they were 0-2 in a district final to a team we were supposed to lose to, these girls are so mentally tough and focused on getting back to the state finals that nothing's going to stand in the way.  They're prepared to play good teams, but if we stay together our experience from last year will put us right back there again."
She's counting on senior standout Macy Puthoff, fellow senior Taylor Paul, and a junior named Josie Reinhart who played above her years and experience last year as the Cards lost to Tiffin Calvert in the D-IV Final at the Nutter Center.
Rodgers, whose Fort Loramie team struggled with injuries and inconsistency last year, will lean heavily on their senior class, including Marissa Meiring, and tall and athletic junior Kenzie Hoelscher, who missed much of last year with a back injury.
"We will lean heavily on our four seniors (Meiring, Alyssa Wrasman, Taylor Raterman, and Macy Imwalle),"  says Rodgers.  "And we know it's going to be tough.  That's why we schedule the kind of teams we do in the pre-season.  We're trying to prepare against the best possible competition.  All of these teams today have seen state titles.  They have high expectations, as we do.  Is it about volleyball, yes, but our four seniors have already been there in other sports (basketball and softball), and they know what the tough times are like.  They're going to have to be there for our young talent, like Kenzie Hoelscher, to teach them what it's going to take."
But Versailles coach Kenzie Bruggeman is holding not just one, but a pair of aces as the defending D-III champs reload around all that size and experience that Tony Messina warned about.
One, their front row is anchored by junior Brooke Stonebraker (6'3″) and senior Lindsey Winner (6'2″, and committed to the University of Dayton), complemented by a senior backcourt that includes senior Caitlin McEldowney.  And two, you just can't coach, or even buy, the kind of advantage that being a returning champion provides.
"But I don't think in terms of being top dog, or even an underdog (the Tigers were a huge surprise last year when they swept the state with a ten-match win streak),"  says Bruggeman.  "The biggest thing we have to do is learn to play with a new group of people.  Two years ago we lost seven seniors.  Last year we lost four seniors.  And that's a culture shock, because those girls were so vital as leaders.  Now we have to learn that all over again.  Our seniors have to be responsible for what's happening on the court – they have to recognize how certain people are playing and the effort level they're bringing.  That's more important than us trying to live up to someone else's expectation.
"That said, it's nice to have a Lindsey Winner back and she and Caitlin McEldowney will share a lot of responsibility.  They've been here long enough to know what to do during those tough times in the season, and yes…we'll rely on them."
And if you think that's 'Coach Speak', consider.  Versailles actually lost 8 of 13 matches during the tough times of the 2018 season…and still won ten straight at the end to claim the state title.
Somewhere Tony Messina, who returns his own strong nucleus at Independence, is shaking his head over the prospect and the wisdom of his experience.  Once again, the 'standard' in Ohio small school volleyball resides in Shelby, Mercer, Darke, and Auglaize counties.  In his words, "It's something else"!
(Ed. Note:  We erroneously wrote that Versailles' Lindsey Winner is a volleyball commit to the Wright State in our initial post.  She will attend the University of Dayton to play for the Flyers next year.  Duly corrected.)