Baseball worries that its fans are being turned off.  And what do they do?  It constantly trades favorite players, changes the rules, and eliminates the plays that have generated excitement (not home runs) for decades.  To paraphrase Casey Stengel, "Doesn't anyone know how to run this game?"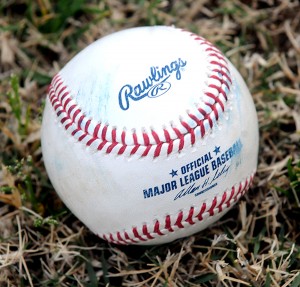 Dayton – As one wanders the concrete concourses at Great American Ball Park before games, scores of the fans who are there are wearing Cincinnati Reds gear.
There are a lot of Joey Votto jerseys, but there are also scads of Yasiel Puig, Scooter Gennett, Todd Frazier, Jay Bruce, Johnny Cueto and others wearing the names of dearly departed Reds.
What's a fan to do? Throw away the jerseys? Invest more hard-earned greenbacks on Alex Wood, Trevor Bauer and Kyle Farmer jerseys?
And it isn't just a problem with the Reds. It is baseball-wide. Once upon a time a fan could pick a favorite player, buy his jersey, and wear it until it was threadbare. That player would be with the team for his entire career.
Now players change teams as often as they change socks. And so often those that are traded or leave via free agency are fan favorites — like Puig, like Gennett, like Frazier, like Bruce, like Cueto.
Players just shrug and say, "It's a business. I have no control over it." That is totally correct, but it is frustrating for fans. It is difficult to explain to Little Johnny why his favorite player now plays for the Cleveland Indians or the San Francisco Giants.
It has to affect attendance, as all those empty seats in Great American Ball Park indicates. It is a sad state of affairs when it takes bobbleheads, fireworks and post-game concerts to give attendance an uptick.
Then there is the matter of games lasting deep into the night, seldom lasting less than three hours. It isn't conducive to drawing the interest of the millenials with short attention spans.
Baseball is doing all it can to make the game more attractive to those who don't have gray hair. Ears are constantly assaulted with loud music, so loud fans can't hear somebody sitting next to them, even if they want to talk about the game.
Mostly they don't. They have their own ear buds to listen to whatever music they prefer. And there are games to be played on their cellphones.
Baseball keeps changing its rules, usually to the detriment of the game, trying to make it more alluring to the younger generation. Instead, they make it less.
What is the most appealing facet of NASCAR to the general fan? Wrecks. What is the most alluring facet of the NBA? Thunder slams.
Fans want action. So what does baseball do? It takes away the hard slide into second base and takes away home plate collisions and, yes, for the most part it takes away heated arguments with umpires.
What was the most exciting event involving the Reds this year, what fans will talk about for a long time? The brawl with the Pirates recently. And that's too bad.
But that's about the only real action in the game today, which as become home run, strikeout or walk.
In an attempt to inject more action, MLB juiced the baseballs. It used to be that home runs were difficult to hit, an exciting event. Now home runs are boring because everybody hits them. More than 50 per cent of the Reds runs this year have come via home runs. And that is industry-wide.
It is nothing to have games in which all runs come via home runs. It is nothing for teams to go back-to-back-to-back. It is nothing for a player to hit three home runs in one game.
The hit-and-run, the steal, hitting behind a runner and bunting for hits are as obsolete as the Edsel Citation.
Analytics are playing a major role, too. The shift takes away singles and doubles. That, too, adds to the home run flurry. As Ken Griffey Jr. once said about the shift, "They can't put a defender in the right field seats."
Analytics tells managers that a starting pitcher is vulnerable the third time through the batting order. So after about the fifth inning the game becames a parade of relief pitchers wearing a path from the bullpen to the mound.
Complete games? As rare as a buffalo nickel.
What to do, what to do? Baseball people say the game is healthy, but attendance is on a steady decline. It is becoming a studio game. Fans stay home to watch the game on TV, where they get close-ups. They get replays in case they miss something while thumbing their cellphones.
With all MLB is trying to do, well, is it working?  Call me a curmudgeon, a guy living in the past, but I prefer the past, as far as baseball is concerned.