Five weeks after Michigan represented the Big Ten in the College World Series, the attitude – the mood – was that anything's possible at the annual Buckeye Diamond Club Monday at York Country Club.
Worthington, OH – They meet every summer at the York Golf Club in Worthington…to raise funds and, frankly, awareness for Ohio State Baseball – about raising the bar yet a little bit higher.
But never in Greg Beals' nine years as head coach was the bar lifting as enthusiastic, or as relevant, as it was with Monday's annual Buckeye Diamond Club golf outing to raise a few bucks and the awareness of what's yet possible, and that soon.
Twenty four foursomes gathered to play golf, yes, including a lot of baseball alumni whose wildest dream of reaching the NCAA College World Series back in their day was just that…the wildest of dreams.
But that all changed five weeks ago when Michigan charged through the West regional, the Super Regional, and into the final round at Omaha to represent the Big Ten against eventual NCAA champ Vanderbilt.  The Wolverines lost that series, 2 games to 1.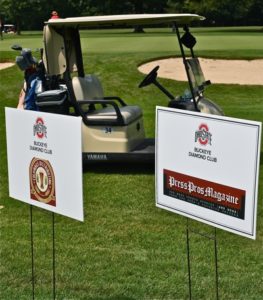 "I'm never going to sit here and tell you how happy I am for Michigan,"  grinned Beals during a post-round interview.  "But I am very respectful for Erik (Bakich) and what Michigan did, respectful of their program, because it meant a lot to Big Ten baseball and baseball in the north.  They showed people the way and our guys in that locker room are festering over that. They're mad.  Because they feel like that could be, should be, them."
That said, some reflection on a season that saw the Buckeyes surprise everyone by winning 36 games, the Big Tournament for the second time in three years, and qualify for the NCAA tourney for the third time in four years.  This, with a team laden with freshmen playing do-or-die baseball for the first time on a national stage, and proving they were as good as moment – Seth Lonsway, Garrett Burhenn, Zach Dezenzo, Nick Erwin, Will Pfennig, Bayden Root, TJ Brock and Mitch Milheim.  Along with upperclassmen Brady Cherry, Dominic Canzone (drafted by Arizona), Matt Carpenter, Conner Pohl, and bullpen closer Andrew Magno (drafted by Detroit), they hit .269 as a team and pitched to a 4.69 ERA, nearly a run better than in 2018.
Now, those freshmen come to fall practice in five weeks as sophomores, while welcoming another stellar group of freshman to maintain youthful talent and enthusiasm in the pipeline.
"Recruiting is the life blood of your program,"  says Beals.  "Obviously, the people in the program are your greatest asset and it's very, very important to recruit not only the right player, but the right person to represent Ohio State University.  We've all been out on the recruiting trail trying to find that person, we've identified a group,. and now it's our job to talk 'em into being Buckeyes.
"In addition, I get up every morning and look at box scores to see what all our (current) guys did in summer baseball the night before.  Our young guys all pretty much went out and played this summer, and had good summers – Marcus Ernst and Aaron Hughes in Springfield, Nolan Clegg was an all-star in his league, Mitch Milheim has pitched really well for Chillicothe – and that bodes well for fall baseball. We also had about sixteen guys who stayed home this summer to get healthy, get stronger, and some pitchers we held back to save wear on their arms – and that's really fueled the fire to get back in the fall and get to work.  To be honest, the success that our conference had in Omaha – I won't say that school – but that's really gotten our guys fired up because they know they're that good, and if we can play with that kind of confidence they feel like anything's possible…that we're next."
They'll go into fall with one of college baseball most coveted luxuries,a weekend pitching rotation that's intact from this spring – Seth Lonsway (8-4, 3.70 ERA), Garrett Burhenn (6-4, 3.96 ERA), and Griffan Smith (7-5, 4.66 ERA) – and a complementing cast of sophomore arms (Pfennig, Brock, Root and Milheim) that logged 146.1 innings out of the bullpen last spring.
"Yeah, we have our rotation coming back, but that can't be status quo,"  says Beals.  "I want them to keep getting better, and they can be better than they were this spring.  They'll keep developing, but I'm really excited about the group as a whole.  We need to figure out the back end of the bullpen with Magno gone, but Bayden Root has probably had the best summer of all the pitchers, and we're excited about his added contribution, whether it's more innings or the back end.  Whatever, I see his role growing."
And, it's been a summer of internal change, with long-time pitching coach Mike Stafford departing after sixteen seasons with Beals at Ball State and Ohio State.
"It's a very difficult time because of the affiliation and the love we have for Mike Stafford,"  offered Beals.  "But we're also excited for the opportunity to turn the pitching staff over to Dan DeLucia, and that's been the shining light for me in this whole process – the chance to see Dan call the shots, and he's ready for it.  He's bright, he's been working behind the scenes in a volunteer role for six years, and now he's ready to take over this job.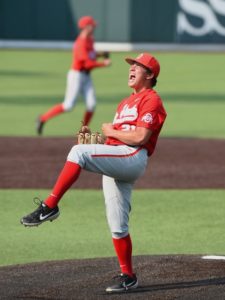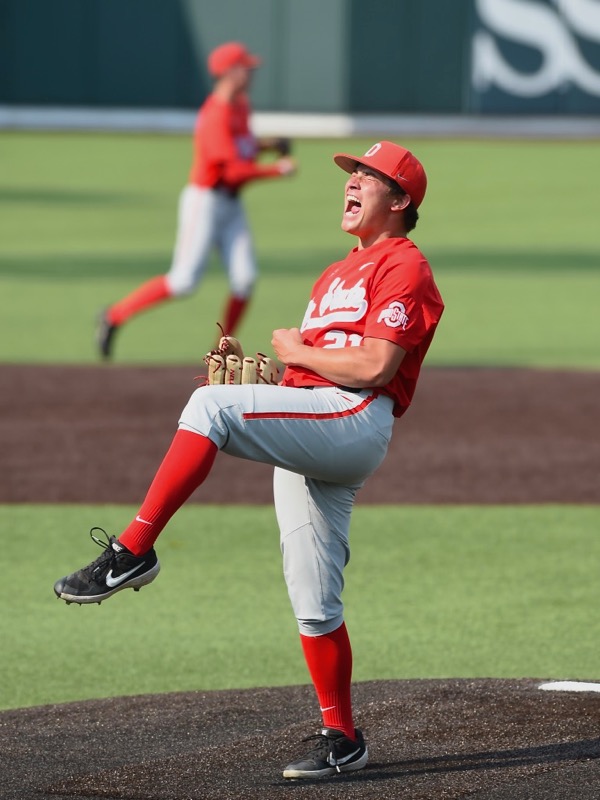 It was hard, because Staff and I had been together for sixteen years, but it was a decision made for the best interests of the baseball program at Ohio State University.  There's many, many factors, and you just can't get into all of them."
At the end of the day they awarded the winners of the golf scramble, enjoyed a great meal, and Beals took the time to express…once again…his devotion and appreciation for those who annually push the program forward through their contribution of finances, time, and watchfulness.
"We're going to come into fall practice here in a few weeks with our foot on the gas,"  Beals promised.  "We're in a good spot, but we need to continue to get better.  Our guys feel that, I feel that, and from the top on down that feeling needs to go through the locker room.  We learned a lot last year, but the biggest thing was that every single day matters.  We came within a game of not getting in the Big Ten Tournament, and then we won it.  Our counterpart from the conference came within a game of not getting into the NCAA Tournament, and then played their way into the Finals.  So what we learned is how valuable every single day is.
"If we're going to host a regional, or a super regional, we need to win 40-45 games.  So every game matters, and we need to come out and take care of business every day."
But for a day – for this day – some time to reflect and enjoy the obvious work that's already been done, and to appreciate that which yet can BE DONE.  The 'counterpart' has shown the way.