Just three weeks from the start of another fall sports season, we've put down time in the rear-view mirror and here's what we observed on the 'last week' of summer.
Before you write…I know it's far from the last week of summer. That doesn't come, officially, until the third week of September.
But for our purposes – for the purposes of nearly every parent with a child in fall sports – you can kiss summer vacation time goodbye in preparation for volleyball, football, golf, cross country, and soccer. Your time is at hand.
And for purposes of my preparation…four days over the weekend in San Diego, where I spent time with son Matt, photographing the flora, watched Craig Stammen throw 1.2 innings of shutout baseball…and watched the homeless shipped in from other parts of the country fight for sleeping space on Ocean Beach. The locals claim they're not from San Diego, it's just other cities' way of cleaning up their own image – by sending them to San Diego. They just have to figure a way to live now under someone else's gaze. Apparently there is no limit…to passing the buck!
I also observed that even in a place as pretty as San Diego…people would rather stare at their phone, afraid they might miss an email, a text, or a headline, than pay attention to even the obviousness of nature. Let's see, you go to wonderful Balboa Park, but your phone never leaves your hand. You have a choice of checking for headlines or watching the Pacific sunset.  And I swear, when Jesus himself descends from the sky in thunderous glory one day no one is going to see it. They'll be checking their messages, or sending a text.
………………
Speaking of Craig Stammen, he continues to be one of the most under-appreciated figures in major league baseball. He's a salary bargain in comparison to teammates like Manny Machado, or relievers like Craig Kimbrel. He's a strike-throwing machine, and generally he's ready to pitch anytime you hand him the ball. Young pitchers could learn a lot from him – throw the ball across the plate. I watched him pitch the eighth inning of Friday night's 2-1 loss to the Giants (from above the bullpen in center field), he threw twelve pitches, nine of them for strikes, gave up a hit, struck out one, and retired the other two outs on just five pitches.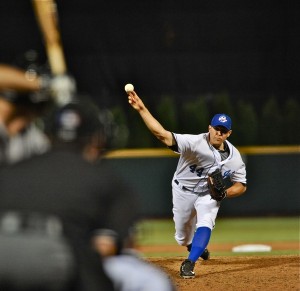 More, while he doesn't have Kimbrel's record, or celebrity, he's very popular among local media for his ability to be just what he is. He spent ten minutes on the Padres' pre-game radio show Friday and you'd swear you were at his homespun K of C baseball fundraiser in January. Refreshing, delightful…compared to the blowhards making five times his salary and whose earned run average is two points higher. Just sayin'…….
………………
Our daily readers no doubt caught the features on Anna and Marion Local football over the weekend as Friday fanatics have been asking for football information for weeks, but the secret that escapes everyone's attention is how big a deal area volleyball is going to be again this fall – as Paige Thobe gave glimpse to in her weekend feature.
Of particular note…no fewer than five teams from the MAC are going to be fighting it out to get out of the district to the regional tournament – New Bremen, Versailles, Marion Local, St. Henry, and Coldwater – and that's assuming that the other schools are a step or so behind them. But don't assume.
In the Shelby County League, John Rodgers was prepping a young Fort Loramie team last year for bigger things, Kim Metz's always has Jackson Center playing at a high level, Anna always has athletes, and Aaron Watkins' young Russia team will play a spoiler role, at worst.
That's not to say that MVL schools like Troy, Butler, and Tipp won't make noise of their own, and Miami East out of the CCC, but those five MAC teams, along with whatever comes out of Shelby County) are just brutal when it comes to advancing past them to the regional round of the tournament. It has been for the past decade and it won't be any different this year. Versailles, by the way, is the defending champ in the Division III, and New Bremen is the defending runner-up in Division IV.
………………
There were some readers who responded to our feature on the Minster Youth Baseball Classic from two weeks ago…mentioning, that the Minster event, unlike Versailles' youth classic in June, features a strong girls softball competition as well. And it's true – the girls were there slugging it out and we failed to write about it, guilty as charged.
In fact, I'm sure some notice that we generally write about softball less than we do baseball, because it's been brought to our attention. But they're two completely different games. Some say, "You're there already for baseball, at least you could say something about the softball. Uh…maybe, maybe not. Softball usually is done in an hour where baseball is usually in the fourth or fifth inning. It's hard to split attention without messing up one, or the other, or both.
There's more room to maneuver in baseball, where with softball there's no room in the dugouts, and if you're outside you have to shoot through chain link fence or over the top of it. As we say, they're just different games.
However, we're making plans now for more coverage of area softball in the spring of 2020, even if it takes Hal McCoy to do it. And the way the Reds have played the last five years he may welcome that opportunity. You, me, we…we'll all have to wait and see.
………………
If you missed our story last week about the PBA tournament in Coldwater, August 21-23 (the bowlerstore.com Classic), we wanted to correct that story by saying there is no charge for tickets if you want to attend. But if you do, make plans early because it really is one of the most unique area events of the year…and one of Ohio's most unique professional events in any sport. Contact Rick Hartings, or his staff, at Pla-Mor Lanes for more information.
……………
Finally, it was with interest to many in the Miami County and the Cross County Conference that Covington's A.J. Ouellette was signed over the weekend by the Browns…this after he was previously released by the New Orleans Saints as an undrafted free agent without ever playing a down in training camp.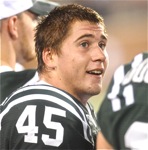 I've always believed that Ouellette could make an NFL team as a special teams player, particularly, because he's tough and loves contact more than any high school player I ever observed in person. And, he did nothing to disprove that at Ohio University.
But the NFL is a nasty business, where it's not what you can do but too often who you know – or who likes you. If you're undrafted and there's no signing money binding, you're left hanging in the wind. I sincerely hope the Browns are genuine in their interest because if A.J.'s healthy he'll make a difference every time he makes the field. If he's not carrying the ball he's going to rock someone's world, anyway. And that's what the NFL is about: it's gladiator entertainment and only the toughest survive. It may well be someone like A.J. Ouellette.