You think the 2019 major league baseballs aren't cherry bombs waiting for detonation?  Last week a foul ball hit the concrete aisle beside a dugout and bounced into the upper deck.  Hal McCoy shares his own thoughts on MLB's worst-kept secret.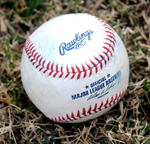 The players can no longer 'juice' their bodies with performance enhancement drugs…so Major League Baseball decided to help them out by juicing the baseballs.
Believe it? The evidence is so overwhelming that denials are absurd.
They should erase 'Rawlings' off all the baseballs and stamp 'Titleist' on them. If they raided a golf ball manufacturing plant they probably would find baseballs being made.
Did you know that Major League Baseball purchased Rawlings last year, the company that produces MLB's baseballs?
MLB-TV's 'Quick Pitch' show, the nightly recap of games, is boring, boring, boring because all it shows is home run, home run, home run, and  'grand slam' home run.
And it isn't just the fact that home runs are a dime dozen, it is the fact that so many travel so far that they need a taxi meter on them.
During a TV game last week a foul ball near the first base dugout hit a concrete aisle and bounced into the upper deck.
Former Cincinnati Reds outfielders Glenn Braggs and Kal Daniels believe the baseball is 'juiced.' Braggs and Daniels both were Greek statues, as solid and cut as Mount Rushmore. Glenn Braggs was the prototype for Yasiel Puig.
Braggs, though, never hit a 450-foot opposite field home run his entire career. It seems as if 98-pound weaklings hit opposite field home runs these days.
Braggs, Daniels and former Reds catcher Brian Dorsett engaged in this Facebook exchange recently.
GLENN BRAGG: "I love it as a hitter, but those MLB baseballs are juiced, no doubt about. They explode off the bat like golf balls."
KAL DANIELS: "Yes, they are.'
GLENN BRAGGS: You know how hard it is to hit opposite field home runs? Guys are hitting opposite field home runs 460 feet. They are getting jammed and still hitting it out the other way."
KAL DANIELS: "Yup. I hate to say it, but MLB is cheating the fans."
BRIAN DORSETT: "I agree, Glenn."
Yes, guys are bigger and stronger these days. Yes, ball parks are smaller. Yes pitching is diluted. But 450-foot home runs are commonplace these days and it seems anybody can do it.
Just this week, three guys on three successive days hit three home runs in one game.
Bryce Harper last year shattered his bat into kindling and hit a home run.
And chew on this one. With more than 60 games to be played by most teams this year, more home runs already have been hit this season than the entire 2014 season.
A record was set in 2017 when 6,105 home runs were hit. This season they are on pace for more than 6,700. Because the ball flies like an eagle, every hitter is all about launch angle. In layman's terms, that mean an upper-cut swing.
Why even have a Home Run Derby at the All-Star game? Every MLB game is a Home Run Derby.
Houston pitcher Justin Verlander, one of the game's best, believes the baseballs are hyper-active, nearly as bouncy as those superballs kids used to play with.
"Major League Baseball is turning into a joke," he said. "They own Rawlings and you have commissioner Rob Manfred saying it might be the way they center the pill (the rubber ball that is baseball's core).
"They own the f——— company," he added. "If any other $40 billion company bought out a $400 million company and the product changed dramatically, it's not a guess as to what happened. We all know what happened.
"What did Manfred say as soon as he became commissioner? He said they wanted more offense," said Verlander. "All of a sudden he comes in and the balls are juiced. It's not coincidence. We're not idiots."
Shortly after Verlander's diatribe, Texas pitcher Mike Minor gave up four home runs in one game, including three in a row — back-to-back-to-back in the fourth inning. He jumped on Verlander's soap box.
And pitcher Sean Doolittle weighed in heavily by saying, "The balls feel really slick. They feel really smooth. There have been several times when I've received one and I haven't even thrown a pitch with it. It didn't feel right in my hand so I just threw it out."
Dallas Keuchel is a believer.
"Obviously, the balls are juiced. I think they are 100 per cent juiced," he said. "There are really powerful guys in this league and they are going to get their home runs.
"But where you can tell the difference in the mid-range guy who is hitting 20-plus home run," he said. "That doesn't happen. That isn't supposed to happen. That's what MLB wants and that's what MLB is getting."
More evidence? For the first time, they began using MLB baseballs this season in Triple-A instead of their own balls. Rawlings balls are made in Costa Rica. Minor league balls were made in China, until his year. And home runs are rampant.
In 2018, Triple-A hitters homered once every 43 at bats. So far this year it is once every 30 at bats.
For his part, Manfred agrees there is a difference these days in the baseballs, that scientists have told MLB that there is less drag on the balls this season.
He said MLB is trying to understand what happened and said, "You have to remember that our baseball is a hand-made product and there is going to be variation year-to-year."
Hey, Rob, just tell 'em to quick winding the balls so tight, make the stitches a little higher and soften up the cover so that they can't be used as pool cue balls.