There is no explaining baseball, as one baseball savant once shared with me.  It's a matter of talent, yes.  But it's a matter of luck, too.  And you never know when you talent, or your luck, is going to run out.
CINCINNATI — George was having a good day. He was a good man. He was sitting up on the back of the bench in the dugout sharing stories and offering his thoughts on all things baseball.
Once in awhile he would lean over and stick his hand into the big box of bubble gum that sat smack dab in the middle of the dugout and replenish a spent slug.
He'd conclude a story, rub those big, rough hands together and say one of two things.
Of current baseball matters he'd say, "That's the way it is…"
Of baseball's verities, like good pitching always beats good hitting, he'd say: "That's the way it's always been; will always be."
Like Joe Nuxhall, it did not seem that George Sherger had an enemy in the world, and certainly not one who lived within the world of nine innings and 27 outs. Extra innings, well, that was another matter.
"Shugs" made his name as Sparky Anderson's bench coach and resumed the role for Pete Rose upon his exalted return to the Reds as player/manager late in the '84 season.
He always smiled when he was confronted with Rose's title, player/manager. He found it humorous. But if you asked him why he found the title so funny, he'd smile big and say, "Now why on earth do you think?"
Then, he'd look at you long, his eyes almost twinkling and he'd say, "Manager? Peter Edward loves to play this game." Then he'd laugh as if no further explanation was needed, and it wasn't—not really.

That day, while Rose was taking batting practice, Shugs was holding forth on the value and nature of pitchers, in particular, relievers and, most specifically, closers.
Things were going pretty well for the Reds. Just like the previous season they were chasing the Dodgers and hanging on to second place in the NL West. Largely, this was due to improved pitching. In addition to Tom Browning, who was coming off a 20-win season, and Mario Soto, who was battling injuries, they had added John Denny, a crazy right-hander, and Bill Gullickson, as solid, good-natured soul who ate innings and kept his team in the game.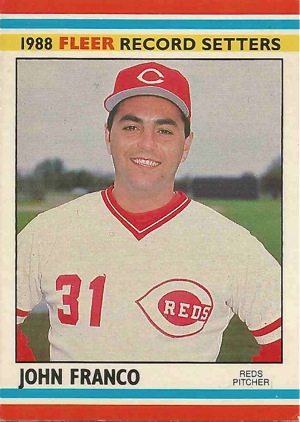 The big change was the development of John Franco. The Brooklyn native had become a top-notch closer. He was not a big guy, but he was smart and strong and he had a nasty, nasty breaking ball.
"It's a slider/screwball kinda thing. Ball comes at ya," Shugs said, "then, poof! It's gone and the damn guy is swinging at a ball in the dirt. I don't know exactly what it is. Don't know that Johnny knows. But from where I sit, it's a thing of beauty. For hitters—maddenin'. Make ya crazy. Ya start the swing. Think you are on it. Then, not there any more. Vanishes. You're swinging at air, lookin' like a fool."
Seems like, someone offered, a big league hitter could pick up on that. You know, read it.
Shugs laughed.
"Oh, reading it's one thing," he said. "Reading it in time to stop that trigger, that's an entirely different matter. Once you've started to pull the trigger it's damned hard, near impossible to stop it.
"Big strong guy like (Dave) Parker or (Pedro) Guerrero over there with the Dodgers, guys like that try to check that swing, just as likely break a wrist.
"Yeah, a beautiful thing," Shugs said, "wonderful thing to have a talent like that on your side—as long as it lasts.
"But," he continued with a deep sigh, "you never know how long it's gonna last. Never know with these guys. Here today and gone tomorrow. That's the way it is and has always been.
"Name me a reliever—who was not a knuckler, didn't have a gimmick pitch—who had a long career. You can't.
"So you get a guy like Johnny (Franco), you thank goodness every day and ya pray today ain't the day it runs out on him 'cause it always runs out, and ya got to be ready for that."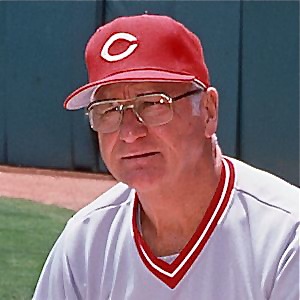 From that day forward, I paid much closer attention to relief pitchers, especially closers. After all, Shugs never steered me wrong, and it was Rose who described Schugs as, "the best baseball mind in the world."
As it turned out, Franco went on to have a brilliant and lengthy career (22 seasons, 424 saves – fifth all time), but a couple of weeks after that discussion with Scherger, something else occurred that brought his point home—with a hammer.
In 1981, I was in the Cardinal camp working on a project with Lou Brock and had became friends with Bruce Sutter, who at the time was probably one of the most notable "closers" in baseball.
The Cards had come to town and Sutter and I planned to meet for a beer or two. As it turned out, Sutter was coming off back-to-back outing that were less than stellar, and he was not in the best of moods.
"Here's what gets me," Sutter said, wrapping a lumberjack's hand around a Bud. "You guys always ask the same damn thing. I get ripped and a guy says, 'Bruce, what was the pitch?' What was the pitch? You're kidding me. I'm in a jam. What am I gonna go to? I'm gonna go to the pitch that got me here, the split-finger. It's all I got. Everybody knows that."
"Well, maybe the guy didn't know what to ask you. I can't speak to that…" Bruce didn't really want an explanation of bad interviewing practices. He had something else on his mind.
"It's weird, man," he jumped in. "Some days it's there, ya know. Everything is working, working better than I could imagine. Some days it's good, but not quite as good and some days, man, just can't quite get it no matter what I try or how hard I try.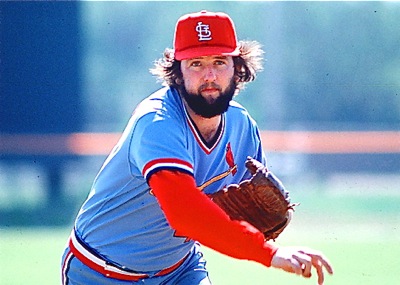 "I realize that one day," he said, slowly turning the beer bottle in his hand, "it's just not gonna be there, period; that I won't be able to find it—at all. That it's just gonna go. Career over. You understand?"
"Yeah," I said. "It's got to be scary. We were talking about that just the other day."
He ordered two more. "And cold," he said. "Arctic cold. North Pole cold."
"Tell ya what I heard once," I offered, trying to lighten the load of the conversation. "Made a lot of sense to me. More than that, genuine wisdom."
"Ah, this ought to be good," he said, smiling.
"It is good, man. Comes from Joe Falls, Detroit Free Press. Know him?"
"Can't say as I do."
"He said, 'Talent is a mystery. Everything about it. Enjoy it while you can."
"And that is supposed to make me feel better?" Sutter said. "Where's the waitress?"