They're understandably proud of their winning tradition in all sports, but in Minster, Ohio (while others are doing passing scrimmages) it's youth baseball that takes center stage in late July.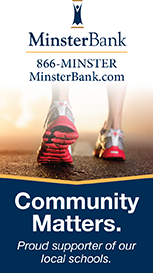 Minster – Someone winked at me this week and said, "We don't have a major leaguer with our 'Classic', but we still got Versailles by about six years."
And what he meant was that Minster's annual youth baseball "Classic" is celebrating its 19th season this summer, as compared to the one that San Diego Padres pitcher Craig Stammen promotes in his hometown of Versailles.  That June event saw its 13th year this summer, but differences aside (and there really are none) the mission is all the same.  People in Minster, like Versailles, want little boys to play baseball.
"I think we can all agree on that,"  said Minster varsity coach Mike Wiss earlier this spring.  "And because of that youth baseball is a big thing in Minster."
So big, in fact, that 72 teams (by best count) signed up this week to play in the Minster event, hosted by that community's sparkling baseball and softball complex on Seventh Street, just west of the High School.
So big, in fact, that 11-year-old Andrew Wiss, son of the coach, is getting tickets to see four days of the Little League World Series next month in Williamsport, Pennsylvania – for his birthday.
"He's a little bit excited,"  says Papa Wiss.
So big that former Minster and MAC baseball athletes, J.R. Nixon and Jackson Hobbs (Ft. Recovery), commit their time to help with the event, and if necessary…umpire home plate.
So big that the event easily attracts as many as a thousand people a day for this week's Wednesday night-through-Sunday schedule.  You see EVERYBODY out – from Ft. Loramie, Marion Local, St. Henry, Celina. St. Marys, Russia, Anna, Coldwater, and well…who knows where – watching the Minster Classic.  And those boys – those little boys, 10, 11, and 12 years old, notice and do their best to put on a show.
"There's no question that it's important to boys growing up,"  says fellow PPM contributor, and former Reds beat writer Greg Hoard, who covers Big Ten baseball currently for Press Pros.  "I grew up in southern Indiana playing organized and even unorganized baseball with my friends.  If there wasn't a game scheduled for that day we'd all get together and find a place where we could side up and play.  We'd play every day…in the morning, break for some lunch at noon, and come back in the afternoon and play the rest of the day.
"Then, we'd come home in the evening and get out our baseball cards and play imaginary games with Solly Hemus, Elmer Valo, Rocky Colavito, Mickey, Willie, Gus Bell, and 'Klu' (Ted Kluszewski).  Oh, I remember those cards so well.  It was a wonderful way to grow up."
And that's the culture that Mike Wiss (and a patio full of associates at Willy's Bar and Grill Thursday night) talk about – what they create in Minster with each passing 'Classic'. It's the talk of the town, even as the highly anticipated high school football team is preparing for next month's two-a-days and the upcoming season.
"Did you see so-and-so play tonight?  You know, he's the little brother of so-and-so,"  said one.
"And that little second baseman?  His dad is the head basketball coach.  It's in the genes,"  says another.
"It's so much better than phones and PlayStation,"  said Wiss, from our conversation in April, when his high school teams was reeling from the loss of teammate Jackson Hogenkamp, who had passed away that week after a long fight with cancer.  "It's always brought our kids together – it brings our community together.  People pay attention to what the kids are doing and they know that.  They feel that support for activities like summer baseball, and then when that's over you move on to the next sport."
What he means is…the values of organization, structure, oversight, and enthusiastic appreciation.
"Comparing our event to Versailles,"  added Wiss.  "On the night we hosted St. Marys this spring Bernie Knapke (from Versailles) brought over an orange and black bench dedicated to the memory of Jackson (Hogenkamp).  It sits down the third base line just outside our dugout and has his number '5' on it.  That's how close we are in culture, and respect for what kids and baseball mean to the two communities."

The Minster Classic is respected, obviously.  72 teams can't be wrong.  And when it's over there'll be a carryover to see more baseball.  Given the choice of a moped or the Little League World Series for his birthday…Andrew Wiss would take a trip to Williamsport, with his dad, every time.  And it's that way in Versailles, too.  When I had lunch with Craig Stammen on a snowy day back in February, the conversation was almost identical.
"There's just nothing better for little boys to be doing than playing baseball,"  he smiled.  "That's how I got started.  That's how I got to where I am."
Like Greg Hoard and his heroes…Solly, Elmer, Rocky, Mickey, Willie, and 'Klu'.
It's why baseball works in Minster, Versailles, Williamsport…EVERYWHERE!