After weeks of delay, Troy's Luke Severt received his award Wednesday for being 2019's Hal McCoy Scholarship Award for continued studies in journalism and communications.  He couldn't have had a better day.
Luke Severt couldn't have cared less about not being the first Troy graduate to receive the $2,500 Hal McCoy Scholarship Award to pursue continued studies in journalism, communications, and language arts.  Fellow Trojan Melissa Mengos beat him to that distinction, winning the prize in 2016.
But it didn't matter Wednesday, at noon, as Severt finally received his just reward from Hal McCoy, himself, following six weeks of delay due to the high school baseball season and travel for the purpose of orientation at the University of Missouri, where he'll attend this fall.
"Wow,"  said Severt, a member of the Trojan baseball team this spring who's already cut his teeth in writing with work for the local paper, the Troy Daily News.  "This is so cool.  I grew up a huge Reds fan and I've always admired Hal McCoy's work.  To meet him like this means the world to me, and to get this recognition means a lot because being a sports writer is something I've always dreamed about."
Dreams, you see, do come true.
"When I first learned of this award, and that it was in Hal's name, I knew it was something I wanted to apply for.  I've always enjoyed reading Press Pros, and I knew that this was a significant opportunity, and when I learned that I had won it was such a great feeling."
Severt was selected from a group of four finalists, from four counties, and his credentials, plus his ambitions, simply set him apart.  He graduated from Troy with a GPA of 4.146, his ACT score was a 34, and his chosen school – the University of Missouri, one of the nation's top journalism schools – indicated that he was serious beyond question as to his goal of one day being a writer, and a recognized writer, as well.
"I feel like this award was made for me,"  he added.  "Sports writing is something I've always wanted to do, and there aren't any scholarship opportunities outside of Press Pros in the area to help pay for school, or ones that I know of.  For all of that to come together…it's like it was meant to be."
His selection of Missouri is also significant, because Ohio is blessed with schools of excellent reputation in journalism – Ohio University and Kent State.
"I went to Missouri because they have one of the best journalism schools in the country,"  says Severt.  "I liked Ohio University, but I got into a program at Missouri for students with elite ambitions, with a freshman interest group of seventy from across the country, with multiple advisors, so I couldn't turn that down.  And, being in the SEC, I knew I was going to see some pretty good football."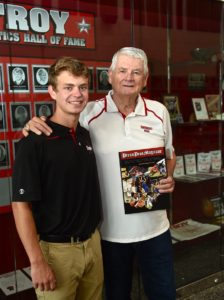 The final choice among those four finalists was made by the hall of famer, himself, and Hal McCoy wasted no time in making his decision.
"His application stood out,"  said McCoy.  "And his experience brought back a lot of memories because it sounded like what I went through when I was a student at Kent State University, back in the 60s.  This is such a significant award because when I went to Kent State it cost $105 a quarter for tuition, and I had a a partial scholarship to play baseball.  But I still had to get a job on the side.  I committed to Journalism because I couldn't hit the curve ball and I knew it was the end of the line for me as a player.  That money would have been very, very handy because I had to work nights in a restaurant to help pay for school.
"As for Missouri, I couldn't have picked a better school for Luke,"  added McCoy.  "Northwestern, Syracuse, Kent State, Ohio University…they're all at the top.  But if you're going to take Journalism, Missouri's the place to go."
Since 2013, the Hal McCoy Scholarship Award has been sponsored by the Unity National Bank, with offices in Piqua, Troy, and Tipp City;  and Troy High School becomes the third Miami County school (Newton, Troy, and Miami East) to have graduated the award's recipient.