Mark your calendar and buy your tickets…the Pro Bowlers Tour comes to Coldwater the week of August 20 to compete, entertain, and simply enjoy the pace of a community that gives as good as it gets.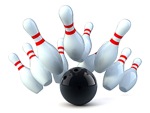 Coldwater –  Pla-Mor Lanes owner/operator Rick Hartings had that cheshire grin Monday as he talked about why the Professional Bowlers tour chooses to come to Coldwater next month, August 21 through the 23rd for the 13th annual Bowlerstore.com Classic tournament.
"The bowlers love the event, the community and the hospitality, and we have such a huge fan base that comes out to watch and enjoy the pros that show up to compete.  We also average about 85 sponsors that support the tournament, compared to a bigger, national tournament that may have four or five really good sponsors, and maybe fifteen altogether…so it's just caught on.  We started in 2007 and it's gotten bigger every year since."
How unusual is a PBA event in a community so small – with no hotels, a bowling facility that features just sixteen lanes, and 150 miles from the next biggest urban market?
"When we started in 2007 we ran a regional tournament that drew participants from four or five adjoining states – Ohio, Michigan, Indiana, Michigan and Kentucky,"  adds Hartings.  "And it just started to grow after that.  The word got out that we put on a good event, that the local people were great, and now they come from all over the world.  We were just at the trade show in Las Vegas last week and checked on who was coming this year, and the roster is full.  Kyle Troupe will be here, E.J. Tackett will be here, Marshall Kent will be here, Parker Bohn will be here, and Norm Duke is on a waiting list to get in.  There's lots of activities planned, there's lots of opportunity for fans to interact with the bowlers, and an excellent opportunity for sponsor recognition."
If you've never attended a PBA event, those that do will tell you that the opportunity to watch, support, and interact with one of the PBA stars is an experience well beyond that of meeting the average NFL, MLB, or NBA player.  And people appreciate the effort because there's no such thing as guaranteed money.  They show up, do their best, and take their chances…much like the average fan who goes to work.
"Yeah, the average PGA professional can finish last in a tournament and still go home with $30,000,"  laughs Hartings.  "Here, if you don't bowl well you go home with nothing.  I think people appreciate and identify with that.  You can't talk with them while they're bowling, of course, but after they're done they're available back in the restaurant, or out in the sponsor tent, and people take the opportunity to meet and get to know the bowlers.  You can buy an armband for $20 and eat and drink with them all day if you want.
"There are bowlers who have come here for years and remember people they've met from year to year.   Those people go to Columbus, or Indianapolis for national events, introduce themselves and tell them they're from Coldwater, and they remember.  Some have been here often enough that they spend the week in people's houses.  So you can absolutely talk to them, and it makes our event a lot different from the PGA or Major League Baseball."
It begins the week of August 20th, with golf outings, pro-am events, and cookouts planned, all for the purpose of creating a community relationship with the top performers in the sport of bowling.  Pla-Mor, while one of the area's best bowling facilities, is limited in terms of size, so if you're interested in attending call immediately (419-678-3113) for ticket information.  Of all the PBA events, Pla-Mor ranks as either the smallest, or one of the two smallest.
"The minimum facility is usually 24 or 36 lanes,"  says Hartings.  "And when you go to Indianapolis or Columbus, to Wayne Webb's place, those houses have as many as 64 lanes.  But we'll have 32 bowlers per shift, with a maximum roster of 96 (which has been full for a month).  And, it gives those guys a chance to travel for a month, bowl as many as eight or nine events, and compete for a USCB Cup and a chance to win an additional $20,000 at the end of the summer tour.  In addition, the top eight guys will get free paid trips to China to compete in the first-ever event over there."
If you haven't before, put it on our sports calendar for the week of August 20th.  Those who have before have never forgotten.  Regular people, who happen to be pros, performing for regular people, who appreciate not being taken for granted.
(Ed. Note:  Press Pros has has made the following correction…of the Bowlerstore.com Classic beginning the week of August 20, not September, as originally appeared in this column.)