Just three weeks away from the opening of August camp, new Tipp coach Matt Burgbacher (and dad, Charlie) are enjoying the comforts of home, and the acknowledged challenge of making the Red Devils again what they once were…before they left.
The title is a bit of a deception.  Matt Burgbacher has no intentions of coming back to Tipp City this fall and sweeping out all the remnants of last year's 5-5 football season (2-3 in the North Division).
In fact, he's hired last year's head coach, Joel Derge, to be a member of this year's staff, hardly a signal of necessity to start from scratch.
"But we have a lot of work ahead of us,"  he said this week, during a break in his afternoon schedule.  "This summer has been tough.  The kids have worked harder than they've ever worked before because it's necessary.  I don't want to say it's mentality thing, but we want to kids to turn the page.  And they have.  They've shown up, they worked hard, and they've had great attitudes.  All that stuff that you want.  We may not have the size, and we may not have the speed, but you can still win games with what we have and that's all we have to be…the best team on Friday night."
Of all the coaching moves in the off-season, Matt Burgbacher leaving Troy after four years and going back to Tipp City, where he played, graduated, and coached with dad Charlie, was the biggest surprise.  He's sick of hearing the question, "Why?", but now speaks with a conviction in answering that leaves little doubt as to why you'd leave a winning program, outstanding facilities, and an iron-clad tradition…for a program whose only concession to a facility upgrade has been the recent installation of 'field turf'.  Everything else connected with ageless City Park Field is in blue print or dream stage – stands, lights, concessions, locker rooms, etc., et.al.
"You know, I told the kids at Troy that one day they're going to graduate from Troy High School and that'll be a part of them for the rest of their life,"  answers  Burgbacher.  "They'll always be a Trojan.  And that's the way it's been for me.  I graduated from Tipp City and I'll always be a Red Devil.  I wanted to come home."
"I told them that one day they'll work hard and have opportunities that come in their lives – a chance to do something different, or better, or something that was unexpected.  And that's what coming back to Tipp City has meant to me.  It's an opportunity I wasn't sure would ever come."
And in the coaches' conference room at Tipp there's a big oval table with a big chair at one end, where Charlie Burgbacher used to sit during his 26 years as head coach of the Red Devils.
"More than anything, though…I get the opportunity now to sit in that chair where Dad sat all those years.  It's just an honor to follow him and sit in that chair."
Last year's 5-5 record was painful at times, football's reminder of attention to details.  It wasn't that they lost games, but it was the way they lost – a fumble on the goal line against Piqua that the Indians recovered and drove the length of the field in the final minute to win at the horn, 14-13.
They scored 269 points last year and gave up 185.  In conference play they were even-Steven, scoring 100 and giving up 100.
They only suffered one blowout loss – to Troy and Burgbacher, 49-14 – and played respectably in their other four losses.  Only once in those four did they lose by more than eight points – to Northmont, 35-14.
"We're not the biggest on the field, or the biggest school,"  says Burgbacher.  "So we came back this summer to have the hardest strength and conditioning work our kids have done in their high school career.  There were zero surprises.  Even when I was coaching at Loramie and Troy I always kept an eye on Tipp, and there hasn't been one day since I came back when I've felt out of place.  It'll be the same mentality that we had for those 26 years under Dad.  We simply have to work harder, like we've always done."
To wit, during those 26 years no area team it seemed won more games against teams bigger and favored…than Tipp.  Now, however, it's different with gleaming new facilities all around them at Butler, Troy, Piqua, and Troy.  The stakes have been raised, meaning that more than strength and conditioning will be necessary to keep pace, both short and long term, in the new Miami Valley League that debuts on August 30.
"No regrets,"  assures Burgbacher.  "Because this is home.  And that's part of the intrigue with coming back.  I want to be a part of the building process.  Fund raising not the most exciting thing to do, but change is going to come.  The oak tree in the north end zone is now gone.  The new turf is in, and the plans are in place with phase two underway.
"I left a great situation in Troy, and credit to Troy because they treated me and my family great.  But again, this is home and if I can come here and have half, or three-quarters the success that Dad had…then I'll have had a pretty good career.  I know it's going to be a challenge to win, because when you look at our league we're not the biggest school.  In fact, we're the smallest.  But that's part of the challenge, too."
The numbers aren't bad.  Tipp has a small senior group this year, but behind them the next three grades average 24 per class.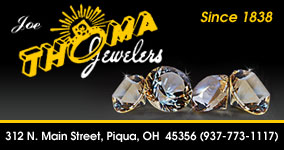 "But it's not as big as I want it,"  Burgbacher says.  "When I went to Loramie we had 29 kids in the four grades playing football.  When I left we had 55 to 60.  When I came to Troy we had 50 kids.  Last year I think we dressed 80.  Once we get in here and start winning people will want to be part of a winning program, so the best recruiters of kids on the fence about playing football will be our own kids."
It all starts in six weeks with back-to-back road games against Mt. Healthy (Cincinnati) and the traditional rivalry game from the old Central Buckeye Conference days – Springfield Shawnee.  Then their home opener with Fairborn on week 3…before hosting Troy on Friday, September 20.
"It'll be a tough start,"  he laughs.  "But the nice thing this year…is when the Troy game comes they come to us.  It's going to be exciting, and there'll be a lot of emotions going through my body."
But the biggest one will be …"I'm going to be walking that same sideline that Dad did all those years."
So no clean sweep, it's just home, sweet home.  Same old broom, just with a different handle.  The Burbachers are back in Tipp!