On a weekend retreat to Gettysburg, you never know what you're apt to see, in person, in spirit, or remnants of the past.
I'm taking a quick R&R this weekend with a friends Bill Wells and Tom Randall, enjoying the July sights of the Gettysburg National Battlefield Park. It's been years since either one of them have been there. It's been eight weeks for me.
And one of the things I like to do is share some of the spots and points of interest outside the normal car tour of the battlefield – those CDs you rent while you drive around and never leave the comforts of the air conditioning. Those are OK for the 'farbs', but after thirty years of battlefield research I've come to seek a much deeper experience.
They make a lot of noise and a lot of money in Gettysburg over ghosts – those walking tours around downtown and through the national cemetery. People flock to them hoping to see something, I guess, or at the very least…to get a good story. Personally, in three decades of walking the battlefield I've never seen a ghost, and I go to a lot of places more likely to produce one. But there is one instance where I came as close as I'll probably ever come.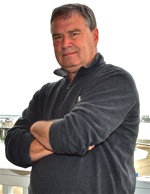 It was in the summer of 1994 and Gettysburg Magazine publisher Bob Younger and I had driven together to a book show in Gettysburg. At the time Younger operated Morningside Books, behind Miami Hospital in Dayton, and had one of the country's most thriving trades in Civil War books and publishing.
As was his custom, after the show at the downtown Holiday Inn had closed, and after he had had supper, Bob enjoyed sitting on the slope of Little Round Top and watching the sun go down behind distant South Mountain. Younger was peculiar about meeting and talking to people on the battlefield and on this particular evening there was a chance meeting with a trio of people who walked up to us there on Round Top, seeking information.
"Excuse me," said a man that looked to be in his 30s. "Are the two of you knowledgeable about the battle here at Gettysburg? I'd like some information."
With that Bob kind of rolled his eyes and got up, heading for his Chevy Suburban parked at the bottom of the hill. I chose to stay.
"I am," I answered. "What are you looking for?"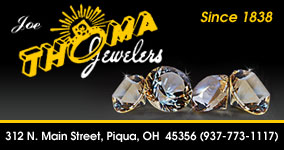 "Well," said the man, "We're from Alabama and my great grandfather fought here during the battle of Gettysburg. He was an Alabama soldier and the information that I've gotten so far is that he fought on Little Round Top. And I'm interested as to where he might have fought."
We were standing on the face of the hill, about two hundred yards west of where the Alabama troops of Colonel William C. Oates (the 15th Alabama) and the 4th Alabama attacked the Maine soldiers of Colonel Joshua L. Chamberlain on the evening of July 2, 1863. I pointed that out to him as he broke into a broad smile.
"My relative was in one of those units, but I'm not sure which," he stated. "So this is where he was when he was hit."
"Your grandfather was a casualty at Little Round Top?" I questioned.
"Yes, his papers indicated that he was engaged fighting on the slope of a large rocky hill when he was shot and wounded," he said.
"Did he survive?" I asked further.
"He did," said the man. "But he was shot in the arm and lost his left hand."
And with that he produced a small plastic box from a backpack he was carrying. Working the latch on the box carefully, he opened it and asked, "Would you like to see?"
"See what?" I asked. "What am I looking at?"
"This is his thumb from the hand that he lost in the battle of Gettysburg," he said proudly. "It's been in the family all these years."

Now he had me – hook, line, and sinker. I stared, dumbfounded, and had to know more.
"He was wounded in the hand during the battle and was taken to a hospital where they told him his hand was so mutilated that they would have to amputate," he said, producing some papers from the backpack, apparently to corroborate his story.
"The only part of his hand that wasn't mangled was the thumb, so my grandfather said if he's going to lose the hand, anyway, he'd like to keep his thumb as a souvenir. So they cut it off, he had it boiled in water to get the flesh removed, and he brought it home with him when he was discharged."
He had photos from the turn of the century that showed the old man with his left hand missing, his shirt pinned over the stub just above his wrist.
"He lived until 1906," the man continued. "And this is the first time I've ever been to Gettysburg so I wanted to bring the thumb with me to unite it with his spirit here on this hill. I wanted to bring it back to where it happened."
Looking closely, the bone was clearly the remains of a human thumb, and there was nothing to do but believe the story…because you just can't go somewhere and buy the skeletal remains of a thumb.
What I regret is that for one of the few times in my life at Gettysburg I DID NOT have a camera with me. I would surely have asked to photograph those remains.
But I did find out that the man and his family lived in Huntsville, Alabama, and that his journey to Gettysburg was far more relevant to him than the average person hoping to hear a good ghost story. He already had a good ghost story…and the thumb to prove it.
And I got to hear, and see, it…both!