The former Buckeye from Findlay is learning the ropes of professional baseball…and how to live out of a suitcase. It's life in the minor leagues – one bus trip at a time.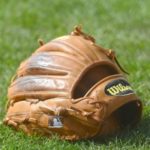 Dayton, OH – He seemed glad to see me. Former Buckeye pitcher Connor Curlis flashed a surprised smile when I caught up with him last week at Fifth Third Field. Just hours removed from a 5 am bus ride from Bowling Green, Kentucky the night before, there hadn't been much time for rest, and his voice was tinged with a note of fatigue.
"It's always good to see someone from home," he said, taking time to talk with me, two hours before the Dayton Dragons' game with South Bend. "It's nice to be playing in Dayton, because home is close."
In my case it wasn't home, just familiarity. Press Pros had covered Curlis during his previous three seasons with the Ohio State Buckeyes, including his junior year when his 7-4 record as the Buckeyes' Friday starter, his 3.55 ERA and 77 strikeouts in 88 innings, was inducement enough for the Cincinnati Reds to select him in the 24th round of the June draft.
They were good numbers, but not overwhelming numbers…not in the category of the Reds' first-round pick from the year prior, 18-year-old Hunter Greene, whose fastball reached 102 miles per hour as a high school senior. And his signing figure was nowhere near the 7-plus million that Greene received.
But therein lies the irony of baseball. Like Greene, Curlis began his professional journey last year with the Reds' rookie affiliate in Billings, Montana, where he won three games without defeat while striking out 33 hitters in 25 innings.
And like Greene in his second season, Curlis was assigned to Dayton in May, a full-season 'A' league where the competition is stronger and endurance becomes a factor. The Dragons play a five month schedule of 140 games. Billings plays half that.
Endurance took its toll on Green in 2018. He left the Dragons midway through the year to have Tommy John surgery on his right elbow. Like long bus rides in the wee hours of the morning, it's a professional obstacle in this line of work. Baseball's a tough business!
"It's always been my dream," Curlis assures. "And it's awesome to be playing this close to home (Findlay, OH, Findlay High School). It's cool to represent the Reds where my family and friends can come and watch me play."
Since being assigned to the Dragons out of extended spring training, Curlis has given a good account of himself. He's started eight games, with a 2-3 record in 30.2 innings. In his latest start against Bowling Green, he was the losing pitcher of record in a five-inning outing, but he gave up just five hits, while striking out seven. Impressively, for his 30 innings he's recorded more strikeouts than innings pitched (34). But he's also walked 17, part of the learning curve at this level…and an important correction to master for the sake of career advancement.
"Mostly it's just fastball command," he states. "That's the number one priority, and something I've struggled with lately. Too many walks. Hitters at this level are all good. That's why they're here. The hitters are more patient and they don't swing and miss pitches outside the zone like they would in college.
"The other thing is being able to throw any off-speed pitch, whenever you want, anytime in the count. You have to keep hitters off balance, and you don't want to be predictable. You don't want them to know a fastball's coming."
Dragons pitching coach Seth Etherton, a former 1st round pick by the Anaheim Angels, gives a positive prognosis to Connor's development.
"Right now we're trying to simplify some things with Connor," says Etherton. "We're working on command and having him find out the kind of pitcher he can be. After the first couple of innings the other night (Bowling Green) he settled into a groove and was very good his last two innings. Every pitcher has to learn that…and learn to trust his stuff."
"There's a lot more to it than there was at Ohio State," says Curlis. "The Big Ten prepared me, and I thought I was ready to compete at this level, but again…it's a whole different ballgame when one through nine is good. So you've got to learn to pitch to your strengths and not think about it. You have to attack every hitter."

He's accustomed to pitching in big games – against Michigan, Minnesota, and South Carolina in the 2018 NCAA regional tournament. But now every game is subject to scrutiny – job security – in one of toughest work environments imaginable. Curlis is not threatened. He understands, and welcomes the challenge.
"The other night…", he explained. "It took me a while. I gave up some runs early before I got back into a rhythm. You want to get off to a good start. Pitch count is such a big thing. You want to get ahead. To have a scoreless inning in the first is huge because it gives you momentum for the rest of the game."
The Dragons wear T-shirts that read 'Don't Fight The Fun' across the front, a reminder that everyone in the organization, from the front office down, understands the ups and downs – the pitfalls – of making it to Cincinnati.
I had to ask, "Are you having fun?"
"Yeah, of course," he said, a touch of kid in his voice. "I get to come to the ballpark to do what I've dreamed of doing. This is my job now. This is my home right now. I'm taking advantage, and having fun…everyday. Because, you never know when it could end."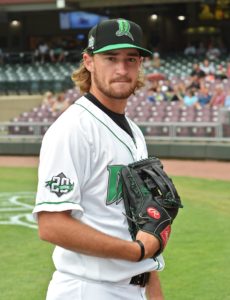 But until that day comes it's work, more work, frustration, some doubt..and living out of a suitcase.
"We didn't get in until 5 o'clock this morning." he said with a tell-tale tone. "It's a grind, but it's a blessing. I'm doing what I want to be doing."
He's still watching the Buckeyes, of course,  thrilled for their success in the Big Ten Tournament this spring and a return to the NCAA regional.
"I was actually charting pitches in the stands, watching the Big Ten championship game, so I had my own little celebration. I was happy they made it to the regional, like we did last year. They just didn't get it done. But they'll be back because they're getting better and better."
Pausing, he added, "Those were the best three years of my life."
Up until now. It's ironic that this year marks the 50th anniversary of man walking on the moon, an even greater long shot than playing in the big leagues – that giant step in baseball.
But until then, a few more bus rides for Connor Curlis.
(Ed. Note:  Since this writing, Connor Curlis was promoted by the Reds to their Florida Advanced 'A' team in the Florida State League, the Daytona Beach Tortugas.  He made his first start on July 9, against Ft. Myers, pitching 5.1 innings of shutout baseball in a 2-1 Daytona win.)