My signed copy of his book, Ball Four, is more important to me than most other signed books.  I was once lucky enough to see Jim Bouton and his knuckleball…eye to eye!
Ed. Note:  From time to time we relive stories previously published, simply because they're good stories.  Such as this one originally shared in July of 2014, one of those minor league baseball experiences you never forget.  And in this case…a most unforgettable person.  Remembrances of a face-to-face meeting with Yankee great, and author of 'Ball Four', Jim Bouton.

I was rummaging through a drawer full of stuff last week, and there it was:  A dog-eared, well-used paper edition of Ball Four, the 1972 blockbuster book on baseball by former New York Yankee pitcher Jim Bouton.
Once upon a time, when it first came out, I read it so incessantly that I knew every story in the book and could cite the page on which it appeared.  I know I read it 50 times during my junior and senior year at Ohio State.  It was relevant, it was irreverent, insulting to many of the book's subjects identified by name, but most of all…it was just funny.  Funny, because it unwrapped and exposed some of the professional baseball biggest personalities and showed them to be just like the rest of us – just people.
As I thumbed past the cover to the opening page there in faded blue ink was a signature and date:  Thanks for not laughing at the knuckleball….Jim Bouton, 7/27/78.
I immediately remembered the occasion.  It was during my second year of Double A baseball in the Southern League, and Bouton was desperately trying to make it back to the big leagues as a knuckleball pitcher in the Atlanta Braves organization.  Once a fireballing rookie with the 1963 New York Yankees, Bouton won 20 games that season and then backed that up by winning 18 games the following year, plus two in the 1964 World Series.  Ultimately, the Yankees lost that series in seven games to Bob Gibson and the St. Louis Cardinals.
Beset by arm miseries two years later, Bouton and the Yankees eventually parted ways after the '68 season.  Convinced that his fastball would never return, he turned to something less strenuous but just as intimidating to hit…the knuckleball.  He was good enough to be selected by the Seattle Pilots in the 1969 expansion draft and made 57 appearances for the lowly Pilots that season before being dealt in August to the National League pennant-contending Houston Astros.  The Astros waited the rest of that  year and most of 1970 for his knuckleball to find consistency, but it didn't happen.  Bouton was released after appearing in only 30 games.
From 1970 to 1978 Bouton turned author, book-seller, and personality for the ruckus raised by his tell-all book on the game's biggest stars, and he feasted off that celebrity for a time.  Yet, he later confessed, he yearned to play again and had enough contacts in the game to eventually get the attention of Braves owner, Ted Turner.  They say it takes a "flake" to recognize another "flake" and Turner, struggling to attract fans to Fulton County Stadium, offered Bouton a minor league contract to pitch for the Savannah Braves, the organization's Double A team in the Southern League.
Assigned to umpire a four game series between Savannah and the Orlando Twins in late July, 1978, my partner and I unpacked our gear for the series opener that evening in the umpire's room at ancient Grayson Stadium.  It reeked of minor league ballpark character – crumbling concrete, poison ivy growing on the outfield light towers (that were in play)…and rats!  And of course in the middle of summer it rained almost every day in Savannah.  The humidity was suffocating and the mosquitoes were large enough to drag a six pack of beer, in flight!
A half hour before first pitch the skies opened and it literally poured.  The umpire room was located under the first base stands, off the tunnel connecting the dugout and the clubhouse, and when it rained you had to scramble to find a dry spot to sit or stand.  The water poured through from the bleachers overhead in a steady stream.
At that time Savannah was one of only two parks in the Southern League that had a full infield tarp and a ground crew, so predictable was the weather.  So they rolled it out and we all settled down to wait out what was usually a half-hour delay.  Spikes clattered down the dugout runway past our open door, players walking back to the clubhouse…all but one.  An older player, dressed in game pants, a blue-sleeved Braves undershirt, and a pair of shower shoes shuffled into the room and broke out laughing at the standing water in the two clogged drains in the middle of the room.
"Welcome to the bush leagues,"  said Jim Bouton, smiling.  "Misery loves company, eh?"
And certainly, his perspective of misery was more experienced than that of two minor league umpires tip-toeing to avoid rising water and the occasional rodent.  Just 14 years earlier Bouton had been a World Series hero in the greatest baseball city on earth.  On that night, his celebrity gone as a player, he was slumming it in the minors on a meager meal money per diem of $21.
He was obviously committed to a comeback.  He was lean, tanned, and looked in the peak of condition despite being away from the professional game for a full seven years.  The only thing he conceded was the lack of velocity – that and a painfully awkward overhead delivery to the plate.  His Savannah manager, Gene Hassell, described it this way.  "He looks like a rusty robot doing judo."
"Hey, I'm pitching tomorrow and you'll have the plate," added Bouton, looking at me.  My partner already had the gear on to work balls and strikes that night.  "You ever seen a knuckleball before?"
"Sure," I joked.  "My uncle Joe had a great one."
"Pro ball?"  asked Bouton.
"No, in the back yard at the family reunion,"  I said.  "None of the nephews could hit it."
Bouton rolled his eyes and ducked out the door.  The skies were beginning to clear.  It was time for baseball.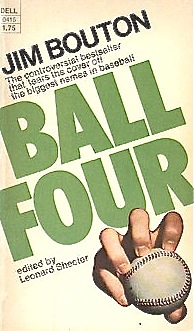 Indeed, the next night Jim Bouton pitched and I called balls and strikes;  and yes, his knuckleball was working, at least the first time through the lineup.  It was slower than Charlie Hough's and Wilbur Wood's, the major league standard for knuckleballers at the time.  His had more of a looping break, less abrupt, and sinister for the young impatient hitters from Orlando.
For three innings he had them in the palm of his hand.  But in the fourth future Minnesota Twins all-star third baseman John Castino waited and crushed one far over the scoreboard in left field.  An inning later Bouton walked the bases loaded and catcher Terry Bulling caught one and drove it out for a grand slam homer.  He left after six innings, four of them good.  Apparently he made a favorable impression because a month later the Braves called him up to Atlanta where he started six games by season's end, recording a 4-6 record.
I always traveled with books, and for the years that I drove in A and AA I carried a copy of Ball Four for a good laugh.  The night after he pitched I cautiously called Bouton aside prior to the game, catching him as he clattered down the runway to the field.  He graciously signed my well-worn edition with the inscription I detailed above, and added.
"I hope you get to the big leagues soon,"  he said with a smile.  "Maybe you can afford a hard-back copy.  I could use the money and it looks like you'll need a new copy by then."
I saw him recently on the MLB channel, still raising a ruckus, still throwing baseballs for his labrador to chase and retrieve, and still pitching for the sake of interest in baseball.
"It's funny,"  he said.  "You spend all your life gripping a baseball, and in the end you learn that it's baseball that has a grip on you."
Such was Jim Bouton, who died on July 10th, 2019.
Such is all of us!