Some additional reader thoughts for this 4th of July long weekend – people still writing in about 'winning', about Woody Hayes…and comparing the modern All-Star Game home run derby to the days when the game's Goliath's slugged it out.
Since posting our latest 'Reader Speaks' column earlier this week, we're still receiving emails and comments from people just reading that June 23rd post (Who Loses, If We Disregard Winning).  One, in particular, came from another Ohio State student from the 60s, now living in South Carolina, who sat in that same class that Woody Hayes taught on football in one of the classrooms at St. John Arena.  We'll share it with you here – something you will not hear in the network media: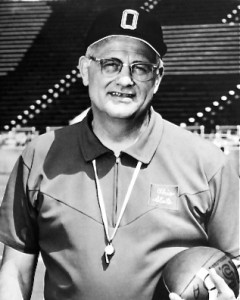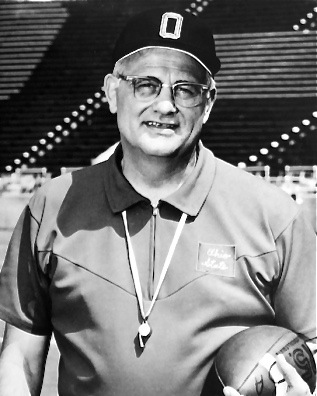 "First, let me thank you for the article shared with me by a fellow Buckeye who follows Press Pros Magazine and your coverage of the Buckeyes baseball team.  But I was very interested in your reference to Coach Woody Hayes' class on football because I took that same class when I was there in school in the 60s.  As you know sometimes he talked about coaching football, but depending on the makeup of the class it was often just Woody lecturing on whatever subject that struck his fancy.  He liked tough men, tough people, and self-reliance.  He talked about history a lot, about the World Wars, and how we won those wars with better people. He stressed the importance of education for success in life after school.  One day he went from desk to desk and demanded to know what our grade point average was.  If it was high he said "Good".  If it wasn't good he'd tell you, "Who do you think is going to hire you when you get out of Ohio State?"  And another day he said, "Winners have their choice in life, and losers shine the winners' shoes."  Wow!  Imagine saying that in a classroom today.  Your article highlighted the difference that 50 years has made."  …  Bob Giles (Myrtle Beach, SC)

ESPN is making a lot out of next week's All-Star game, calling it baseball's biggest event of the year.  That's a matter of interpretation, of course, because the All-Star Game – any All-Star Game – is little more than an exhibition.  The baseball All-Star game has always been ahead of basketball and football in terms of competitive relevance, and is by far the oldest.  And since instituting the rule that the winner of the game gets home-field advantage in the World Series you could say that it was actually meaningful.  But as of last year that is no more.
As to how the teams are picked by fans voting, I've never been so sure of that…and believe it may be a reason why the American League has had such a lopsided advantage since the late 70s.  I've always felt that back in the old days, when the players themselves picked the all-star rosters, they knew who would deliver a clutch hit, or play, when the game was on the line.
ESPN is also touting Monday Night's home run derby as a bigger showcase than the actual game itself.  And I guess, from pure fan interest, that's true.  People have always liked watching sluggers knock the ball out of the park, and with today's modern athlete, a livelier baseball, and smaller parks, they more than get their money's worth.  Baseball has consistently delivered a more offensive game over the years, cutting the height of the pitcher's mound from 15 to 10 inches in 1969, shortening the fences in the newer ballparks, and in recent years playing with a noticeably more active baseball.  After Craig Stammen gave up four consecutive home runs against Washington in June he commented to me, "It's like hitting a golf ball."
But if you want to see an interesting comparison, go to YouTube.com and watch some of the video of the original Home Run Derby show that was taped over the winter of 1959, showcasing the home run hitters of that day – Harmon Killebrew, Mickey Mantle, Willie Mays, Ernie Banks, Eddie Mathews, Hank Aaron, and even St. Henry's Wally Post.
Totally different game.  The pitchers actually threw from the mound, 60′, 6 inches, and you got three outs an inning for nine innings.  The show was filmed in a cavernous ballpark in Los Angeles (ironically named Wrigley Field), and the outfield walls looked to be about 20 feet high.  It took a mammoth shot to get the baseball out of that park.  But more than just an exhibition, winners of each week's episode received $2,000 for winning.  As a percentage to the salaries they played for then, that would equate to nearly half a million in today's money.  And the winning average for an episode back then was 7 home runs for the winner, and 4 for the loser.
What makes the original show most appealing is the number of hall of famers who participated – Mantle, Mays, Killebrew, Aaron, Duke Snider, Ernie Banks, and Frank Robinson.  By comparison, winners of the recent Derby, like Todd Frazier, Yeonis Cespedes, Prince Fielder, Justin Morneau and Bobby Abreu will never see those hallowed halls without a ticket.
And one other bonus of the original show:  No tiresome back, back, back, back, back, back, back…from Chris Berman, who narrated the modern show for several years, and simply ran out of things to say as the night wore on.  Back in the day the show was hosted by a guy named Mark Scott, who wasn't exactly colorful, but the show wasn't about him, anyway.  Who wants to hear talking heads…when you have Mantle, Mays, and Aaron?