Former Troy Trojan, Zach Kendall, has resurrected his career at the University of Rio Grande, and Chillicothe, in the summer Prospect League.
Springfield, Ohio – There are four inches of zipper-like stitching on the inside of Zach Kendall's right elbow as a reminder about what happened to him on April 6, 2016 during what should have been a great story, long after he put away the glove and spikes for good.
Kendall gave up one hit and no runs in one inning of relief against Michigan in Ann Arbor, and it was an example of why Bowling Green gave him scholarship money two years earlier coming out of Troy High School.
Something, though, was very wrong.
"I remember that day,'' he said. "The trainer told me the ligament was torn before I even had the MRI. I knew it was bad.''
There were brave vows made that day, but what followed were heaping tablespoons of truth serum. Tommy John surgery was in store, and there are no shortcuts coming back from the mother of all pitching injuries.
"I said that it was time to get back at it because I wanted to have surgery as quickly as possible so I could start working to get back on the mound,'' he said. "But at one point I thought I was done with baseball.''
Kendall was talking to a reporter inside an equipment shed on Tuesday after working 5 2/3 innings in the Chillicothe Paints' 23-4 victory over the Champion City Kings at Carleton Davidson Stadium.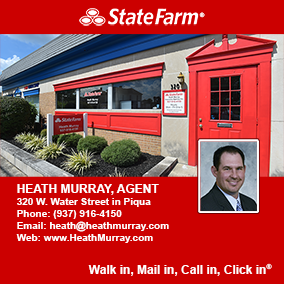 It was the second strong start for Kendall in the wooden bat Prospect League for collegians. He also beat the Kings in his previous outing in giving up two hits and two walks while striking out eight in 6 2/3 innings.
The elbow has held up just fine – orthopedic surgeon and Cincinnati Reds team physician Dr. Tim Kremchek did the operation – and the most pressing matter was Kendall re-hydrating from a start in near 90-degree temperatures.
Then there was the matter of putting food into his belly, and a lot of it. His uniform was hanging on him, and he certainly needed the wide belt to hold the pants up. The uniform No. 28 filled his back.
Kendall stands almost 6 feet 2, but weighs 165 pounds. Try as he might, nothing has helped him put and keep on good weight. He would try yet again with dinner in celebrating his 23rd birthday at a restaurant with his parents.
"I've got to get into that cafeteria when I get back to school,'' Kendall said. "But it doesn't matter how much I eat, I can't gain weight.''
School is the University of Rio Grande, where he'll be a redshirt senior in the fall. He graduated from Bowling Green with a degree in sports management and moved on to pursue a master's degree and to burn his final two seasons of eligibility.
This past spring, Kendall threw a baseball in competition for the first time since that awful day at Ray Fisher Stadium, in Ann Arbor. Things worked out nicely, with him putting up a 6-5 record and 3.89 earned run average in 16 starts covering 90 1/3 innings.
That was more work than he could have imagined. Consider that Ohio State's three Iron Mike-like starting pitchers worked 96 2/3, 92 1/3 and 91 innings during a season in which they played five games in the Big Ten Tournament and three more in the NCAA Tournament.
That first start, though, was rough for Kendall. Brewton-Parker scored four runs off him in four innings.
"My first outing this spring wasn't the greatest,'' Kendall said. "It was my first time throwing off the mound against batters in three years. I didn't throw in the fall because I was just getting back into it.''
Then came bright light against Bryan, the 15th-ranked team in the NAIA poll, in his second start. He went 5 2/3 innings in a 4-3 loss.
"I got the groove back and the competitive nature back, and nothing felt better than that,'' Kendall said. "It was 1-1 when I came out of the game.''

How he got to the school is a story that had destiny written all over it. A brother was shopping for universities and visited Rio Grande.
Baseball coach Brad Warnimont talked about the team needing pitching, and father Matt Kendall had an the oh-by-the-way reply that older son Zach had eligibility remaining.
Next up was a visit. Zach enrolled one week before classes.
"I said, 'Yep, this is the place for me. Let's do it,''' he said. "I got this opportunity and thought I'd give it a try.''
Looking back, Kendall has the ideal make-up to overcome this injury. He is focused to the point where he stares straight ahead at the catcher's mitt and has that same tunnel vision walking to and from the mound between innings.
That focus was needed Tuesday when his first pitch of the game was a no-doubter home run to left. He allowed only five more hits throwing a fastball, curveball, slider and change-up. His best fastball hovers around 89 miles per hour to 90 miles per hour.
As a senior at Troy, Kendall wasn't always so poised and focused. One day he thought he was getting a bum deal from the plate umpire and showed his displeasure for everyone to see.
Pitching coach Heath Murray, a star at Troy and the University of Michigan and a big leaguer for five seasons, had a little straight talk during a visit.
"Heath came to the mound and said, 'Are you done yet?''' Kendall said. "I asked him what he meant. He told me that I couldn't play college baseball doing that. Ever since, I've just concentrated on getting the ball and throwing the ball, getting the ball and throwing the ball. You can only control what you can control, and that's throwing the ball.''
Son can thank dad for making him a pitcher in the first place. Before his sophomore year of high school, he had been a slow, left-handed-hitting first baseman.
"I actually didn't start pitching until I was 15,'' Kendall said. "My dad was my summer ball coach and I don't know the situation, but it wasn't good. He asked if I wanted to pitch, I said why not and I fell in love with it.''