While rival Michigan fights it out with Vanderbilt for a national title this week, Buckeye sophomore-to-be Marcus Ernst is honing his batting stroke and learning to play other positions in Springfield, hoping to switch positions with TTUN in 2020.
It's more relaxed, the pressure is off, and frankly, summer baseball for Ohio State sophomore-to-be Marcus Ernst has been a new learning experience, now through his first fifteen games this summer with the Champion City Kings of the wood bat prospect league.
Ernst, a freshman last year from Dublin Coffman High School, hit .257 (18 for 70) in limited duty as an infielder, but distinguished himself by making consistent and hard contact at the plate when he did get his opportunities.
He made 14 starts at third and second base.  But more, he showed the ability to overcome veteran pitching with multi-hit games against Maryland, Minnesota, and Wright State, going 2 for 3 against the Gophers in a critical road double-header in May.
And to Miami Valley Buckeye fans, he's the pride of Stacie and Ben Ernst, but with Minster, Ohio ties…the 2018 Ohio Capital Conference Player of The Year for coach Tim Saunders at Dublin Coffman.  In short, he portends to make an impact in 2020 and beyond as the Buckeyes seek to follow Michigan's lead in this year's CWS, hoping to switch positions with the Wolverines in 2020.
Tuesday, prior to the Kings' game with nearby Chillicothe, at Springfield's Carlton Davidson Stadium, 'Ernie' took some time to answer questions about summer baseball, his freshman year, and what he's working to improve before returning to campus and 'fall ball', come September.
PPM:  You had to be pretty happy with your freshman year.  You got playing time, you got some big hits, and in short, you made a good impression on everyone who saw you play.
Ernst:  Oh yeah, I really didn't know what to expect – what my role would be.  I wanted to prove that I could play at that level and I did.  I got some opportunity to play and got off to a good start.  I kinda' had a dry spell there in the middle of the year, but I came back with some good at bats late in the year and actually had an at bat against Vanderbilt in the regional against a very tough pitcher (Drake Fellows), the same guy that pitched against Michigan on Tuesday.  So I really got a good idea of what it was like and what I need to take the next step.  Overall, I thought it was awesome.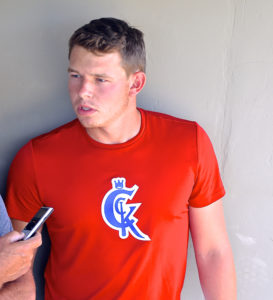 PPM:  Tell us what that next step might be.  What was your exit interview like with the coaches before you left campus for summer baseball.
Ernst:  We talked about staying open to the possibility of playing multiple positions next year.  Beals was not sure about what the roster was going to look like for then, so he just said come out here and play as many positions as possible.  That's what I'm trying to do this summer.  Tonight I'm playing first base, but I know I won't be playing there next spring with Conner (Pohl) coming back.
PPM:  There are going to be some positions open, particularly in the outfield, have you thought about the possibility of playing one of the corner outfield positions?
Ernst:  Yeah, but it's been a long time since I've played in the outfield.  But I've always been taught that getting in the lineup is a good thing, so any place that I can play and contribute would be OK with me.  If that's left field, that's great.  If it's third base, that's great.  I just want to be in the lineup.
PPM:  The general impression you made this year was that you had a lot of good at bats.  Were they happy with the way you swung the bat?
Ernst:  Early I was very happy with myself, then I had too many strikeouts in the middle of the year.  But overall, I came back at the end of the year to have some good at bats.  Here, I'm just working on my swing, getting consistent at bats and becoming more comfortable again.  It's hard to get into a rhythm when you're in and out of the lineup, so here I'm trying to take advantage of the consistent at bats.
PPM:  When we looked this week you were hitting .328.  You must be taking advantage.
Ernst:  Really?  I didn't even know.  I hadn't looked.  I'm just hitting.  I'm just trying to find a swing that's comfortable and consistent at the plate.
PPM:  How do you like hitting with the wood bats?
Ernst:  It's an adjustment, but after a couple of games it's OK.  We hit with them at school and I've got one of the Phoenix bats that I brought with me from OSU.  I don't want to break it, though (laughing).
PPM:  Are you watching the College World Series?
Ernst:  I am.
PPM:  What did you think last night when you saw how Michigan played against that same Vanderbilt team that you saw in the regional tourney?
Ernst:  I think that it proves to all of us that we can play at that high level, against that kind of team.  We handled ourselves well against Michigan this year (won three of four meetings), and when you know that you know you're just that close to winning a national championship.  Taking what happened last night, and knowing how we played against them in the spring, it gives us confidence that we can play at that level.  Obviously, Michigan's got great pitching, but we've got a lot of great pitching coming back, so we'll have the ability to do what they're doing.
PPM:  As a freshman this year, was there a time or a pitcher you saw when you thought you were overmatched.  I think any would-be recruit coming in would wonder about that…because you saw some really good arms?
Ernst:  I never felt overmatched, but when it comes to arms Vanderbilt's Friday night guy (Fellows) was tough, and that was a tough environment to play in.  But any pitcher has to make his pitches, and we got to Fellows early in that game, until he started throwing strikes later and mixing the fastball and slider better.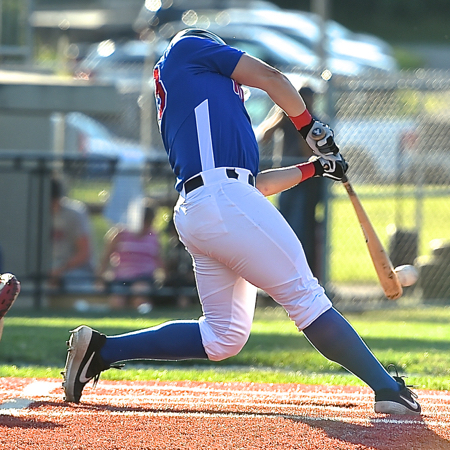 PPM:  What are your goals for fall ball, when you get back to campus with this summer's experience under your belt?
Ernst:  I'll do what I did last year.  I'm going to go to compete for a spot, wherever that this.  If it's in the outfield, that's great.  I know we have our entire infield coming back (including Noah West, rehabbing from knee surgery).  So I have to show that I can compete and show that I can produce at a lot of positions.  And I'm fine with that because the competition here is about the same as you see in the Big Ten on some days, on others it might be a little different…there are some good arms here.  Mostly, it's just the chance to play consistently and and get more at bats.  I'm really getting back into my swing.
(Ed. Note:  It wasn't a good night for the Kings, team-wise, on Tuesday, giving up six runs in the second inning on their way to an eventual 13-2 deficit.  But in his first at bat in the second inning Marcus Ernst lined the second pitch he saw into right field for a single.  It looked like…he had gotten back into his swing!)