Undaunted by mighty Vanderbilt, Michigan's impressive tournament run continued Monday with pitching gem and an impressive 7-4 win in Game 1 of the CWS Finals.
Regardless of rivalries, or bias, no one is playing better college baseball at this very moment than the Michigan Wolverines.
They proved it for the fourth time in as many outings Monday at the 2019 College World Series by jumping on heavily-favored Vanderbilt with four runs in the first two innings and riding that advantage for an eventual 7-4 win.
The difference in the game?  Masterful command by Michigan starting pitcher Tommy Henry;  and timely hitting against Vanderbilt starter Drake Fellows, the same Drake Fellows that took down the Buckeyes in the opening game of the Nashville regional tournament.  But unlike that game, Fellows could not squirm out of some early command issues.
At 6'6″ inches and 250 pounds, there are a lot of moving parts to Fellows' mechanics, and he depends upon throwing his 94-mile-per-hour fastball for strikes early in the count, then striking out hitters with a devastating slider.  Monday he fought to throw strikes, falling behind Michigan hitters, who then hit 'cripple' fastballs deep in the count, scoring a pair of runs in each of the first two innings.  Fellows couldn't get to his strikeout slider and his pitch count soared into the 90s by the fifth inning.
Henry took advantage of the early momentum for Michigan, mixing three pitches for strikes, but more impressive, he threw first-pitch strikes to 24 of the 33 hitters he faced.  The opposite of Fellows, he had the powerful Vandy lineup guessing, reaching, and playing into his hand.
Vandy did answer with a pair of earned runs in the second, but Henry, a second round MLB draft selection of the Arizona Diamondbacks, was unfazed.  He pitched the Wolverines into the sixth with that 4-2 lead before right fielder JJ Bleday jerked a mistake fastball into the right field bleachers to cut the Michigan lead to 4-3.
Michigan then answered in the seventh on a two-run home run by first baseman Jimmy Kerr, followed by a solo homer by catcher Joe Donovan in the eighth, giving Henry a four-run cushion as he would pitch into the ninth.
Henry gave up a leadoff double to Pat DeMarco in the bottom of the ninth before recording an out, and then left the game for reliever Jeff Criswell.  Vandy scored on a sacrifice fly, scoring DeMarco, but Criswell routinely recorded the final out on a ground ball to shortstop.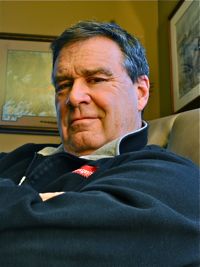 Michigan, a team that hit .281 throughout the year, finished with 7 runs on 14 hits, but continually pressured Vanderbilt's defense by putting the ball in play, forcing the Commodores to make plays – textbook baseball.  Henry was the perfect complement, throwing 108 pitches, 77 of them strikes, in handcuffing what's arguably the nation's most impressive, and most talented college baseball team.  It was his second gem in this CWS, following a complete game shutout over Florida State last week that ended the Semioles' hopes for a Finals appearance.
"I was more nervous in the first game,"  said Henry.  "Tonight it was about having some fun together and playing for the letters on our chest."
Henry's final line:  8.1 innings pitched, 4 runs on 7 hits, 8 strikeouts and 1 walk.  His earned run average for his two CWS starts is 2.10.
It forces Tuesday's elimination game for Vanderbilt, and an opportunity for Michigan to become the first Big Ten team to win the World Series since Ohio State did it in 1966.  Michigan previously won the CWS for their only baseball title in 1962.  Some irony?  First baseman Jimmy Kerr's grandfather pitched for Michigan in that series, 57 years ago!