A letter to PPM this week brings new perspective to the change in culture that prefers participation over performance…and that pride in finishing first is holding everyone else back.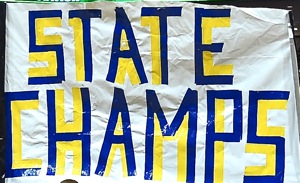 It's that time of year when we think about the direction of things – before another high school sports season.
It's also the time of year when we applaud, address, and single out some of the outstanding achievement of area athletes covered by PPM during the past school year.  Hence, we recently awarded MAC athletes Nick Tangeman (Marion Local) and Carleigh Deitsch (St. Henry)…and Shelby County League athletes Jenna Cordonnier (Russia) and Griffin Doseck (Anna) as our outstanding 'scholar-athletes' from those respective conferences.
They were chosen, by the way, for their combined achievements on the court (or field), in the classroom (GPA), and for stating their own case on an application essay submitted to Press Pros.  Applications were reviewed by retired educators and guidance counselors, and we proudly recognized the afore-mentioned four in separate ceremonies this past week.  Who could argue, right?
Not so fast.  For this is a day when 'winning', and separation through demonstrated skill and attitude is not appreciated unanimously.  We hear from some people, via email and Facebook, who make a case for a different appreciation for lesser (or different) skill and an attitude of broader inclusion.
One wrote,  "While I recognize your effort to honor these young people, to give something back…I wish there wasn't so much emphasis on 'winning'.  Apparently you need to win a state championship, or be all-league, or all-state at something to be recognized by Press Pros Magazine.  There are others who achieve equally, but differently.  There should be a platform for equal recognition."
You get the drift.  It is the alternative message of this day, and recognized by the OHSAA, which produced a video a few years back that actually stated, "Winning is not as important as how you play the game."  That's somewhat paraphrased, and apparently there was some reconsideration, because I haven't seen that video for the past couple of years.
We've become a culture that talks out of both sides of our mouths, because 'winning' has always been a welcomed by-product of competition.  And, can you imagine losing to Michigan in November?  So we've always cherished finishing first, and the effort necessary to be recognized as the best.  But in recent years there's been a softening, and an empathy for those with different ambitions.  We want a more inclusive attitude.  And while that's good and noble, it cannot, or should not, diminish the recognition of those who still strive to be the best.
Because, competition and achievement is the blueprint of our way of life.  And winning is a pattern of behavior that follows each of us every step of the way.  It's how you get the opportunities you want in life…the college, the job, the spouse, the retirement – the independence!  Everything, if you think about it, is predicated on an attitude of winning.
In remarks at this week's Shelby County League presentation, I reminded those who listened of something that former Ohio State coach Woody Hayes used to say in the class he taught during winter quarter at St. John Arena.  He would say, "There is no substitute for winning…because you set goals, and prepare to achieve those goals.  And there will always be someone who wants what you want, and may want it more.  So why, when you've worked that hard, would you be satisfied to finish second?"
And then he'd add.  "Winning is a by-product of preparation and will, and 'leaders' are born from winning."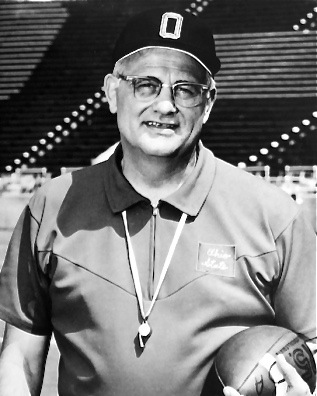 No one ever argued with Woody, even though his zeal for competition would eventually become his rightful downfall.  But to that business about talking from both sides, to this day we revere his memory, his record, and his character.  A quarter century after his death, there is nothing more noble in Ohio than the memory of Woody Hayes.
And to those who squirm over our recognition, we make no excuse or apology.  It is what it is, as we also recognize another remarkable attribute of "winners"…which is a genuine respect for those who do not have the same gifts and abilities – sportsmanship.  For I see this each year, from kids like Nick Tangeman, Carleigh Deitsch, Jenna Cordonnier, and Griffin Doseck.  They're taught this from the first day on, by another important component to the blueprint.  They learn from parents who once learned for themselves.  So it comes from 'the home', the foundation of who we are.
Some will continue to appreciate winning because they're comforted in knowing that some still work that hard.  And some will disagree with the hard facts of it, but to Woody's point, we're also comforted by those who emerge from the process to become the next generation of leaders.  That's American, too.
And if you're unhappy with the direction of things – with today's leaders – check their background.  See what they've won!