They were so young starting out that no one could have possibly guessed in February they would win the Big Ten Tournament and return to an NCAA regional.  But they were talented enough to do it, and the experience portends even better things for 2020 and beyond.
(Ed. Note:  In a three-part series on Ohio State baseball in 2019, our three Buckeye writers break down how far they came, and how far they have yet to go.  Columnist Greg Hoard adds his thoughts in today's post.)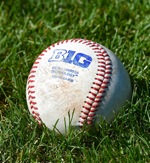 CINCINNATI—When it was all said and done, the 2019 Ohio State baseball team beat the rap. A bunch of kids—short on experience and long on ability, longer still on guts—did far more than most critics expected, and in so doing laid the groundwork for far more than was achieved this year, and that is saying a little something.
The 2019 Buckeyes won the Big Ten Tournament and advanced to the NCAA Regional. They didn't stick long, but they made it and months ago that seemed little more than a pipe dream. Before it all began there was no reason for grand expectations. Realistically, a .500 season seemed both likely and completely acceptable.
All the evidence suggested this would be a season OSU had to endure a so-so record, but a season, nonetheless, in which it would grow and build for the future, and nothing throughout Fall Ball suggested otherwise.
Still, Greg Beals, entering his ninth season as coach at OSU, met critics with surprising optimism.
"We're young," he said, "very young. That's true. But it's an exciting time. We're talented. This may be the most talented group I've had in my time here."
But "talent," like "promise," is an abstract quality. It means nothing until it translates into production.
The 2019 squad had 15 players who were new to the team. Roughly 50% of the ball club was composed of either freshmen or sophomores, newcomers to the complexities and demands of Division I baseball, a transition that far too many dismiss as a simple matter of course, and l.ittle is further from the truth.
"You can not explain it to anyone," said Seth Kinker, the workhorse in the 2018 bullpen that helped the Buckeyes to the Big Ten Tournament title and the NCAA Regional.
"You have to go through it," Kinker said. "It's like one day you are playing in high school or on a good travel team and you think, 'I got this,' ya know. Then the next, you are up against Michigan or Minnesota, Indiana or Louisville, and it's like, 'Damn, man. This is an entirely different world.' Every move. Every pitch, every swing, groundball, fly ball—it's meaningful. It's still baseball, but it is a different world.
"It's hard to describe," he continued. "Every thing is far more intense, and the slightest thing—or what might appear to be the slightest thing—can turn a game totally around."
OSU lost all three of its weekend starting pitchers from the 2018 squad: Connor Curliss, Ryan Feltner and Adam Niemeyer. All three spots were up for grabs.
With Kinker's departure, the bullpen was left with capable relievers but none who seemed ready to shoulder the load.
As for the offense, important guns were gone, notably: Noah McGowan, who straightened out his game, hit 10 home runs drove in 55 runs and led the Big Ten in 10 offensive categories; and Tyler Cowles, who drove in 49 runs, hit seven homers and repeatedly delivered in clutch situations at the plate and in the field.
They were left with Dom Canzone, the best pure hitter on the club, and a bunch of questions. Would Conner Pohl continue to improve at the plate? Would Brady Cherry finally realize his potential? What about Dillon Dingler? Where would he play? Would he catch or be forced to handle the duties in center, where he was capable but clearly inexperienced.
But the most important question, of course, was whether or not all the newcomers would rise to the occasion?
The early signs were not good. OSU went 7-9 in their first 16 games—all on the road and none against teams that rocket the RPI rankings.
Matters didn't improve after the Buckeyes returned home. They took 2-of-3 against Lipscomb, swept Hawaii and won a couple of weekday games against Northern Kentucky and Toledo.
As March closed they didn't have a nail to hang their hat on, and Beals, as confident as he insisted he was, began to tire of talking about his team's youth and their learning curve.
"Sooner or later," one veteran allowed. "Sooner or later."
As it turned out, it was later but not much. On March 30, the Bucks began a bad stretch that may have saved their season and shaped this team for some time to come.
That day in Jersey, Ohio State fell to Rutgers 3-2 in 15 innings. Four days later, Cincinnati—which is building a noteworthy program right under Ohio State's noses—came to Columbus and whacked the Bucks, 9-5.
Then came a visit from Northwestern, a perennial doormat in the Big Ten. The Wildcats swept the weekend series, beating Ohio State in every way imaginable.
The scores said a lot—13-5, 7-2 and 10-4—but there was far more to be said. That was left to Beals.
"I think our guys learned a little something," he said, almost smiling. "I think they learned what it's like to be punched in the nose. We were punched in the nose—not just today.
"They (Northwestern) played better than us all weekend. We are more talented than they are, but they executed better than we did. Their execution was better than ours in all aspects of the game.. They simply outplayed us. That's hard to swallow"
Still, Beals did not flinch. He didn't blink. Somehow, Beals took the lessons of those games and drove them home. He continued to ask his team to focus on the moment and believe in themselves and one another and, things changed. There is no need to belabor the point with one stat after another. One fact is good enough.
After losing three straight to Northwestern and falling, to 16-16 and 2-4 in Big Ten play, OSU closed out the season with a 15-8 run, 10-8 in conference play.
You know the rest. They became the lowest seed in history to win the Big Ten Tournament. They advanced to the NCAA Tournament—third time in the last four years—and were eliminated in three games, losses coming to No. 2 Vanderbilt and Indiana State. Their single win was a 9-8 affair over McNeese State that required 13 innings, 4 ½ hours and sucked the steam from the team.
Through all of this a young bunch was forged by competition, their failures and successes. They were scuffed up, knocked around and learned what it took to stand up in the Big Ten and D-I ball.
They learned, if they're smart, what Beals values most and what seems to work. "If you are prepared," he says, "and you compete, it's hard to beat."
OSU started the '19 season with a bunch of kids. They walked away from it with thicker skins. For the next two years they are going to be hard to break, damned hard, and their successes will make Ohio State more inviting to players who might be looking elsewhere.
Success breeds success and this 2019 team may prove to be the cornerstone for a time when OSU is once again the brightest light—not only in Big Ten baseball—but in all of the Midwest.
Of course, as always, they will have to deal with Michigan, now dancing around in the College World Series, a team, by the way, this young bunch of Buckeyes beat in three of four meetings.
Odd, isn't it. But, when it's all said and done, we must forever consider the great baseball philosopher, Yogi Berra. When Yogi was confronted with a something that didn't quite make sense, he shrugged and said, "In baseball, you don't know nothing."
In the greater scheme of thing, Yogi was probably right. But sometimes some things just seem more likely than others. This would appear to be one.