With no margin for error, Coldwater turned to its age-old 'process' to grind out its seventh state title in baseball…1-0 over Ridgemont in the Division III final.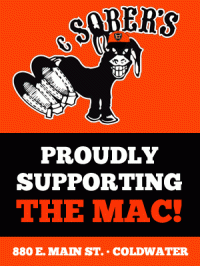 AKRON — Sooner or later, if a baseball team doesn't grab its opportunities, Coldwater is going to put that team in hot water.
And that's exactly what happened Sunday night at Canal Park to Ridgemont in the Division III state baseball finals, a 1-0 Coldwater victory in a superbly played baseball game.
The Generals, making their first-ever trip to the Final Four, had four base runners in the first two innings, but not one discovered home plate.
Meanwhile, Coldwater's first eight hitters went down helplessly against soft-throwing Kolten Smith, who threw more curves than one finds crossing on the mountain road between Gatlinburg, Tenn. and Cherokee, N.C. (311 curves).
Then the inevitable happened. Coldwater pitcher Jacob Wenning poked a one-out single, took second on a ground ball and scored Jake Hemmelgarn's line single to left.
That was it. End of story. It ended in 71 minutes. . .one hour and 11 minutes of high-pressure, high-level baseball from a bunch of Division III players.
And how often has anybody seen a double play by the pitcher? And how many times did it end a game? And how many times did it end a game to win a state championship?
Ridgemont threatened to at least tie the game in the seventh inning. The Generals won their semifinal game against Canton Central Catholic, 6-5, by scoring three runs in the seventh inning.
Ridgemont's Chase Minet led the seventh with a single and was sacrificed to second, the potential tying run with one out.
Connor Kunze laced one up the middle, bound for center field to tie the game. The ball, though, was at pitcher Wenning's shoe laces and he bent down and snagged it.
Minet, believing the ball was bound for center field, started for third. Instead of throwing the ball to second, Wenning did a hop, skip and a jump to second base. He flipped to shortstop Jake Hemmelgarn for an inning-ending double play and Coldwater was state champions again.
"I put my glove down there and it ended up in my glove," said Wenning. "I looked over and saw the guy headed for third and I knew we had a state championship under our belt. So I celebrated on my way to second."
A championship? Ho-hum. It was Coldwater's seventh state baseball championship since its first one in 1938 and its 21st trip to the Final Four, more than any school in the state of Ohio.
But this one was special. The Cavaliers lost the state final last year, 3-2, to Canfield South Range.
So veteran coach Brian Harlamert came up with a slogan for this year's team: "Finish Strong." The Cavaliers couldn't have finished any stronger.
Wenning, a 6-3 senior, gave up two straight one-out singles in the first and escape with a couple of pop-ups. Wenning put two more on in the second with one out and escaped this time when Jake Hemmelgarn started an inning-ending double play.
When Coldwater scored in the fourth, Wenning buckled it down like a submariner closing the hatch. After the second, he did not give up another hit until the back-to-back singles in the seventh.
"We knew they had a great hitting team," said Wenning. "After the first two innings, I was still trying to find my fastball and my curve, trying to spot them up. After that I started to bear down and we got the lead and I knew I had to hunker down. I didn't know if we'd score any more and we had to make one run enough."
His coach uttered the highest praise for a kid who began pitching just this season.
"He is a shortstop by trade," said Harlamert. "So he fields the bunt, doubles the guy off. . .he's an athlete."

It is Harlamert's second state title (2014) and seventh trip to the final four, but he is as humble as apple pie.
"This isn't about me," he said. "I'm just the person in front of guys pulling plays. It is a great community we live in, and it's not just baseball. Our guys just came through in this baseball game, a fun game. Life is more important and this was a life lesson."
One of Harlamert's favorite credos is, "Trust the process," and his team trusted it this year right down to carrying home the big gold trophy.
"After losing last year, there were words we found," he said. "Two each. The Process and Finish Strong. I think we did a pretty good job with both things. It was a great feeling for us, a great weekend for us and it was just fun."
It had been four years since Coldwater's last one, and with its history of winning they needed 'The Process' and 'Finish Strong', and anything else they could throw on the pile.
"I know," he said. "The pressure of not winning, it is kind of hard. But as I keep saying, it is not about me. It is about we, it's us, it's our family. And our kids from the past who came to watch us play. I'm just the guy who kind of guided them through. It has been a fun 22 years for me, just watching the kids play baseball."
How hooked up and connected are Coldwater players? Even last year's seniors, the ones on the losing end of the state championship game, had an input this year.
"Those seniors, every week, contacted our players, texted our players, telling them to stay with the process, keep working, that simple."
Sounds simple, right? Harlamert makes it sound simple, and keeps his part low-key, but the process of winning one state championship, let alone seven, involves so, so much. And Coldwater has discovered the ingredients, and they mix them well.