Cole Frilling starts on the mound, moves to second base, then returns to the mound to finish. Cavaliers come from behind to beat Roger Bacon, 12-7, and advance to Division III state finals.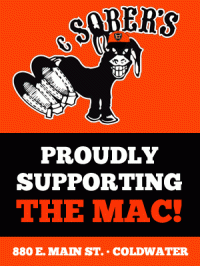 AKRON — Look up 'bizarre' in your Meriam-Webster and the definition might be: "Coldwater 12, Cincinnati Roger Bacon 7."
That was the final score Saturday afternoon in Canal Park during the Division III state baseball tournament semifinal.
In four of the first five games this weekend covering all four divisions, there were four shutouts. And no team scored more than four runs in those five games.
Not in this one.
How about five runs in one inning? How about five runs scored in one inning by the winning team, followed up the next inning with seven runs?
How about Coldwater outscoring Roger Bacon by five runs but Roger Bacon outhit Coldwater by two hits?
How about seven errors, five by the losing team, of course. Only one of Coldwater's 12 runs was earned. For the mathematically challenged, that's 11 unearned runs.

But perhaps the most bizarre of the bizarre was that Coldwater's starting pitcher, Cole Frilling, was given a second chance. How often does a starting pitcher get knocked out of a game, placed at another position, then comes back in to finish what he started.
That's what Frilling did and there was a method to Coldwater coach Brian Harlamert's thought process.
Frilling, 8-and-1 with a 1.21 earned run average this season, was given a 5-1 lead after two innings. But Roger Bacon scored five in the top of the third to take a 6-5 lead.
Jacob Wenning was brought into the game with one out in the third and Frilling moved to second base. Wenning recorded the necessary outs, although he gave up a two-run single that put Roger Bacon ahead, 6-5.
But when Coldwater scored seven runs on three hits in the bottom of the third for a 12-6 lead, Harlamert returned Frilling to the mound.
Why? Jacob Wenning, who threw only seven pitches, will start Sunday's state final game as Coldwater seeks its seventh state championship. It is when Coldwater seek redemption and retribution for last year's loss in the state finals.
After his return, Frilling pitched the final three innings and gave up one run and three hits and retired seven of the last eight batters he faced.
"No, I never started a game and relieved, too," said Frilling, a strapping 6-foot-4 senior. "It was different, that's for sure.
"The first couple of innings didn't go smoothish," he said. "My legs got real tired and I couldn't get any velocity on the ball and they were just hitting it easily."
So Frilling rested his legs standing at second base while Jake Wenning cleaned up the third inning.
"I stretched out my legs, made sure they were fine, then came back in the fourth and, uh, it was just a different experience," he said.
Harlamert, the University of Dayton product who owns 487 victories in his 22 years at Coldwater, knew the game was, uh, a little beyond the ordinary stuff that stirs up diamond dust.
"It wasn't typical baseball, was it?" he asked with a laugh. Asked if he had often taken a pitch out and put him back in, he said, "Not too often. That's the Lou Brunswick trait. We were all coached by Lou Brunswick, the General, a hall of famer (from Coldwater). Sometimes your No. 1 pitcher gets rattled, so you go to your No. 2.
"And Jake is going to pitch tomorrow, so then we were able to quickly get those runs back and got Cole to settle down, breathe a little bit, then go back out there," he added. "And he did a good job."
The Cavaliers made the most of their six hits and made even more out of Roger Bacon's five errors.
Myles Blasingame was the only Cavalier with more than one hit and he had two. Jake Hemmelgarn drove in two with one hit, a double that was Coldwater's only extra base hit, and he drew three walks. Jacob Wenning had two RBI without a hit.
With more experience than most any school in the state of Ohio at being part of the Final Four, Harlamert and his Cavaliers were not disturbed by blowing a 5-1 lead that turned into a 6-5 deficit.
"We've been there before and we've played in big ball parks before," he said. "Our guys were a little timid at first, but the resiliency of our players, ther toughness and that fact the believe in each other carries us."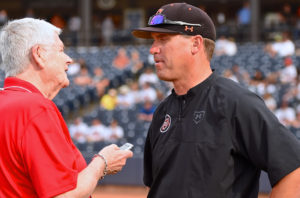 The Cavaliers enter the state finals with a 26-and-6 record, done differently. They lost their three of the season, won 20 straight, lost their last three regular-season games, then ran off six straight tournament victories.
"It was our basketball boys," said Harlamert, explaining the sluggish start. "Eight of our top 14 players played basketball. That's rare for us. But they got their legs and arms ready to go.
"And sometimes you just get too excited after a sport you did really well in," he added. "Our guys were a little too amped up at the beginning. Once we got our arms going and our seniors going we showed how good we really are."
Attention now is diverted to Sunday night in Canal Park, Coldwater's quest.
"We got here now, the same environment for tomorrow," he said. "We lost that one last year, but guys believe in our process. We need to come tomorrow with the same toughness we showed today."
Those with short memories are three full-time starters and two that were hurt last year and two sophomores off the bench who are now juniors.
What they look forward to is that post-game dog pile that eluded them last year.