Coldwater opened the 12-year-old action of the Craig Stammen youth tourney Friday night with an emphatic reminder that the baseball culture in that community is alive and well at any age.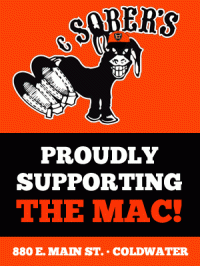 Versailles, OH – The annual Craig Stammen youth baseball classic got off with the twelve-year-olds Friday night with a reminder that the only thing predictable about Little League baseball is its unpredictability.
The Coldwater kids came out hot at the plate, scored six times in the top of the first, four more times in the top of the third – highlighted by a 285 cannon shot by first baseman Cale Wenning that hopped the center field fence for a ground rule double – and then added a couple of more in the fourth to beat St. Henry by run rule, 12-1.
Some other highlights – Brady Lefeld pitched pretty well for Coldwater, and shortstop Bayler Blockberger made a dazzling stop at shortstop to effect a force-out at second base.  There wasn't time for much else as the runs came fast and furious and the game was declared over after St. Henry's turn at bat in the fourth.
It was hard to tell…if Coldwater was that good, or St. Henry just had a bad day.  In fact, I've always believed that there should be a disclaimer on the patches worn on youth baseball shirts – that what you see on a given day is no reflection at all of contents of the packaging.  It's just youth baseball.
I know this because once upon a time I lived it.  I played Little League baseball back in the day when you had to line up on the baselines and recite the Little League oath of fair play and sportsmanship before each game.  But once the reading was done there didn't seem to be much fair about it.  My team, the Pirates, wasn't good.  Coached by my sixth grade history teacher, Eddie Hardy, we lost 32 straight games over a two-year period before we finally won one.
But Eddie, God bless him, never let us feel like a bad baseball team.  He drove a brand new, red-and-white Ford Galaxy convertible and after each loss he'd pile us all in and take us to Pat Davenport's hamburger stand for burgers (25 cents) and Cokes (a dime).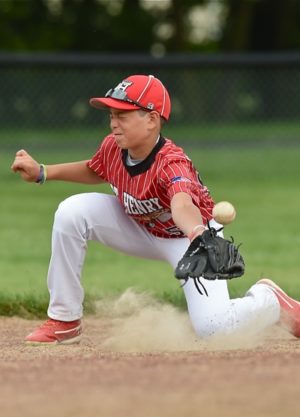 We'd all sit around a picnic table and eat (funny how food trumps the disappointment of losing when you're twelve) and Eddie would promise us…our day will come.  Hold your head up, believe in each other, and keep playing.  He'd always remind us…the idea is to have fun.  Then he'd chug his Coke, burp great big (little boys are always impressed by that), and roar off into the evening.
Fast forward fifty years and they still say the same thing.  They have to.  There really is no other choice.  St. Henry coach Ted Heitbrink assembled his boys around him beneath a maple tree after Friday's game and said almost the same words, verbatim, that Eddie Hardy said back then.
"Hey,"  said Heitbrink.  "Keep your head up.  Keep playing, play for each other, and come back tomorrow ready to play."
He might also have said…the idea is to have fun, I don't know.  But if he didn't, he should have, and he probably did in his own way.  Then they headed for the cars and back to St. Henry.  No word about hamburgers and Cokes.
The Craig Stammen Classic continues tomorrow with games throughout the day at five different diamonds, including the varsity high school field, in Versailles.  The idea is to have fun…and it's a LOT more fun when someone's there watching.