The Wildcats' bid for fourth state Division IV title halted by Hillsdale, 1-0. Jay Luikart, a future Wright State Raider, holds Minter to two hits, just a touch better than Minster's Austin Brown.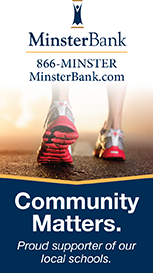 AKRON — A baseball season full of adversities and challenges ended prematurely Friday afternoon for Minster's baseball team, a team that persevered after the early-season loss of a teammate to cancer.
Their goal fell two victories short, one-run short, in the Ohio High School Athletic Association Division IV baseball tournament.
The Wildcats, making their fifth Final Four appearance under dedicated and talented coach Mike Wiss, were victimized by Hillsdale, 1-0, in the semifinals.
It was a fast-moving duel between lefthanders, an argument that lasted only 1 hour and 20 minutes as both pitchers played quick-pitch with their catchers.
Minster's Austin Brown pitched a complete-game three hitter, just a tick below Hillsdale's Jay Luikart, who is on his way to Wright State University on scholarship. Luikart pitched a complete-game shutout, giving up two hits while walking three and striking out nine.
The game's only run was manufactured by small industry in the second — a single, a walk, a sacrifice bunt and a sacrifice fly.

Minster had the bases loaded with two outs in the fourth and couldn't convert. The Wildcats had a runner on second with one out in the fifth and couldn't convert.
Luikart retired the final nine, four via strikeouts. Luikart came into the game with a .508 batting average, 12 home runs, 11 doubles and a.978 on base percentage.
All that helped Hillsdale to a 20 straight victories and the Falcons had outscored the opposition in five tournament games, 45-4, to qualify for the state finals for the first time.
But it was on the mound where Luikart stands tallest and it is where he will stand at Ron Nischwitz Stadium at Wright State.
"First and foremost, we ran into a pretty good lefty," said Minster's Wiss, who led the Minster girls' basketball team to a state championship in March. "Jay threw the ball very well, which we knew he was capable of doing.
"When you love baseball, you know that baseball can come down to some little minute, little baby things in the game."
As Wiss said, on this day it was, "Single, walk, sacrifice, sacrifice fly in the second inning and it's the ball game. We had opportunities. We had bases loaded in the fifth with two outs and we had a runner on third in the sixth with two outs.
"I've talked multiple times to my team about how tournament games are won with two-out hits," Wiss added. But the two-out hit evaded Minster on this day.
"As well as Jay threw for them, Austin Brown matched that for us," said Wiss. "I'm very happy about how Austin approached the game, especially after the long layoff before the game. He had four pitches for strikes and he matched Jay pitch-for-pitch."
Minster put together a strange season. The Wildcats opened with six straight wins. Then they lost four straight. Then they won four straight. They they lost three straight. Then they put together 12 in a row until Friday.
"How this team has come together this year — I don't know if resolve is the right word — but it was a tough year and it was also a great year. We got a lot out of this group. I'm proud of them."
Of the adversity, Wiss said, "Yes, we lost a teammate. Jackson Hogenkamp battled cancer for 21 months and that hit us in the middle of the year."
Minster was 6-1 when Hogenkamp died on April 6 and the Wildcats promptly lost four straight.
"It was tough," said Wiss. "It was tough on everybody, tough on the community of Minster. We're a tight-knit bunch. Jackson was a sophomore and we had to battle through that. A lot of it is was psychology, as you can imagine with high school kids. But we didn't let that tear us down. We let it lead us into something that turned out better.

"It is a credit to those 22 kids in uniform, a credit to our fans, a credit to our coaches. I'm so proud of them because, as I said, it was a tough year and it was a great year."
The battle of swashbuckling left handers was fully expected. Minster's Brown came into the game with a 5-and-0 record, a no-hitter to his credit and a 0.93 earned run average.
Hillsdale's Luikart? He was 10-and-0 with a 0.68 earned run average.
With a 1-0 lead in the final inning, Luikart was obviously running on high test adrenaline and even did a little Al "The Mad Hungarian" Hrabosky dance on the mound a couple of times.
"It was, 'Go back to your mechanics,'" he said. "You can't really think of anything. There is too much going through your mind. We had an awesome crowd, probably everybody in Hillsdale. I had to not think and just pitch."
As Yogi Berra once said, "You can't think and hit at the same time." So you can't think and pitch at the same time? Maybe not when visions of a state championship are dancing in your head.
Of his team's first trip, facing a legendary program and a legendary coach, Luikart said, "We deserve it, we earned it by putting in so much time and so much work and we've played so well. It is about time for Hillsdale baseball to do something like this."
Luikart knew he was locked in mortal battle and one mistake could take it all away.
"I couldn't say I didn't feel any pressure because then I would be lying," he said. "I felt some pressure, but I've been in big games before and I've pitched a lot. This was one of those games where I was in the zone and I was having fun."
Luikart sent a message to Wright State, too.
"Go Raiders," he said. "The coaches there are incredible and the atmosphere when I went down there was great. The players? They just had four players drafted. It is an incredible program and I'm just happy I'll be a part of that."
The start of the Minster-Hillsdale game was scheduled for 4 p.m., but didn't start until 6:03. The previous game, a Division I semifinal between Hilliard Darby and Cleveland St. Ignatius were 13 innings.
It droned on for 3 hours and 42 minutes with St. Ignatius prevailing, 4-3, in the longest game by innings in the 92-year history of the state tournament.
Darby relief pitcher Seth Schmidt pitched nine innings and threw 113 pitches. His first eight innings were scoreless and St. Ignatius scored in the 13th on two singles and a sacrifice fly.
Then Minster and Hillsdale decided their issues in 80 minutes.