Panthers' first trip to state tournament halted, 4-0, on a two-hitter by Mentor's Justin Wilson.  Springboro's Tyler Kean impressive before departing for Ohio State.
AKRON — A quick synopsis in a prep report about Springboro's baseball team was, in three words, "Swings it well." That was a scouting report that said the Panthers could hit.
Coming into its first Division I state tournament semi-finals in school history, Springboro had scored 12, 12, 9, 4 and 10 runs in its five tournament victories
That enabled veteran iconic Springboro coach Mark Pelfrey, owner of 456 victories at the Warren County school, to bring his Panthers to Akron's Canal Park as the first Southwestern District Division I school to make it to the state tournament since Miamisburg in 2006.
It was short and quick for the Panthers against Mentor. They ran into a left handed control and breaking ball whiz named Justin Wilson. He showed Springboro why he was 5-and-0 with a 1.29 earned run average this season.
Wilson held the Panthers to two hits, walked one and struck out eight during a 4-0 Mentor victory. Wilson retired the last eight Springboro batters in order and set down 18 of the final 19.
Springboro had the first chance when All-Ohio first baseman Logan Zier walked with one out in the second inning and left fielder Adam Berry singled. But the next two Panthers made outs and it stayed 0-0.

And that was it for the offense. That's when Wilson retired 18 of the next 19 and the only hit was a bloop single to left by third baseman Cameron Snurr with one out in the fifth.
Springboro starting pitcher Tyler Kean, headed to Ohio State on baseball scholarship, gave up all four runs, but only one was earned. Defensive lapses, three errors by shortstop Ben Barber, led to three unearned runs.
Kean kept Mentor silent for three innings on one hit and struck out six. An error to start the fourth, a sacrifice bunt and a single to right by Mentor first baseman Hal Walker gave the Cardinals a 1-0 lead.
It all unraveled for the Panthers in the fifth, damage that began with two outs and nobody on. What followed was three singles, two errors, a walk and a stolen base that manufactured three runs.
"We made a couple of mistakes and they capitalized on them," said Pelfrey. "They are a very scrappy team and their pitcher was outstanding. He was not behind hitters more than four or five times the whole game."
In pitching a complete game over seven innings, Wilson threw 102 pitches, 68 for strikes. And he perpetually pumped first-pitch fastballs for strike one.
"Our pitchers did well, too," said Pelfrey, referring to Kean and relief pitchers Adam Schomburg and Austin Fawley. Schomburg and Fawley stopped Mentor in the final 2 1/3 innings.
"Everything was going well and I was making good pitches for three innings," said Kean. "The team was there but we just couldn't come up with the plays at the right time. I love my brothers, love playing with them."
Of beginning the fifth with two outs, only to have the next four Mentor batters reach base, three of which scored, Kean said, "The baseball gods just weren't with us and that's part of the game. You just have to deal with it."
Despite the crushing loss, yanking away a chance to play in the state finals, Kean was enthralled with the experience.
"It's a great experience, nothing like it," he said. "I'd do it all over again if I could."
And to be the first Division I team from the school's area to scramble to the state tournament, Kean added, "It was amazing. Honestly, I have no words for it. It is unreal to come up here and play."
Instead of coming back with Springboro, Kean will exchange his royal blue and white for the scarlet and gray of Ohio State next year.
"I'm excited about going there," he said. "I'm a long-time Buckeye fan and I had to take the opportunity. I couldn't believe that it is happening."
Pelfrey's team finished 25-and-7 and was on an eight-game winning streak before bumping into Mentor.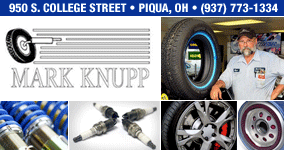 "It was an exciting time for our program and for our school," said the man in his 26th year in the Springboro dugout. "It is not easy to get through the Cincinnati regional and to do that made me extremely proud of our kids. And we're happy our community was so behind us."
Before boarding the bus for a 3 1/2-hour trip home, Pelfrey was asked if, now that the fog lifted and the deed was done, if he could have pushed any buttons to make things different.
Unfortunately, he didn't have an ejection button to remove Mentor's Wilson from the mound.
"Naw, when you have a pitcher like that, it's really difficult," he said. "He kept us off balance and we didn't have a lot of opportunities to do stuff. There wasn't anything we could have done differently or better."
They did it with flash and dash just to make it this far, accomplishing something no Division I team from its area did for 13 years.