From 1958 through the early 60s they played it to death on radio.  Your parents probably danced to it, or made out (ooooh, sorry)!  The Santa Catalina song heads my list of songs from summers past.
In the summer of 1957 15-year-old Bruce Belland broke his ankle body surfing off the coast of California and took up the ukulele to pass the time while he recuperated.  He learned four chords, that's it.
But those four chords were enough for him and friend Glen Larson to write what would become of the iconic summer songs of the 1960s.  Living across the bay from Catalina Island on the coast of California, Belland used those four chords (and some lyrics from Larson) to write a song he entitled 26 Miles (Santa Catalina), and later that year he, Larson, and their small band, called The Four Preps, recorded the song for Capital Records as an audition record – to see if it had any appeal.
Jackpot!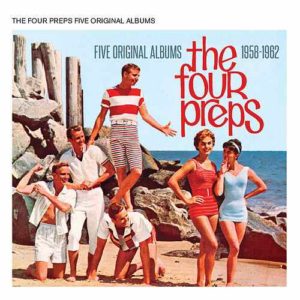 The closing lyric of the song's refrain was "the island of romance", and that lyric, along with the catchy tune quickly became a national hit.  And the part about 26 miles?
Well, Belland claimed that the island was 26 miles away from the porch where he recuperated – where he watched the boats come and go on Catalina Island all day long.
The song sold well over a million records and the Four Preps were brought to New York to appear on the Ed Sullivan show – where Sullivan mistakenly called them the Four Pips – Belland, Larson, Ed Cobb, and Marv Ingram, all high school students at Hollywood High School.
The group would go on to record other songs – Big Man, Lazy Summer Night, and Down By The Station, but none of them ever captured the imagination of listeners the way '26 Miles' did.  Something about the romance part, I suppose.  And, they're still out there touring, doing small club shows.
For your listening enjoyment, click on the link below, share it with your parents, and see if they don't remember:  Songs from summers past…the Santa Catalina song!