They'll play the state baseball tournament this weekend – in Akron – and the question is whether anyone not associated with a school below I-70 will bother to go?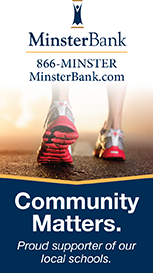 The state baseball tournament will be played this weekend, a week later than normal.  They planned it that way in order to give kids the benefit of that extra week of better weather and playing conditions.  Anyone remember how that worked out?
They've played 92 of these things now.  It's the oldest of the OHSAA state tournaments if you believe the cover on the programs, and most of them have been played in Columbus – central Ohio.  But not this year.  According to what you hear the Columbus Clippers could not host the tourney at Huntington Field because of a scheduling conflict with the International League.  They have a weekend series with Norfolk this week.
But I also know that the Clippers grimace over the wear and tear of a 12-game tourney on their professional playing surface – one of the best in all of minor league baseball.  They canned the Big Ten Tournament a few years ago for that very reason.  Too much wear and tear.
The Dayton Dragons, likewise, could not host the tourney at Fifth-Third Field because they have a home series with Fort Wayne this weekend.
For whatever reason Ohio State did not step up and offer Bill Davis Stadium, which would have been the best of all venues…given there's ten acres of parking, artificial turf (for the sake of maintenance), and central location.  But no mention  (at least to me) of their willingness to host.
Cutting to the chase, the only option (or the best option) turned out to be Akron and Canal Stadium, the home of the Cleveland Indians' Double-A affiliate, the Ducks – in northeast Ohio.  Toledo has a Triple-A park, but that's an even worse location, in far northwest Ohio.  Other places, other colleges, simply did not have the facilities, the staff, or the parking.  It looks like it was Akron or nothing!
Which to my cynical thinking….is bad for the state tournament.  And I hope – I sincerely hope – that the Columbus Clippers in fact did have a scheduling conflict that prevented them from hosting.  I hope, I really do, that they simply didn't want it.  Because the fact of the matter is, Akron is going to cost the tournament a lot of visitors, thereby costing the OHSAA revenue…and worst of all, it's going to diminish the championship experience for kids because I question how many people below I-70 without an association with a participating school will actually bother to go?
If that becomes the case it's another blow to amateur baseball in Ohio.   The weather already sucks, participation in many school has fallen dramatically because baseball isn't promoted like basketball and football, and when you move the tournament that far away from the center of the state it simply makes it easy for people not to come.  And kids that play baseball, like football and basketball, deserve a quality championship experience for their efforts to get there.  Over the course of the past two weeks I made it a point to ask.
"If it was in Columbus I would go,"  said former Kenton Ridge coach Tom Randall.  "I always go.  But I don't want to drive to Akron to see it."
It's true that Akron hosts the softball tourney because they have great facilities…and the football tournament is held in nearby Canton, and has drawn well for years.  But Canton is also the cradle of professional football, and the NFL hall of fame is located directly behind the stands.  Football is a cultural thing in Canton.  Akron, comedian Buddy Hackett once said, "is a good place to stop for gas."
Others have echoed Randall's sentiments, and the OHSAA is well aware of the inconvenience, and helpless to do anything about it.  Commissioner Jerry Snodgrass has long been a strong supporter of high school baseball, but in this case his hands are simply tied.  They do their best to live by their mantra 'respect the game', but stadiums don't grow on trees.  So, for the good of the game (high school baseball)…I sincerely hope that the hiccup of 2019 is a one-and-done deal.
The Miami Valley is well represented with Springboro in Division I ( the first Div. I school to get there since 2006), and Chaminade-Julienne will defend its title in Division II.  Coldwater will seek its seventh state title in Division III, and it marks the 21st time the Cavaliers have made it to the Final Four.  And Mike Wiss and the Minster Wildcats will seek their fourth title since 2011 in Division IV.
Springboro plays its semi-final game with Mentor on Friday morning at 10 am.
Chamindade will play its semi-final game with Van Wert on Saturday at 1 pm.
Coldwater hooks up with Roger Bacon in the D-III semi-final on Saturday at 4 pm.
And Minster will play Hillsdale on Friday afternoon at 4 pm.
Press Pros will be on hand with hall of famer Hal McCoy and photographer Julie Wright to cover all the southwest district teams, sponsored by The Spot Restaurant, in Sidney.