Regardless of how long they play, or how the season ends, the 2019 baseball season at Ohio State will be remembered by those with awareness for the remarkable turnaround of Pendleton, Indiana's favorite son…Brady Cherry.
Nashville – During breakfast yesterday with a couple of colleagues, the question was asked.  "How will you remember the Buckeyes' 2019 baseball season?"
Without hesitation, I responded, "Brady Cherry."
"Yes," someone countered, but this guy did this, and another guy did that.  And how do you discount the remarkable emergence of (junior reliever) Andrew Magno?"
Fair enough.  You can make a case for a number of individuals who have emerged to bring this team to its current 36-26 record in the NCAA regional being played this weekend in Nashville.
You can make a case for Magno.
And you can make a case for right fielder Dom Canzone, as well – the Buckeyes' 'Mr. Dependable'.  All Canzone does is hit (a career .330 hitter), and he's sure to be a top-ten round pick in next week's major league baseball draft.
Brady Cherry's story is another.  He stands out in my mind because you expect great things from Canzone;  and you knew Magno and his 90-plus mph fastball was just a matter of time.  But no one saw Brady Cherry coming in February!
Just a year ago he hit .226 with three home runs…and had no at bats at all in the Buckeyes' regional appearance in North Carolina.
Two years ago he had hit a more promising .260, with 26 RBIs and 4 homers.
He never complained, and he never made excuses.  He just worked.  And if success is a by-product of hard work, then Brady Cherry is the poster child of that well-worn adage.
He has rebounded in his final season to hit .308 through Saturday, with a team-leading 16 home runs, 51 RBIs, and a recent selection as 2nd team All-Big Ten.  But more impressive is the way he's carried that success.  Brady Cherry hasn't gloried in his resurgence – no "I told you so".  He just puts his head down and plays.
"I knew it was there,"  he said to me in an interview back in March.  "But honestly, after last year I just took a step back and tried to relax.  I came back in the fall and tried not to overthink things.  I just wanted to find a good rhythm.  I tried to stick with that through fall ball, and that's what I'm still doing now."
His teammates – his coaches – have noticed and appreciate him for his approach and his quiet leadership as much as his production.
"I think as much as anything it's Brady's ability to trust in his talent and [his] preparation," says Beals. "He's got tremendous power, obviously, but now he's seeing the ball differently, he's hitting more balls to the opposite side of the field, and he's swinging at better pitches.  I couldn't feel better for anyone, because Brady deserves this.  He worked so hard to earn another chance."
"No one works harder, so it's good to see this,"  adds teammate Dom Canzone.  "I think what he's done is shorten his swing, and he's strong as an ox so he doesn't need to generate extra bat speed.  And there was no reason he couldn't do this because he hit .430 against our pitchers back in the fall."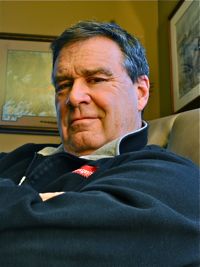 So while he may not be Player of The Year in the Big Ten, just the same he's made that kind of impact.  Teams consistently challenged him for the first month, seeing if the new and different Cherry was for real.  Since they've pitched more cautiously to him, or around him altogether.  He used to go in a strikeout funk (57 in 159 at bats in 2018) after an 0-4 game.  But after Friday's 0 for 4 against #2 national seed Vanderbilt, he responded in Saturday's 13-inning 9-8 win over McNeese State with a 3 for 5 game and his 16th home run.
"You just have to keep playing and find a way,"  he said quietly in Saturday's post-game press conference.
And writers covering this weekend tournament who question the turnaround, ask, "Where did this come from – the .308, 16 homers, and 51 runs batted in?"
Well, you have to consider the source, I guess…and the value of going home, relaxing, re-assessing, or not overthinking things.  Find a rhythm, stick with it, and bring it to the park with you every day, regardless of what happened yesterday.  It's cliche', yes.  And generations of ballplayers have given lip service to these very words.
Cherry's found a way to live it, do it, and arguably make himself the most valuable player on the 2019 Buckeyes.  You expected more from others and they delivered, sure enough.  You didn't expect it from Brady Cherry.  Which makes it easy to relate 36-26 to that which HE'S delivered.
Regardless of how this weekend ends…they wouldn't be here without him!