Minster led from the first pitch in its Division IV regional semifinal game. Russia lost on the final pitch in its D-IV semifinal. After three days of waiting the Wildcats and Raiders finally got to play ball!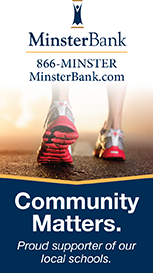 Coldwater – At this point in the postseason coaches will tell you they'll play anywhere – a parking lot, a cornfield or even a garbage dump – for a shot at the state tournament, let alone a state championship.
Luckily it didn't get that drastic. The four teams remaining in the Springfield bracket of the Division IV high school baseball regional semifinals finally found a home Saturday after a three-day ordeal. Coldwater's cozy Veterans Field proved a hospitable host for the semifinals after two days of unplayable field conditions – and what seemed like a dozen delays Friday before finally postponing the games – at Springfield's Carleton Davidson Stadium.
Fairfield Cincinnati Christian, Mechanicsburg, Minster and Russia had no objections about moving the semifinals about 90 minutes and 85 miles northwest of Springfield. And neither Cincinnati Christian nor Minster have any complaints about returning 4 p.m. Sunday for the D-VI regional championship.
In the opener, Minster led from the start against Mechanicsburg – junior lead-off hitter Jack Olberding hit the game's first pitch over the 348-foot sign in right field – for a 13-2 victory.

In the second game, Cincinnati Christian didn't lead until the game's final batter. Sophomore Connor Ploetz blooped a two-out single to shallow left in the bottom of the seventh for a walk-off 2-1 victory to end Russia's remarkable run after an 0-7 start to the season.
Minster (21-7) plays Cincinnati Christian (18-5) for a spot in next Friday's D-IV state semifinals.
Minster goes for its fifth state appearance and first since winning the title in 2017. Cincinnati Christian – which lost to Fort Loramie in last season's regional final – has never advanced to state.
"Coach always says play your best baseball in May. It's June and we're still playing," said Minster senior August Boehnlein, who went 3-for-4 with five runs batted in and two runs scored against Mechanicsburg.
Minster scored three runs in the first inning off Indians sophomore starter Lane Casey. The Wildcats put their first three runners on base starting with Olberding's homer.
"I was waiting for it. Coach told me to wait a few pitches – or wait until you get yours – and I figured first pitch why not take it and see what I could do with it?" Olberding said of his third homer this season. "The wind got hold of it. I saw the (right fielder) turn around and run so I got on my horse because you never know."
Four Mechanicsburg pitchers were roughed up for 10 hits, nine walks and two hit batters. The Wildcats left eight baserunners on base.
Olberding and junior Jacob Niemeyer each had two hits and senior Jack Heitbrink tripled. Olberding also had two RBI and scored three runs. Senior Noah Enneking scored three runs and Heitbrink two.

Minster junior starter Austin Brown held Mechanicsburg to six hits, walked two and struck out three. While appeared as though Minster's first-inning offense would be enough to back Brown, the Wildcats broke the game open with six runs in the fourth inning and four in the fifth inning.
The win was the 11th straight for Minster. They've outscored those opponents 125-14 and, perhaps even more impressive, their starting pitcher has gone the complete game in 10 of those wins.
"If you play with the lead a lot of good things can happen with your pitching staff," Wiss said.
In the second game, Russia senior Daniel Kearns matched Cincinnati Christian senior Mitchell Smith pitch for pitch for pitch. Raiders coach Kevin Philpot and Cougars coach Curtus Moak expected as much.
"We both looked at each other multiple times during the game and gave each other a wink knowing this was going exactly as we expected it," said Moak, whose Cougars beat the Raiders 6-1 in last season's D-VI regional semifinal. "I knew it was going to be our benefit to be the home team. I really felt the home team – or whose every pitcher got to (the game maximum) 125 (pitch count) – had the advantage."
Smith threw 80 pitches in his seven innings. He allowed two hits, struck out eight, walked two and hit a batter.
Kearns threw 108 pitches in 6.2 innings. He allowed two hits, struck out nine, walked three and hit one batter.
Kearns' final pitch to Ploetz landed just in front of Russia senior left fielder Gavin George as he sprinted in on the ball. George fielded the ball on a high bounce but had no real play on Cougar Tim Carangi, who raced around third base after reaching second on a single and stolen base.

"At this point you don't over-evaluate," said Moak, who didn't pinch-hit for Ploetz who until that hit had been walked and was hit by a pitch. "You do whatever it takes to get a win and you walk away with a happy 'W' at this point of the year."
Few expected Russia to lose in the D-IV regional semifinals. That's only because few expected them to get there after an 0-7 start. The Raiders were sitting at 6-12 on April 30 following a 9-0 loss to Fort Loramie.
Russia – making its third straight regional appearance – rallied to win seven of its last 11 games entering Saturday to become one of 16 teams still playing baseball in June.
"It always hurts to lose your last game. I just stressed don't remember this moment as much as you remember the journey that got us here," Philpot said. "There were so many shining moments. (The 0-7 start) was tough. It was the lowest of the lows. But as we got things going … this is one of the most memorable teams that I'll remember. You learn so much more about your character when things are going bad. These gentlemen, they have the character and the fight in them to keep battling."
Russia missed a chance to score in the first inning on senior Evan Monnier's lead-off walk. Senior center fielder Jordan York – who had two stellar catches – sacrificed him to second. Senior Will Sherman drew a two-out walk but Smith got a groundout to end the inning.
Russia's lone run came in the fourth. Senior Carter Francis lead off the inning by reaching on a dropped third strike. Sherman sacrificed him to second. Francis scored on freshman Grant Saunders' double. Kearns then walked, but Smith again got out of the jam with an out to center and a strikeout.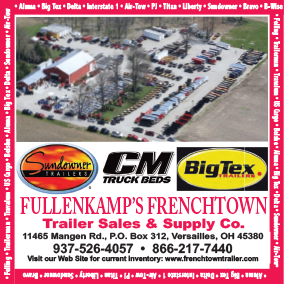 The Raiders again had a runner in the sixth on a one-out single by Sherman. The Cougars ended the inning one batter later. Saunders lined out to right – and with Sherman taking off on the pitch – couldn't get back to first and was doubled up.
Both teams stranded four runners.
Cincinnati Christian scored in the fourth. Alex Johnson led off with a double and reached third on an error at second base. Johnson scored on a pop out to shallow right field that second baseman Drew Sherman ranged to glove, but with his back to the infield. Johnson tagged up and beat the throw home to tie the game 1-1.
Russia graduates eight seniors with Tyler Scott, Zach Bergman, George, York, Kearns, Francis, Monnier and Will Sherman.
"They've been a successful bunch. Their leadership, they guided some guys through who at the beginning of the year struggled," Philpot said. "The seniors had their backs. They put their arm around them when they needed to. The leadership in the dugout … when we weren't a good ball team they were still having fun. They were finding a way to keep things going and trying to make a positive out of a negative. They stuck through it. They showed me they weren't quitting.
"Nobody has any reason to hold their head low. … It was who was going to catch the break. Just a little flair beat us."
The semifinal games were scheduled for Thursday at Carleton Davison Stadium, but rain postponed them to Friday. Several delays on Friday forced the games to Saturday and a new location. Coaches attempted to clear water from the field – especially the quagmire that was deep left – but the field was deemed unplayable. Adding to the frustration was Wright State University, which hosted the D-III semifinals and regional final without a hitch, offered Nischwitz Stadium for use on Friday morning.
The offer was declined … but not by the coaches.
"I'm pleased with how our guys handled the day. How they handled (Friday)," Minster's Wiss said. "… That was eight hours we did absolutely nothing.
"If I had a big concern coming in – other than the fact Mechanicsburg was a nice team – my biggest concern was the layoff. This is day three of playing one game. That was kind of a concern for everybody. Once that first inning happened and we got the energy in the dugout, I felt pretty comfortable."
"I stayed calm because I knew it was out of my control," Moak said of the two-day delay. "I'm a little older and a little wiser with some of those things. I call it sand in the shoes – it kind of irritates you and you can't control it. I tried to keep a level head … and let the team know it was still a baseball game no matter where we play it."
And Sunday it'll be played at the friendly confines of Coldwater's Veterans Field at 4pm for a trip to the state tournament.