Ohio State freshman right-hander hasn't pitched since May 16 against Purdue after taking foul ball to the left side of the head.  But he gets the ultimate challenge, and respect from the Buckeye coaches, with Friday's start against #1-seed Vanderbilt in the Nashville regional.
Nashville – Garrett Burhenn was minding his own business watching his Ohio State teammates putting the finishing touches on a victory over Purdue from the top step of the dugout when he got into the cross hairs of the biggest come-backer of his baseball life.
A wickedly hard, slicing foul ball could have hit a number of Buckeyes along the first base line, but it honed in on him. It struck the back half of his left ear and mastoid bone.
There wasn't a drop of blood and there was little to no swelling, but Burhenn was placed in concussion protocol shortly after the team returned to Columbus from West LaFayette, Indiana.
He made the trip on the team's charter jet to Omaha for the Big Ten Tournament, but didn't throw a pitch in Ohio State's improbable run to the championship as a seventh seed.
Reliever Andrew Magno told the media that he pitched trying to give Burhenn another start in a meaningful game.
Burhenn will take the ball again when the fourth-seeded Buckeyes (35-25) play Vanderbilt (49-10), the No. 2 overall seed in the 64-team NCAA Tournament, at 7 p.m. Friday at Hawkins Field. The game can be seen on ESPN2.
He hasn't thrown a competitive pitch since May 16, but that might not be a bad thing for someone who has thrown 86 2/3 innings one year removed from high school.
"I think it's a benefit late in the season,'' Burhenn said Thursday, after practice at the tiny ballpark that abuts the football stadium. "It's about maintaining, and long toss, and stretching your arm out. I'm ready to go. I've thrown a couple of times off the mound getting a feel for things and getting my arm ready.''
Pitching coach Mike Stafford isn't too worried about the layoff or how Burhenn reacts to such an important game. He carries himself a little like Cleveland ace Corey Kluber in that he doesn't show much emotion.
It's debatable whether the team would have even made it to the conference tournament without the true freshman right-hander from Indianapolis. He is 6-3 with a 3.53 earned run average and has turned in 12 quality starts in 14 times out.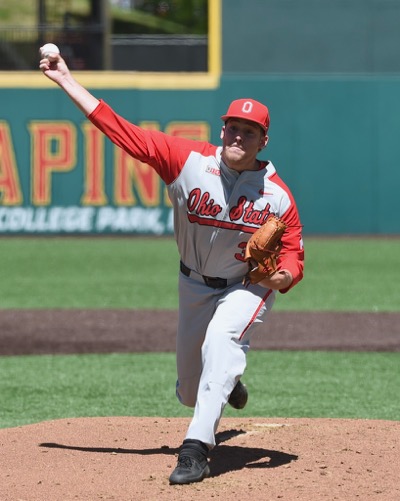 "I think there's value to having some rest at this point of the season, especially a freshman not used to the season,'' Stafford said. "But there's a little part of me that wanted him to have been able to pitch a little bit to keep his feel for all of his pitches. We had some conversations before and during the tournament, and obviously he understood. But the more games we won, the more he would get a little itchy to join his teammates. He wanted to be out there for his guys.''
Burhenn doesn't blow away batters as much as he works them like a chess player. He has given up 89 hits and struck out 66 and opponents are batting .271 against him.
He has defeated Seton Hall, Bethune-Cookman, Michigan, Maryland, Iowa and Purdue.
"Every time he toes the rubber he gives our team a chance to win,'' Stafford said. "He's a damage control guy. He doesn't have those big innings, and he has the trust and support of his teammates. He knows he's going to be ready to go. We're not doing anything different because of our opponent.''
Did Stafford see this coming when Burhenn was a senior at Lawrence North High School?
"It's always hard to see that until you actually get into situations,'' Stafford said. "I knew the stuff was there, I knew the work ethic was there and I knew the competitor was in there. I knew the makeup was there. In the first couple of outings in the fall he had a good level head pitching against seniors. He just went out there and did his thing. He is not an emotional pitcher. He's not really high or low. That's what makes him good.''
The Cool Hand Luke attitude of not sweating when things get tight came from parents David and Heather and his youth coaches.
"That's just how I was raised and playing the game so much,'' he said. "I go back to that Michigan series when I had that home run hit off me (in the first inning). I just turned around on the mound and said to myself that nothing worse can come from that. I just turned it on again.''
Burhenn said the injury could have been a lot worse had he had less time to react. He actually watched the rest of the game.
"I knew it was coming at me and I had time to move, and it was a blessing that I got hit where I did,'' Burhenn said. "I was a little shook up when it hit me, but not much else. I thought I could recover (for the Big Ten Tournament). It was unfortunate. You have to play it safe at that point, and I had trust in all of our pitchers that they would get it done. The competitor in me was, 'Get me out there.' I had to be a good teammate and cheer on the team the entire week. I'm so proud of them.''