The Buckeyes reach the NCAA tourney for the third time in four years to the surprise of some, but just ask Michigan, Indiana, Illinois, Nebraska…and especially Minnesota.  Baseball is full of surprises.
Some, back in March, would have been surprised had you told them that the Ohio State Buckeyes would make the NCAA regional tournament regional round for the second time in as many years.  This, from a team that had recruited well, and returned arguably the Big Ten's best player in junior Dominic Canzone.
But surprised, still, because the Buckeyes lost all three weekend starting pitchers from last year, their roster was comprised of fifteen freshman and sophomores for 2019, and their bullpen never really emerged until the last trimester of the season…when freshman Will Pfennig and junior Andrew Magno grabbed the bull by the horns, so to speak.
Surprised, because after a stumbling start in the first month, including an excruciating four-game losing streak on their final southern trip before their home opener at Bill Davis Stadium in mid-March…and an unexpected sweep by Northwestern over the Buckeyes in mid-April (at Bill Davis Stadium)…this is a baseball team that had the temerity, talent, and leadership from key upperclassmen to right themselves, win 35 games, the Big Ten Tourney, and yes, return to the NCAA tournament.
So you see, there are no crystal balls in baseball, even though I said on record back before the season that they'd win 30 games, even with all those freshmen and sophomores – even with two freshman weekend starters.  But for now, I've put that crystal ball in safe keeping for another off-season, and not to be heard from again until NEXT February.
They did it by outhitting some opponents, .268 (team batting average), with a breakout year from Brady Cherry (.300 with 15 homers) and the expected consistency from Canzone (.351 and 15 homers).
They did it with 14 wins from freshmen starter pitchers, Garrett Burhenn (6) and Seth Lonsway (8), and 20 wins overall from the revamped rotation, counting 6 more from sophomore Griffan Smith.
They did it by dramatically improving their defense, from a conference-worst 96 errors in 2018 to 61 this season, and fourth best at last check in the Big Ten.
They did it by some roles being filled by players when called upon – like co-captain Ridge Winand who assumed the center field position in March, and Matt Carpenter who took over at second base when there was a need in April.  Both would go on to hit enough and play defense good enough to make a difference in the energy and legacy of this group – Winand helping to win a series with key home runs against Michigan and Maryland.  And Carpenter for key hits against Iowa and a career-best .262, overall.
But perhaps the biggest impact on this team came from the man hired to collect, cultivate, and harvest outcomes like their surprising 35-25 finish – head coach Greg Beals.  Because, it would be hard to argue that in his nine years at Ohio State this wasn't his best coaching job – the youth, the stumbling start, the uncertainty of the pitching, the bullpen, and mid-season moves with Winand and Carpenter and freshmen Nick Erwin and Zach Dezenzo, who took over the left side of the infield and never looked back…Dezenzo hitting .255 with 9 homers and 34 RBIs.
Beals, for his constant belief in a system of daily growth – the 'process' he calls it – where you win enough small battles and let the bigger ones come naturally.
"You have to believe in that process,"  Beals said to me after the disappointing series sweep by Minnesota in the first week of May.
And to that point the Buckeyes came home from Minnesota and promptly won ten of their next twelve games – series against Penn State and Purdue, and sweeping through the Big Ten Tournament.
He never faltered with that message, and drove it home again during Monday's NCAA regional pairings announcement.
"What has happened these last couple weeks has created some believing, and that's the ultimate for anyone in competition that you have that belief,'' Beals said. "It's good when the plan comes together, that you can say something during the first meeting of the year and say something here in May, and it's the same message. Let's play in a super regional, a three-game series to see who goes to Omaha (for the College World Series). We've got to win a four-team tournament to get there, but we're in position to do that.''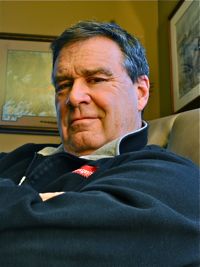 It won't be easy, but it hasn't been easy all season.  Vanderbilt leads the nation in wins (49) and hits like a team that believes baseballs should be outgoing instead of incoming – .319 as a team.  This by a team known for its pitching, and those numbers are eye-popping, as well.  The Commodores, who went 23-7 against Southeastern Conference competition, pitched at a cumulative 3.80 earned run average, striking out 628 in 525 innings.
The Buckeyes, by comparison, hit .268 and pitched at a 4.66 earned run average, and likewise, set a team record for strikeouts – 541 in 538 innings pitched.
So, no predictions now because baseball at any level ain't easy at this point in the season.  But it wasn't easy against Wofford, Western Carolina, Furman, and those three games against Northwestern, either.
Or, just ask Michigan, Indiana, Illinois and Nebraska if it's easy, the other four Big Ten teams to make the NCAA party.  Because surprise – they lost the Big Ten tourney to #7-seed Ohio State.
And Minnesota, the pre-season favorite based on last year.  The Gophers are sitting home this weekend asking the age-old question…what crystal ball?