Greg Beals said Will Pfennig, a freshman right-hander, could get the call to pitch in the Big Ten semi-final game.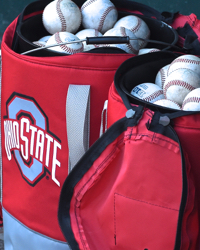 Omaha, Nebraska – Standard operating procedure for a baseball coaching staff during a high stakes tournament is to meet between games and discuss the upcoming opponent almost with a microscope.
Ohio State coach Greg Beals and his men did that Friday night, but they also had to come up with answers to a perplexing question.
Who are they going to start in a Big Ten Tournament semifinal at 2 p.m. Saturday and which pitchers will follow that man if needed?
A wrench was thrown into their plans before the tournament started when No. 1 starter Garrett Burhenn was put in concussion protocol after being struck on the left side of the head by a foul ball in the third game of a series at Purdue last Saturday.
Pitching coach Mike Stafford had to bump up No. 2 Seth Lonsway in a first-round victory over Michigan and No. 3 Griffan Smith in a second-round win over Maryland. Burhenn has not been cleared to play.
The choices probably come down to freshman right-hander Will Pfennig and junior right-hander Jake Vance. Pfennig has started two games and Vance nine.
Beals said he's leaning toward Pfennig, who pitched in relief in a 2-1 victory over Michigan on Wednesday.
But could it be Johnny Whole Staff? That's a baseball term referring to everyone being available no matter how recently they have thrown.
"There's a good chance of that,'' Beals said. "All hands on deck at this point in the tournament. We'll do whatever we can to win a ballgame.''
The Buckeyes (33-24) created their own break by staying in the winners' bracket after finishing off Maryland 3-2 in 21 minutes in the completion of a rain-suspended game yesterday morning.
"We have the rest of the day off,'' Beals said. "We'll be one game ahead of who we'll play. Our third game will be their fourth game, and that's the advantage of being in the winners' bracket. We're going to be paying close attention to whoever it is. The key is that we stay in the right frame of mind. We have a six-game winning streak and we're playing good baseball.''
Ohio State has played six games in 10 days, and even young men need to catch their breath. They have been at this since the opener February 15.
Center fielder and quad-captain Dominic Canzone was excited to be able to watch the other teams in the tournament wear themselves out.
"It's fun to be here and it's fun to be in the winners' bracket,'' he said. "We're having a great time. The biggest thing for us is to stay in the compete mode. Whoever we play, it's just coming out and doing our thing.''
The every day lineup hasn't changed during this stretch in which the Buckeyes have won six straight games and nine out of 10.
Canzone has drawn high praise for staying within himself with Michigan and Maryland refusing to give him anything to hit. He walked three times and grounded out in four plate appearances against Michigan and was hit by a pitch, walked three times and flew out in four at bats against Maryland.
He had an 11-pitch at bat in the third inning against Maryland.
The temptation is to lose patience in trying to make things happen. He came here batting .357 and had a combined on base percentage and slugging percentage of 1.085.
"Through the first couple of at bats against Michigan I just had the feeling they weren't going to pitch to me just from how I did against them earlier in the year,'' Canzone said. "After that first groundout I just told myself that I'm not going to get myself out again. The same thing happened against Maryland and I just tried to put tough at bats together and tried to foul off pitches whenever I could. If someone does make a mistake, I'll do the best I can to take advantage of it.''
Most of it, he said, comes down to trusting in the batters behind him in the order.
Terps coach Rob Vaughn saluted Canzone for using his head.
"Canzone is a special, special player – super special – and we weren't going to let him swing the bat and beat us,'' he said. "What makes that guy special is he gets on base and there are guys behind him getting some big hits.''
Ohio State had three hits against Michigan and four against Maryland, and Canzone said he wants those numbers to rise.
"We definitely can swing it a little better,'' he said. "We're definitely battling at the plate, which is awesome, especially in these types of tournaments. You want to get the starter out of the game.''
Beals has been more than pleased with his players' mental approach. The suspended game against Maryland could have blown their minds, but they did more than endure. They won both days.
The day began Friday with a team breakfast at the Hilton Hotel, which is walking distance from the stadium.
"The message to these guys from the get-go once we qualified was that one team was going to leave here happy and seven teams are going to be disappointed in their tournament,'' Beals said. "Spend every single moment when you are here in Omaha trying to figure out how you can help yourself and help your team be that one team.''
The staff informed the players about Friday's itinerary on the bus as they left the stadium Thursday.
"They were actually kind of rowdy last night on the bus when I mapped out what the morning would be like,'' Beals said. "It was an 8 o'clock bus and come over here and get ready to play. It wasn't going to be, 'Let's not hit and let's not take ground balls.' Those five outs are huge outs in this tournament, and I wanted to make sure our guys were ready for it. They got up and had a full pre-game prep.''
A LITTLE THIS, A LITTLE THAT
Ohio State has won its first two games in the tournament for the first time since the tournament was expanded to eight teams in 2015. . . . Three of the team's five runs here have been scored in the eighth inning. . . . Canzone extended his team record streak of reaching base to 53 games with a walk in the first inning. He has walked six times in two games and needs two more to tie the tournament record of eight set by Swisher in 2001.