Play to resume at 11 a.m. today with Buckeyes leading 3-2 in bottom of 8th.  Big advantage lies with the Buckeyes because they have the lead and need five outs to get the victory.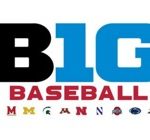 Omaha, Nebraska – Not a single firecracker was set off at TD Ameritrade Park during the Big Ten tournament Thursday night, but there was a spectacular aerial show nonetheless when a thunder and lightning storm postponed Ohio State's winners' bracket game against Maryland.
The teams will resume play at 11 a.m. Friday with the Buckeyes leading 3-2 in the bottom of the eighth inning and the Terps having a runner at second base with one out.
Rain delayed the start by one hour, but not long after the game started, forecasters were predicting a massive storm to hit within a couple of hours.
Mother Nature handed a raw deal to both teams. Had the game been completed last night, the winner would have had a day off to prepare and rest its pitching staff for a semifinal at 2 p.m. Saturday. The loser was scheduled to play at 4:30 p.m. Friday.
Now, the winner will not get the day off and the loser will play twice in one day.
The fourth game last night pitting Nebraska and Iowa was to have started at 9 p.m., but the starting time for Friday is now in a holding pattern pending the outcome of Ohio State-Maryland game.
One positive for both teams is that they didn't have a starting pitcher on the mound when the awful weather moved in.
But the big advantage lies with the Buckeyes because they have the lead and need five outs to get the victory.
But reliever Andrew Magno will start the game with Maxwell Costes on second base. He hit into a force-out at second, but reached second when second baseman Matt Carpenter threw past first baseman Conner Pohl on a relay.
Worse, Magno will have an entire night to think about it.
The Buckeyes took a 3-2 lead in the top of the eighth off reliever Mark DiLuia on a sacrifice fly by freshman shortstop Zach Dezenzo.
With one out, left fielder Brady Cherry singled to center and Pohl singled into short left off the glove of third baseman Taylor Wright. Designated hitter Brent Todys walked on five pitches to load the bases and Dezenzo hit a fly ball to medium center field to score the run.
The damage could have been much worse after Ridge Winand walked to load the bases, but third baseman Nick Erwin struck out swinging to end the inning.
All the pitching statistics did a lot more than hint that Ohio State could mount an offensive extravaganza against Maryland freshman right-hander Trevor LaBonte. He entered with a 1-6 record and 6.48 earned run average in 14 appearances covering 58 1/3 innings.
It began that way when Dominic Canzone was hit on the shoulder by a pitch leading off the game and Cherry brought him in with a single to left two outs later. Carpenter got the runner into scoring position with a bunt up the third base line.
The Buckeyes made it 2-0 in the third when Canzone led off with a walk, got to third on consecutive groundouts by Carpenter and Dingler and scored on a throwing error by third baseman Taylor Wright.
That, though, was as much as they could do against LaBonte. He went on to pitch 6 1/3 innings in giving up two hits and three walks and hitting two batters.
The Terps had to have the same feeling facing sophomore left-hander Griffan Smith. Last Saturday, he was staked to a 9-1 lead against Purdue in a must-win game, but left with the score 9-all.
Smith was stout in giving up five hits and striking out 10 in seven innings. Walks have been a bugaboo for him, but he gave up only three.
One of those walks came back to bite him. In the bottom of the third, he walked Randy Bednar with one out. After a fielder's choice groundout at second, Costes hit a two-run homer into the Maryland bullpen to tie the score.
There really was nothing for Smith to get upset about. Costes, who was voted the Big Ten freshman of the year, hit a pitch above the letters that many batters would have spit at or whiffed on.
Both teams got this far because of upsets. Ohio State came from behind to score two runs in the eighth to defeat second-seeded Michigan 2-1 in the first round, and Maryland hit two home runs in knocking off third-seeded Illinois 6-2 in the first game of the tournament.
The teams are similar in that they are young in many spots. The Buckeyes started three sophomores and two freshmen and the Terps four sophomores and four freshmen.
Each also has had a lot of dark days on the mound. Maryland has given up 10 or more runs 10 times, including 20 and 19 in consecutive losses to regular-season champion Indiana.
The Terps qualified for the conference tournament the only way they know how, and that was by outscoring Iowa 8-6, 8-4 and 19-8 in the final series of the regular season to get the sixth seed.